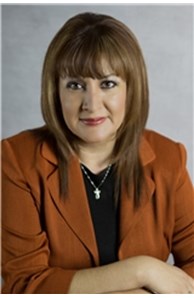 REALTOR®
Email

cecy.moreno@azmoves.com

Phone
Office
Your Real Estate Agent for Life! Once success story at a time. Tu Agente de Bienes y Aires para toda la vida a tu desposicion.
Languages other than English
Spanish
More about Cecy Moreno
Personal Background
I was born and raised in El Paso Texas. For the past twelve years, Tucson Arizona has been my hometown. I enjoy it's friendly people and sceneries. I have also held a relationship with my husband for twenty eight years and have two children, one twenty seven and the other eleven who are my pride and joy. I also enjoy spending time with my family and friends. I recharge myself whenever I am around them. Relationships, no matter whether it be friends, co- workers, customers, husband, wife, son, daughter, mom, dad, or boyfriend or girlfriend are important, and if we cultivate the trust they can give us happiness. This is why I am a very optimistic and happy individual.
For the past twenty years, my work experience has been in the customer service, management, consulting, public relations, marketing and education fields. I am dedicated, high energy, honest, and a very positive individual that believes that there is a solution for everything life. I also posses very high standards of ethics. My customers have always come first and they can attest to it. I am flexible and always looking for ways to improve in today's market as constant changes continue evolving to find the best strategy that best fits my clients. I strive for excellence and don't stop working until I achieve results.
Your Real Estate Agent for Life!


My goals are helping others achieve their dreams and desires and I am very passionate about it. I am a Bilingual Realtor at Coldwell Baker Residential Brokerage, (hablo espanol) that enjoys helping families or individuals in finding their dream homes or selling their properties in Tucson, Marana, Foothills, Oro Valley, Vail, Rita Ranch, Rancho Sahuarita, and Pima County. This includes both residential and vacant land. I understand and listen to my customers wants and needs and work diligently until I find a strategic plan that works especially for them. As we all know, everyone is different and special in their own special way.... I believe in building relationships. The secret behind it, is building trust and you will have relationship for years. This is the reason why I would like to be your real estate agent for life.
Areas of Expertise


As, I mentioned earlier, I am currently a Bilingual Realtor at Coldwell Banker Residential Brokerage that enjoy helping families and individuals in finding their dream home, selling their properties,and helping them with their relocation to other state. I believe in building a relationships for life, where trust will be build on because I will work very diligently for you. If you would like to consult me on your next purchase of your dream home or selling of your property, or if you thinking about a possible property investment, please don't hesitate to call me. I am just one phone call away. I will be more than happy to assist you and in helping you in making the best decision that fits your specific wants or needs. If you give me the opportunity to help you, I will be your real estate agent for life. Selecting the right REALTOR is very important. This is why I look forward to serving you, your family and friends.
Respectfully,
Your Agent For Life- Cecy Moreno- 520-591-6745
MY CLIENTS ARE #1 PRIORITY
EXCELLENT CUSTOMER SERVICE
REAL ESTATE
BUILDING RELATIONSHIPS
MANAGEMENT
MARKETING
CONSULTING
GREAT LISTENER
UNDERSTANDS CUSTOMERS WANTS AND NEEDS
STRATEGIC PLANNER
EDUCATOR
PUBLIC RELATIONS
What I do for my Buyers and Sellers


As your consultant, I will communicate, educate and protect you every step of the way.
The purpose of a buyer or seller consultation is for me to listen to your needs, wants, and concerns to help you either locate your property or help you sell your current property by mapping out a plan that best fits your desires.
I pride myself in the knowledge of the market, surrounding and growing areas. You deserve current information.
I am constantly researching the inventory. This allows us to find the best properties for you in the least amount of time.
I know the market.
I am affiliated with one of most recognized real estate companies, Coldwell Banker Residential Brokerage and represent both Sellers and Buyers throughout Southern Arizona.
Details matter to me, this is why I will keep you informed of every detail of the transaction.
I am constantly looking for ways to improve my service and use every tool that Coldwell Banker and the industry has to offer. These systems enhance your buying and selling experience.
Maximum Exposure on MLS by executing a photography plan that can increase up to 300% showing.
Our buyers have moved to online. Everyone is searching on the internet, when looking to purchase a home. This is why Coldwell Banker Residential Brokerage Team distributes property information to over 350 websites.
I respond to internet inquiries in seconds, our HomeBase in Touch system connects us to online buyers immediately.
In addition to the internet, Coldwell Banker Residential Brokerage Team makes sure that are listings are featured in View Magazine. The online Coldwell Banker Residential Brokerage View Magazine reaches buyers througout the world.
My clients come first, this is why I will get to work and will not stop until I achieve your results. I want to be real estate agent for life and help you, your family and friends.
Credentials

****Member of Tucson Association of REALTORS® (TAR)
****Member of Tucson Multiple Listing Services (MLS)
****Member of Arizona Association of Realtors ® (AAR)
****Member of National Association of Realtors ® (NAR)

Services to my Clients


Concierge Services- The Coldwell Banker Concierge program is designed to enhance your buying, selling and homeowner experience by providing discounts for hundreds of products and services to help you before, during and after the purchase of your home. The #1 quality that has distinguished Coldwell Banker from our competitors is the high level of customer service and services that we provide our buyers and sellers.
Market Action Reports- Every month we can send you an easy to read report filed with most recent statistics on home sales, prices, listings, inventory and trends. Having useful information, so that you can make an informed decision, is an integral part of the service we provide.(www.InsideAZmoves.com)
Newcomer's Community Guide- Information about Southern Arizona from taxes to day trips. This is an interactive link we can send you.
The View Magazine-(www.arizonaviewonline.com) Receive an electronic version of our monthly, statewide property magazine for property viewing at your leisure.
Loan Modifications, Short Sales, Foreclosure & Resources- Let us be your "Trusted Advisor". We want to help you! We have detailed information and can point you towards the resources you might need or want. We have spend the time to receive additional training and collected the resources to point you in the right direction.