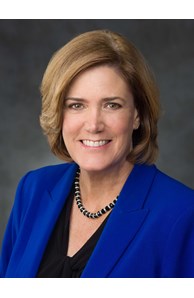 Branch Manager
More about Patty Erickson
Your Perfect Location for Business


It has been said, by "the experts", that agents work for MANAGERS first, company second. As Manager of the Williams Centre Office of Coldwell Banker Residential Brokerage, it is my responsibility to provide a creative, educational and productive atmosphere for my agents. I strive to provide each of our agents with the tools and education necessary to ensure they achieve their business and personal life goals. From supplying new agents with a solid foundation upon which to build their careers, to providing seasoned agents the advanced professional development they need to excel within the industry, it is my goal to work with every member of my team and help get them to a higher level of accomplishment and production.
My mission is to create a fun yet professional environment.
PERSONAL: I have been in Real Estate in since 1997 and while I began this adventure with another "large local company", something was "missing". I found Coldwell Banker in 2000 and have never looked back. Quality from the inside out is dominant in this Company.
My Midwestern upbringing formed my strong work ethic which pairs well with the Coldwell Banker brand. I appreciate that none of our managers compete with agents, but are here to coach, train and encourage them to success.
If you are an experienced agent tired of being overlooked as just "one of the masses" at your current company, OR, if you are new to Real Estate (or are considering it as a career) and looking for a company that has a PROVEN track record in business development and education, please contact me today. Our commission plans are competitive and generous.
To serve you better, our office is open and managers are on duty 7 days a week, because you deserve a leader and partner to help guide you through the peaks and valleys of this business.
You deserve the BEST for your Real Estate career! Come discover the Williams Centre Office of Coldwell Banker Residential Brokerage. We provide local expertise with a global reach!
Education and Training

Bachelor Degree: Illinois State University
Normal, IL
Post Graduate work: University of California at Los Angeles
Law School Extension
University of Phoenix
Tucson, AZ
Arizona School of Real Estate
Tucson, AZ
Awards And Designations

Associate Broker
International Sterling Society
Customer Service Award WinnerAreas of Expertise

Luxury properties
Second Homes
Homes for Students
First Time Homebuyers
Community Involvement

Member, HSSA Foundation Board 2006-2008
Habitat for Humanity
Personal Background


I grew up in Northern Illinois in an idyllic smaller town surrounded by lakes, fishing and lots of trees. Good, old fashioned mid-western values regarding hard work and ethics were taught and modeled by my parents. It's those same values and ethics that I bring to my Real Estate business. As a Realtor, I enjoyed working hard for my clients and thrived on knowing I was able to negotiate the best price possible on their behalf.
As a Branch Manager, I bring that same work ethic into the office. The agents here at the Williams Centre office know that I have their backs in all aspects of this business, and that I will go the extra mile in bringing educational opportunities and support to the office.
If you're looking for a place to begin your Real Estate career, or if you are looking for an office, company an broker that will be here each day to support you, help train and mentor you, then the Williams Centre Office of Coldwell Banker Residential Brokerage is the right place for you Call or email me today for more information on how you can become part of the amazing "BLUE" experience.
Communities I Serve

Catalina Foothills
Oro Valley
Tanque Verde
Sam Hughes
Pima County
Tucson