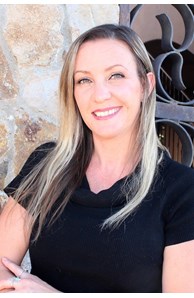 Sales Associate
Focused on Your Goals
More about Sarah K Lawrence
I became a Realtor® to help people with one of the most important decisions of their life; Selling or Becoming An Owner in real estate. Regardless of your goals, I am here to guide you.
Previously my work life consisted of caring for those with developmentally disabilities, people who had medical issues and elderly. Then I became a Trusted Realtor® of Tucson, AZ in 2017. I believe my background helps with my presentation for you to understand the process and guide you on decisions that present themselves. The decision is always yours. Like a compass, I show you the way, not make the way.
I am most passionate about my clients understanding what their choices are and finding what works for them. Being your compass is what it is all about. From the initial meeting, to looking at homes (or adding suggestions to sell your home quickly), to handing over the keys or packing up the moving truck….
There are no words to express how uplifting and fulfilling it is when you have helped another person or family start their new adventure. I am proud to be part of this journey with you and I am excited to meet you!
Thank you for your time ;-) We all know it's very valuable!