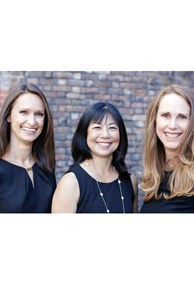 Connect with the Team
Awards

International Diamond Society Team
More about the Team
Team Work
Sue & Petra believe that it takes a certain personality and presence to be truly excellent in this business. Personable, energetic & efficient. This successful duo has a unique talent of quickly matching buyers to properties and they waste no time in securing the ideal home for their clients at the best possible price. Sue & Petra provide every client with exceptional service, sound advise on the market and outstanding results. Yet, they manage to always have a smile of their faces. Everyone deserves to benefit from Sue & Petra's refined negotiating skills.
When listing your home for sale, you will benefit from the finest and the most creative global marketing and aggressive advertising. Sue & Petra's cutting-edge marketing is proven to get a TOP dollar and to make happy and satisfied sellers. They know how to move mountains to help their clients make the most advantageous purchase and sale decisions in this market. They are sensitive to people's financial and time concerns and help their clients focus on developing a realistic and specific vision of a home or investment property so they can present them with the best options available.
Commitment
When our clients reach their goals, so do we …
The measure of our success is the happiness our clients feel at the close of escrow. We are very proud of this accomplisment as it reflects that our client's goals were met.
Philosophy
Sue & Petra's style includes being straightforward, honest, and professional. They strive to keep things stress free while putting their high energy, motivation and know-how to work for their clients. Sue & Petra's philosophy is to always put their clients' needs first and foremost!
Ask us about our upcoming Home Buyer & Home Seller Workshops!
· Sue Fong-Mahlstedt & Petra Breckova ·
Twice the Selling Power | Local Roots | International Reach
Sue: (650) 558-4282 · Petra: (650) 558-4243
www.SueAndPetraTEAM.com |   www.facebook.com/SueAndPetraTEAM
License #  01807312  |  01486526
Testimonials
  Wondering about what do the clients say about Sue & Petra?
 
 
Sue and Petra were AMAZING from our first informational contact to list my Grandparent's home for my Mom, through the closing of it's sale. We couldn't have had a more knowledgeable, professional, friendly, hard-working, organized, positive, honest, conscientious duo working for us! Sue and Petra were working for my Mom; however my husband and I helped coordinate everything for her. From our first conversation to list the home, they had a detailed timeline, estimated costs for staging, recommended repairs and updating; all to maximize her investment. They took care of everything and EVERY detail! Their teamwork seemed like we had 24 hour service throughout the process. They followed their timeline, had more than the typical amount of offers to present to us after the first weekend of open houses, brought us qualified buyers, and we had an accepted offer in less than a week! (And $200,000+ over list price!) Thank you Sue and Petra for making a difficult process for my mom a positive one! (For her and for us!) If you are in the market to list or sell in the Bay Area market, I would DEFINITELY recommend them!!              ~ Lisa & Ken, Burlingame
Sue and Petra are great, extremely competent real estate agents. They came to us recommended by a friend, and we couldn't be more satisfied. They helped us buy our home in Burlingame, in a very tough market, at a very competitive price point. We have been living in the area for a while, and knew the market and what we wanted fairly well - however, when the right house came along and it was time to execute, Sue and Petra's experience and assistance was priceless! Petra handled everything from writing the offer to closing the deal, offering advice and assurances along the way. Sue and Petra are not only very competent, but are also super nice and extremely professional - a big plus when it comes to their good relationship with many local agents. If you are looking for agents who will have your best interests in mind, look no further!                                               ~ Marica & Miro, Burlingame
 
We just got the keys to our new home in Redwood City and could not have done it without Petra and Sue!  We knew the Bay Area housing market was challenging, but the reality of the situation is even more crazy than one can imagine.  You really have to work with excellent agents to have any chance to get a home. From the start Petra and Sue were honest with us about the market and presented several strategies that were ultimately very useful.  Sue and Petra work well as a team and because there are two of them, they were almost always available at a moment's notice to show us a home or present an offer.  And they always presented our offers in person, which is essential in this market.  Petra drove over an hour to the East Bay to present our winning offer and was the only agent to go in person! And Sue took us on a tour of homes on her Birthday weekend!  When getting the keys for our new home, we were greeted by Sue and Petra with a bottle of nice champagne and a beautiful orchid.  You really can't do better than these ladies. If you follow their lead you will get the house you want even in the most competitive market in the country.
                                                                                                              ~Grant & Lara, Redwood City
Sue and Petra are a fabulous team. They helped us buy our first home in the Bay Area several years ago, and then this past Spring they helped us sell it. They did an amazing job of brining in multiple high quality offers on our home. On offer day we were able to negotiate to bring the sale price in at way over the asking. We were thrilled! It was incredible! Shortly after, they helped us purchase our new home for an amazing price in a tricky situation. They are the best of the best and we recommend them to everyone we know!                          ~Abby & Ivan, Redwood City
We could not recommend these ladies highly enough! They helped us both sell our first home and buy our next one, all within the span of one month and with incredible knowledge and professionalism. Petra was the lead on both deals, with Sue chiming in whenever it seemed appropriate. Petra kept us frequently updated by phone, email and text through the process. Every step of the way, my husband and I were impressed by the legwork Petra did to answer all of our questions (and we had a lot of them!) - it seemed like she was always one step ahead of us, which is exactly what you want from your agent in this crazy market. We followed their advice, and they sold our home off market in a single weekend, and found us our next home off market as well. We were able to put in a quick offer with a fast turnaround, thanks to their proactive work on our behalf. Perhaps the highest compliment I can pay Petra and Sue is that they armed us with information but never pressured us into making a decision we weren't comfortable with. We felt empowered to make the best choices for ourselves, and knew they would represent our interests as both buyers and sellers. So happy with the results - go team!                                                                                     ~Purnima & Vivek, San Mateo
"Sue and Petra function as a first-rate team and seamlessly combine their deep set of skills successfully selling our long-time family home in Burlingame. They helped us get the house properly staged, then carefully built interest, developed major momentum, and using creative deal strategies maximized the sale price selling at more than 6% above the list price. They are truly a total pleasure to work with. We could not more highly recommend them for your real transaction."
          ~ Ken and Cynthia, Burlingame
Sue and Petra are so wonderful. They helped us to understand the whole process and since we live out of the area, they arranged for so much. They understand the real estate pricing completely and their expertise helped us to get the ultimate price for our family home. We had been in the home 58 years so they also understood that we needed to say good bye to a whole world of memories and they gave us that time. I would recommend these two to anyone and have already done that..                                                                                                                  ~Linda, Burlingame
 
Our family has known Sue and Petra since two years ago when we bought our Burlingame house.  They have helped us with a great negotiation process during the market down turn.  Ever since then, we continued to work with them for the next house hunting as they are just so professional, knowledgeable, responsible, and above all, friendly and considerate.  It has been so pleasant to work with both of them, as they are almost part of the family.  Every few months, Sue and Petra invited us to meet them and modify our searching criteria.  Whenever there is a good opportunity, we will never miss their calls.  Every time when we put an offer, they showed us the thorough market research and help us with the strategic bidding.  I cannot forget how many times Petra has driven us (and my parents) around different neighborhoods for the comparative study. Now, we just bought another house in Milbrae and we have won the offer in such a competitive market because they've been fighting hard for us, from the offer price to the negotiation/match-up.  Even after the offer is signed, they still helped us get connected with the original owner, send us new home appliance discount coupon, etc,  like the service will never stop. We will continued to work with this great team for the next target, as we trust them.                                                                                                                                                ~ Guang & Lu, Millbrae
Dear Sue, On that day of your class last fall I recall debating whether I should bother to attend. There is no doubt it was one of the better decisions I've ever made! Your incredible knowledge, and especially your boundless enthusiasm and energy made choosing you and Petra a no-brainer. What an effective team you are. I especially appreciated your patience, guidance and good cheer!                                                                                                                                                      ~ Bob, Burlingame
 
My fiance and I met Sue and Petra at one of their house buying seminars in Burlingame.  We were newly engaged and I knew we would be needing to sell my condo at some point in the near future.  From the absolute get-go, we clicked with these dynamic gals.  Less than two weeks after the seminar, they visited, looked around my condo and pitched a marketing plan like no other.  Their enthusiastic approach inspired us.  Having lived 25 years in my wee little one bedroom condo, I had a job and a half of clutter removal to do.  In the end, through their support and encouragement, my condo looked designer polished!  Their recommendations of home inspectors, handymen, movers, cleaners, etc. are all top notch, proven professionals.  We started our relationship with Sue and Petra as business partners and they have now become friends.   We know we will be needing to move on to a larger place after our marriage, and we will definitely be looking to Sue and Petra for their guidance and assistance in selling again.   I was very satisfied with the price I received for my condo and the outstanding processing of the sale, from offer review to closing of escrow (in a record 8 days!)  You just can't go wrong with the Sue and Petra Team!!!                                                              ~ Christine & Alex, Burlingame
 
Sue and Petra are a simply awesome team!! They came recommended to me via a friend and I'm really glad I went through my first home buying process with them. All through they were very patient with my questions and were genuinely concerned with finding a home that was the right fit. Come offer time they really helped step it up against the other offers and beat out a few all cash ones! Would highly recommend them whether you are looking to buy or sell a house!                     ~Rommel, Redwood Shores
"The Sue and Petra team helped us buy our home in San Mateo in April 2013. We consider ourselves savvy buyers, but in this extremely competitive market, it would have been impossible for us to complete a successful purchase without the expertise of this team of realtors. Sue & Petra worked relentlessly to make sure that they understood precisely what we were looking for, and once they found what we liked, they made sure that they were successful in getting it for us in a multiple bid scenario. They were on top of their game every single moment of the process, whether it was scouting out homes for us, setting up viewings or making bids. Petra was also the one who kept up with the mortgage company to make sure that everything went smoothly and got us a lot of references form services that we may require in the future. They go above and beyond the call of duty to provide exceptional service. I would highly recommend this team for anyone who is looking to buy or sell real estate in the Bay Area. Thank you Sue &  Petra!"                                            ~Anita & Dinesh, San Mateo
 
There is no way that we would have been able to purchase our home without the fantastic help that all of you provided us.  We wouldn't have even known that we stood a chance to get the house without Sue's incredible leg work with the listing agent.  It's been a lot of fun working with the team, and we'll sing your praises to anyone who asks us for referral.                       ~ Bryan & Sijen, Belmont
 
We loved the Sue and Petra TEAM, they are with Coldwell Banker in Burlingame, but they have fantastic knowledge of the San Carlos market. They are easy to work with and have great strategies for selling a current home (ours went pending in 8 days with multiple offers) and getting the home you really want (they helped us find our beautiful San Carlos home and got it in a multiple offer situation). They are level-headed, straight shooters and at the same time very savvy. If you want any particulars I'd be happy to talk in person                                                   ~ Erin & Jon, San Carlos
I just wanted to thank you both for the wonderful rollercoaster ride we all call home buying. Annie and I have nothing but great things to say about the dedication and hard work you guys put yourselves through to get us through this process.  Your proactiveness, your fight, your thorough attention to detail and your optimism are the reasons why Annie and I have our perfect home today.  We've never experienced ANYTHING like this, so we apologize once again for the tears, various emotions and ok...more tears.  From State St. to Furlong, these were heartbreaking moments, but being able to triumph and find a home in the end feels very rewarding.  It was definitely a team effort. I'm very grateful to have met Sue 2 years ago at a random open house that we saw in the paper that year.  We saved your brochure because we knew right away when we were ready...we wanted Sue and Petra on our team. 
We thank you so much from the bottom of our hearts and we wish you guys the very best!   ~Annie & Brian, Belmont
Jason and I are so glad that we chose you to help us buy our first home. As first time home buyers, we found your tours to be very informative. And we really appreciate your patience as we struggled to identify and re-evaluate our priorities. We couldn't be happier with our purchase or the service we received from you during the home buying process!                     ~ Jen & Jason, Redwood Shores                                                                                                                                  

We want to thank you for all your hard work and dedication in helping us purchase a new home. We are very fortunate to have met (and worked with) such thoughtful and driven people. Anybody we ever run across that is thinking about buying a new house we will absolutely refer them to you.                                                          ~ Carol & Greg, San Mateo
Thanks again for your hard work and effort!   Let us know if you want us to call the CEO of Coldwell Banker telling them how awesome you are!  =)
                                                                                                                        -Chris & Angela, San Mateo
Thank you so much for guiding us through this process with such grace.  Thank you for taking so much of our stress away, so we could have fun during what I'm sure for other people is a challenging process.  I could not recommend you more highly, and I look forward to working with you again some day :)     ~Ali & Alex, Burlingame        
 
What could I say – your team partnership defines Champion.  You make dreams happen with your sold skills, knowledge, expertise and contacts in the Peninsula.  What was supposedly a clean and simple home sale, yet all the impossible you could never imagine – happened, but your team brought miracles.  You guided me, brought me relief and ease all my burdens and headaches with an amazing offer within two weeks.  How you turned hopelessness into a phenomenon – I'm still in astonishment to this day, but I thank God my home was sold.  I couldn't have done it without your immense help and assistance. Tremendous thanks,     Tony, Menlo Park     
 
" Thank you for making this such a smooth experience. I know the both of you did an incredible amount of work for us in a ridiculous time frame. We are so grateful. I am so eager to settle into our new home. I feel like this house was designed just for us. You guys have been truly amazing."                               ~ Lisa & Damon, Millbrae
We recently bought our first home and are very appreciative of the guidance and support that Sue and Petra gave us. We had gone to many open houses and met several realtors before deciding to work with Sue and Petra. We were convinced they were the right team for us because they carefully listened to what we were looking for, and they had an excellent knowledge of Burlingame and the local market. Sue also helped answer several questions about the local elementary schools (which was a big factor for us in deciding where to live). During the whole experience, Sue and Petra were always energetic, professional, and efficient. They were respectful of the process that we had to go through to learn what it was that we were looking for in a new home and patient with the path that we took. They actually made the process of buying our first home fun (which was not what we were expecting)!           ~Sue & Doug, Burlingame
It was really great to work with the dynamic duo "Petra and Sue" team again – this time our mission was to sell our condo.  We were once more extremely impressed by Petra's unyielding determination to make sure that our apartment looked gorgeous. She solicited multiple bids for the painters, cleaners and negotiated hard with the stager to stay well within our budget.  We received singing praises from neighbors and friends – in fact, the apartment looks better than when we were living there!
The team did a fantastic job in marketing our home.  We are especially impressed that they held a "twilight showing" especially for the neighbors in the apartment complex.  In addition, Petra built great relationships with the neighbors and further expanded the network of potential buyers for our place. We are very grateful that the team was very patient with us and devised a pricing strategy that allowed us to test the market response to our "dream price".  After receiving very favorable feedback about how great the apartment looked and yet no offers, we followed the team's advice to lower our offering price and we received two offers right away.  The team provided us with their full support in our various counter-offers and we got the price we wanted. The sale closed on time without any delays – many thanks to the team for providing everything the buyer needed and for addressing all of the buyer's concerns.
We would highly recommend Petra and Sue – it is extremely rare to find good real estate professionals that are passionate about their work and care about your interests. We will definitely work with Petra and Sue again and are recommending them to all of our friends and colleagues.                ~ Cheni & Jozsef, Burlingame