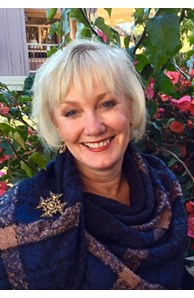 Sales Associate
Cal BRE#: 01006622
Email

Mary.Carver@cbnorcal.com

Phone
Office
More about Mary Carver
Mary Carver lives the Monterey Peninsula Dream...
"I live the Dream and thrive in assisting others to do the same! I value YOUR time, as I provide solutions for YOUR unique Real Estate interest within the Monterey Peninsula area!"
Mary Carver has been a long time resident with Real Estate experience in residential home and land sales beginning in 1987. Her experience in representing professionals in the medical community brings a unique perspective for the professional bridging the Carmel/Monterey/Salinas healthcare and business communities. 
Mary recognizes the reality of ever changing real estate challenges throughout a lifetime!
Mary has enjoyed her outdoor lifestyle which the Highway 68 corridor offers. "There is no place like coming home to Corral De Tierra's "Pastures of Heaven".  Every sunset or moonrise I witness over Mt Toro warms my soul." Mary's lifelong hobbies include riding her horses, hiking with her dogs or biking the trails throughout the Monterey county areas.
Mary would like to be YOUR Realtor professional in your next Monterey Peninsula Real Estate interest from start to completion.   
"I value time...YOUR time and mine. I find great satisfaction in providing ongoing positive energy for YOUR success! I Build clientele confidence by offering timely information for informed decisions as YOUR Real Estate solutions materialize."
In meeting your Unique Real Estate interest Mary has established: 
*A high value on YOUR TIME to create and maintain positive, professional energy...from start to finish.
*Timely information on value, market trends, property inventory and statistical calculations for YOUR informed decisions.
*A referral base, as needed, of lenders, contractors and designers for your convenience.
*Assistance in finding interim short term rental possibilities as YOUR Real Estate needs are being processed.
Mary offers "Up to Date" Real Estate analysis to empower YOUR decisions with confidence.
Mary Carver will provide the solution to your Real Estate needs with a professional and positively joyful manner!
Mary Carver provides Real Estate services throughout the Monterey Peninsula and recognizes each individual client has their own lifestyle preferences to include those who prefer cooler, coastal areas of Carmel and Monterey. Cottages or ranches…Hilltop or Valley…Buyer or Seller.  
Mary Carver wants You to live the Monterey Peninsula Dream too!
It is her home territory for the last 30 years!
Mary enjoys specializing in the residential communities along the Highway 68 Sunbelt Corridor. 
Mary specializes in the Carmel/Monterey/Salinas Highway 68 Sunbelt communities. Great communities for those coveting the Monterey Peninsula Dream, but prefer warmer, sunnier days for golf, tennis, biking, hiking or relaxing. Consider some of the many communities within the HIGHWAY 68 Sunbelt:           
Bay Ridge community...with exclusive custom homes above and beyond the Coastal Fog with open ocean vistas or Carmel Valley views.
Pasadera community...home to the Jack Nicklaus Signature Golf Course "Nicklaus Club" and minutes from the world famous Laguna Seca Race track.  
Corral de Tierra loop "Pastures of Heaven" communities...with Corral De Tierra Country Club, Chamisal Tennis Club and Equestian properties.    
Toro Park within the coveted Washington school district and direct access to Ft Ord National Monument Park with miles of hiking, biking or Equestian trails.
Las Palmas Communities along the River Road/Reservation Road overlooking the expansive Salinas Valley. 
Highway 68 sunbelt communities are minutes from one of the greatest coastlines of the world and the Carmel-Monterey Airport. With a slightly inland location the Highway 68 corridor offers more sun and less fog…. 
Average summer temperature generally range 70-74 degrees June thru September
Average Winter Temperatures generally range 62-65 degrees January thru March
(please refer to Weather.com for the 93908 zip area centrally located along the Highway corridor.)
More star lit nights with open skies…more rolling hillsides with stunning county views More open space conveniently located between two vibrant and distinctive business areas of the Monterey Peninsula.
Mary Carver is an avid Equestrian with a horse lovers perspective for your interest in equestrian and ranch properties!
More about Mary Carver…
Mary participated in the building, additions and remodeling of her country home in the Highway 68 sunbelt corridor to provide for a growing and changing family. She successfully raised and launched her children who grew and prospered in the natural setting of the sunny Corral De Tierra landscape. Mary has experienced and assisted others with the challenges of the 1st time homeowner, growing family home needs, "Empty Nest" home, 2nd Home acquisitions, retirement downsizing, land sales, as well as Property management experience.