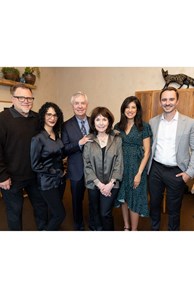 Trust and Confidence
Awards

International President's Circle Team

Top One Percent What's this?
Designations
Certified Residential Specialist (CRS), Certified Real Estate Brokerage Manager (CRB), Certified Home Marketing Specialist (CHMS)
More about the Team
Business Philosophy

Education and Training

Awards And Designations

Areas of Expertise

Community Involvement

Personal Background

Communities I Serve

Ben Heinrich

Ben has been active in real estate since 1976, serving as the Carmel Board President in 1987, 1988, and since 1991 has been a Director of the California Association of Realtors. In 1998, Ben was President of the Monterey County Association of Realtors. He owned his own real estate company, Ben Heinrich Real Estate, for 20 years before it was purchased by Coldwell Banker Del Monte Realty in 2002. Over his many years in real estate, Ben has developed great knowledge and experience with all types real estate transactions and investments. Ben lives in Carmel Valley with his wife Carole. Outside of his busy professional life, Ben is an avid golfer, and enjoys growing roses, reading, flying, white-water rapids and fly fishing.Carole Heinrich

Carole has been a leader in the Monterey Peninsula financial community for over 20 years. She has an excellent reputation for honesty, thoroughness and attention to detail. Prior to becoming a licensed California real estate agent & mortgage broker in 1990, Carole was a stockbroker where she earned her designation as a certified financial planner. Extensive knowledge of financial services is just one unique characteristic that makes Carole an asset to any client. With her husband Ben, she owned and worked for Ben Heinrich Real Estate, before joining Coldwell Banker Del Monte Realty in 2002. Carole lives in Carmel Valley with her husband Ben. She loves the outdoors and is an avid hiker. She also enjoys walking Puddin', the family's dog.Mike Gilson

Mike lives in Big Sur and has been on the Board of Directors of Big Sur's Coast Property Owner's Association as well as the Big Sur Affordable Housing Committee. His knowledge of and passion for Big Sur provide the insight for his Real Estate career. He exclusively represents clients in real estate transactions in Big Sur and helps to make his clients' Big Sur dreams become a realty. Mike is also one of the founders of Big Sur Bakery & Restaurant.
http://theheinrichteam.com/