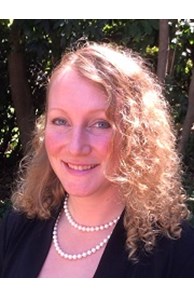 Sales Associate
Cal BRE#: 01979519
Email

andi.martin@cbnorcal.com

Phone
Office

Cupertino

10105 S De Anza Blvd, Cupertino, CA 95014
Andi was born and raised in Saratoga, and loves living in the Bay Area. Respect, a solid work ethic, and strong bargaining skills guarantee her clients a great transaction
More about Andi Martin
Business Philosophy


Andi was a Bikram and Yin yoga teacher for 8 years before deciding to enter the world of real estate. She chose to become a real estate agent due to her experience flipping her own home, and desire to diversify from yoga teaching. Coming from a strong sales background, she recognizes the importance of listening to her clients and working hard to ensure a smooth and easy transaction.
In 2013, after a renter trashed her home in Los Osos, Andi took 6 months and flipped her own house. She project managed 2 complete bathroom remodels, a full kitchen remodel, re-landscaping, full re-roof and various other improvements around the house. Every room needed a lot of work. She did much of the painting and landscape work herself and found she really enjoyed it.
When it came time to sell her home in Los Osos, Andi hired a non-Coldwell Banker agent to sell her home, but felt pushed by the agent to do things which were not in her best interests.
"While selling my home, my agent pushed me to set a much lower asking price than I wanted. She encouraged me to accept "low-ball" offers, when I knew my home was worth much more than the offering price. The agent pressured me for a month to take offers I didn't like until finally I got a good offer for what I felt the home was worth. Having had that bad experience, I will *never* do that to my clients. Your home is your investment, and I respect you and your investment and want to see you happy. I work for you, not the other way around."
When purchasing her new home in Sunnyvale, Andi was interested in a particular home with a cute but small garden. She asked the listing agent (again, not a Coldwell Banker agent) to please inquire with the sellers how much sun the back yard got in the afternoons during summer, so she could gauge how well tomato plants would grow there. The listing agent in Sunnyvale's response to her was, "The sun rises in the east." This was an agent who had been in business for 30 years.
Andi says, "The agent's flippant response and disregard for me as a buyer made me feel that if this person had been successful, then surely my philosophy of respect for other fellow human beings, and concern for my client's needs would be well received."
Andi's business model is based on respect, transparency, hard work, and customer service. Contact her today and see how she can make your transaction a positive, easy experience!
Education


Andi attended DeAnza College's real estate program in spring of 2015 and was privileged to study with three expert teachers who excel in the real estate field:
-- Real Estate Principals with Mia Park, the VP of Intero Real Estate in Los Altos.
--Real Estate Practices with Russell Morris of Coldwell Banker in Los Gatos. Russell has been in business for 43 years, and has been a top producing agent for most of his career.
--Real Estate Finance with Daniel Casas, a partner at Casas, Riley, and Simonian LLP in Campbell. Mr. Casas has been a real estate attorney since 1984 and is a well respected and successful litigator.
After successfully passing her CA Bureau of Real Estate Realtor test on the first try, Andi went on to complete Coldwell Banker's Fast Start program, meant to give Coldwell Banker realtors an edge in the market.
To further her education, Andi took a mentorship with Jeannie Apostole-Holden, who has been a highly successful real estate agent since 1983, and is a top 1% producer. Jeannie's commitment to ethics and caring for her clients inspired Andi again and she has modeled much of her business practice on Jeannie's highly successful one. Having completed her mentorship as of March 2017, Andi is highly qualified to assist her clients with all their real estate needs.
Areas of Expertise


Andi is both a buyer and a seller's agent. She loves working with first time home buyers and guides the transaction effortlessly, thus ensuring her clients have an easy time in this challenging market. She also understands the needs of the older home seller who may wish to downsize. She is highly effective with marketing and generating "word of mouth" business in addition to internet advertising. In addition to selling single family residences, condos, and townhomes, Andi is very comfortable with the mobile home market as well. Mobile home sales are a specific niche and require specialized knowledge. Owning a mobile home herself, Andi is uniquely qualified to help clients who wish to purchase or sell theirs.
Community Involvement


Andi has been an active volunteer since 2008 when she graduated from Bikram's Yoga College of India. From 2008-2010 she volunteered at the San Jose Family Shelter, which helps families who have become homeless. She worked there once a week on Fridays, serving lunch or dinner to the community of up to 200 people.
After 2010, Andi found her true calling as a dog walker/cuddler extraordinaire at the San Jose Animal Shelter. As as dog walker and socializer, she has loved nurturing homeless dogs. For the last 7 years, she has loved giving the homeless dogs of San Jose lots of love, play time, and cuddle time as they wait for their forever homes to come claim them. She highly recommends that all her clients looking for a pet try shelters first!
Andi is an active member of the South Bay Burner community and volunteers yearly at UnScruz, the Santa Cruz regional Burning Man music and art festival at the Watsonville Fairgrounds in May.
Personal Background


Andi was born and raised in Saratoga and is the youngest child of four. Her parents are still living in the same home she was raised in, and she goes to visit them several times per week. She greatly enjoys chatting with her parents, spending time with their loving German Shepherd, and gardening. She is an avid reader and practitioner of yoga. She is very close with her two brothers and sister, and enjoys family time with her ten nieces and nephews. In late 2015, Andi married a man she fell in love with in her early 20's. Together they have a cuddly rescue Chihuahua and an affectionate, talkative rescue Tortie kitty. She considers herself very fortunate to have such a love filled life, and does her best to translate that gratefulness into her positive conduct in the world.
Andi comes from a strong sales and customer service background. She has worked at several boutique businesses and yoga studios as a manager, and also been trained by large corporations such as The Sharper Image and Chili's.
Andi came to real estate directly from the health and wellness field. After a kidney surgery in 2002 left Andi in severe chronic pain, she became a chronic pain patient until she was 28. When a friend's daughter invited her to yoga, Andi's life was completely changed. The practice of frequent Bikram Yoga healed her chronic pain over a year's time of practice and completely changed her flexibility, pain levels, and mental state.
After practicing yoga intensely for one year, she attended Bikram's Yoga College of India to become a certified yoga instructor. After 500 hours of full immersion yoga training, she earned her diploma and graduated in Fall of 2008. For the first time in 5 years during her teacher training, she was pain free, able to go off all painkillers, and has never needed one again. She has actively taught the yoga that healed her since then and is well known and loved at studios throughout the Bay Area. Some studios she has taught at include: Bikram Yoga San Jose, Bikram Yoga Santa Clara, Bikram Yoga Oakland, Balance Yoga Center in San Jose, Village Yoga in Santa Cruz, Get Fit Yoga in Fremont, and Club Sport in Fremont.
In 2015, Andi realized that although she *loves* yoga teaching, she needed to diversify. She had experience flipping her own home, enjoyed sales, and was inspired to get her real estate license in 2015.
Andi has studied with many highly successful agents including Russell Morris of Coldwell Banker, and Jeannie Apostole-Holden also of Coldwell Banker, and has been happily practicing real estate full time since getting her license. She finds her colleagues at Coldwell Banker to be friendly and supportive and appreciates the environment greatly. She still teaches one yoga class a week as a way to give back to the community for her amazing healing journey and is grateful every day for her healing miracle. Her yoga journey has given her a great deal of patience and understanding for her client's needs.
Communities I Serve


-Santa Cruz County, including Santa Cruz, Capitola, Aptos, Seabright, Seacliff, Watsonville, Boulder Creek, Felton, Scotts Valley and the Los Gatos mountain areas.
-The South Bay and Peninsula Areas including San Jose, Santa Clara, Sunnyvale, Saratoga, Los Gatos, Campbell, Cupertino, Mountain View, Palo Alto, Los Altos, Menlo Park, and Atherton.
- The lower East Bay from Newark, down to Fremont, and Milpitas