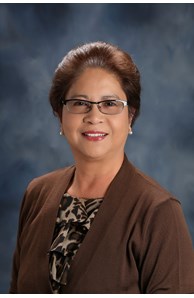 Sales Associate
CalRE#: 01117012
Email
Phone
Office

Danville

101 Sycamore Valley Rd West, Danville, CA 94526
About Laura Rivera
Designations
Certified Distressed Property Expert (CDPE), Certified Residential Specialist (CRS), Graduate REALTOR Institute (GRI), Senior Real Estate Specialist (SRES), Short Sales and Foreclosures Resource (SFR), Smart Home Certified
Languages other than English
Tagalog
More about Laura Rivera
My Mission Statement

To provide superior quality service to my customers and clients, care and competence before, during and after the transaction.
"Helping you get to where you want to go, ON TIME".

Professional Affiliations
National Association of Realtors
California Association of Realtors
Bay East Association of Realtors
Bay East, Past Member of Professional Standards Council Ethics Committee
Graduate Realtor's Institute, GRI
Certified Distressed Property Expert (CDPE)
Short Sale and Foreclosure Resource, SFR
Senior Advantage Real Estate Council, Seniors Real Estate Specialist (SRES)
Cendant Mobility Referral Specialist (CMRS)
Council of Residential Specialists, CRS
Personal Background


Laura is married, two sons, a medical doctor and a biotech scientist, and have 5 grandchildren. She had volunteered helping build Habitat for Humanity homes. She had given presentation as a realtor-speaker to first time home buyers in the City of Hayward First Time Home Buyers Program. She had volunteered at Bay East Association of Realtors, in the Grievance and Professional Standards Committee.
On her quiet time, she enjoys reading.


bull;CA Department of Real Estate License #01117012, since August 1991.
bull;Prior to joining Coldwell Banker in February 2000, Laura was in property management.
bull;Serving Alameda and Contra Costa Counties
Credentials and Professional Affiliations
bull;Certified Residential Specialist, CRS, only 4% of the nation's real estate professionals have earned this designation
bull;Graduate, Realtor's Institute, GRI
bull;Certified Distressed Property Specialist , CDPE
bull;Cendant Mobility Relocation Specialist
bull;National Association of Realtors, California Association of Realtors
bull;Bay East Association of Realtors Bay East Member of Professional Standards and Ethics Committe

Qualifications

bull;Full time real estate professional
bull;25+ years real estate experience
bull;Skilled negotiator
bull;SERVICE=Combines intelligence, efficiency, strong yet caring boundaries mixed with compassion
bull;LAURA WILL HELP YOU GET TO WHERE YOU WANT TO GO!
bull;Utilizes technology to market and sell your home
bull;Continous real estate education to keep up to date with ever changing real estate laws
bull;Laura will treat your referred clients like you want them treated.

Specialties
bull;Marketing and Selling single family homes, condos, townhomes, residential income properties.
bull;Investment properties and 1031 exchanges
bull;Relocation and transfers
bull;Counseling and finding homes for first time homebuyers, move-up buyers and sellers
bull;Marketing and staging consultant
* Short Sale and Foreclosure Resource and Listing Specialist
Laurarsquo;s Testimonial from Past Clients
Laura made the experience of selling my condo stress free. She is knowledgeable, personable and honest! She told me exactly what to do in order to get my condo ready for sale and has wonderful crew that did the work. My condo sold after being on MLS for 30 minutes, great work!
Louis T- Seller- San Leandro CA
_______________________________________________________________________________________________________
Laura, you did a great job with all the details of the transaction. Lucky to know you.
Steve H- seller (May 2019)
______________________________________________________________________________________________________
We've worked with her three times: twice to buy a house and once to sell. She always listens to what we want and need and is willing to work within our budget. She also knows contractors, cleaners, and other professionals to get a place ready on time and affordably.
Sarah and Ian S- buyers/sellers/buyers
___________________________________________________________________________________________________________
Laura is amazing!!! She helped us with our first home couldn't be happier with what she did for us! She is dedicated most importantly very upfront and honest! She helped us looked for houses that were within our budget but suited our family's needs! And I will never forget what she said to us "if you're not feeling the house the moment you walk through the door, let's not waste your time." We appreciated that. We respected the fact that she wasn't pushy but looking out for our family! So fast forward to when we did find our house.... Laura went ABOVE BEYOND to get us this house! The other agent was HORRIBLE!!! He basically put us through hell because he didn't know what the hell he was doing, but Laura was on it!!!! She's was calm, professional resilient... you couldn't get nothing past her and was on top of everything!!! She made sure we met deadlines and did things correctly! She is also super resourceful! I can go on and on about how amazing she is! Long story short... Laura represented well and got us into our new home! I would totally recommend her and would definitely work with her again in the future!!!!
Cheryl and John S- buyers
________________________________________________________________________________________________________
Long story short, Laura Rivera is as fantastic as she comes. She worked with us to buy our first home 9 years ago and was a godsend then. When we were ready to sell our existing home and buy our second home, we knew exactly who to call. She's meticulous, highly knowledgeable and creative. She really knows her stuff. Don't let her friendly, pleasant and cooperative demeanor fool you though. She's a shark. She's someone you want on your side. The very long story. At the beginning of all of this, I was dreading the process of selling our house. But Laura did everything. There wasn't too much for us to worry about. She did all the marketing and really drummed up excitement over our home. She had a 3D tour done which was really cool as well. We had kind of a limited showing because we didn't want strangers and nosey neighbors traipsing through our home. We had four uncomfortable days of appointments, showing the home to about 15-17 potential buyers where we had to make ourselves scarce. Of those potential buyers, over 50% of them made offers. We were shocked! We felt like she had priced the property a little high according to Zillow, Redfin, Trulia and comps in the area (and it turns out, some of the her colleagues). We had offers rolling in within 2 days of listing and every single one of those offers was for WELL over asking. Overall, it was pretty painless and not the dreadful experience I was expecting. Laura literally handled EVERYTHING. I just needed to make sure we were all gone during the appointment times. Oh, and she knows everyone. You need someone to strap your water heater, she's got a guy for that. You need someone to clean your house on move out day? You need someone who does this or that random task? She's got a guy for that too. Now that our home was going through the escrow process with our buyers, we needed to find something. And fast. The market that we were buying in was extremely hot. Homes were going in days for well over asking. We were starting to get really nervous that we weren't going to find anything. There was literally nothing on the market with the specs that were looking for (in our price range of course). Laura started getting creative. Calling on agents that had listings that were pulled from the market before the holidays to find out if they were going to be going back on the market. Getting in contact with her colleagues to find out of they had anything that would be coming up soon. She said she was ready to start going and knocking on doors. And I believe her. We started to up our price range a bit but even with the added extra money from the sale of our house, there was still nothing. Finally, we found a place we loved, quite literally the perfect home for our family. Problem is, it was still over our budget. We put in an offer that I thought would never be accepted. After a little negotiation, they accepted our offer. And under budget! We would have never been able to buy this house without someone really looking after our best interests. We are so very fortunate to have found Laura nine years ago.
Erin and Katy- Hayward sellers, Livermore buyers
_______________________________________________________________________________________________________
Laura worked really hard to help us get into the house we have today, and if it wasn't for her and her colleagues we probably would have been priced out of the market not too long after we bought our house. She really knows the area and can help you in finding the house that is just right for you. Thank you Laura for all you did to help us get into the house we currently live in!
Noel- buyer
___________________________________________________________________________________________________
It was my first time buying a house and was really nervous to commit mistakes. I research online, read reviews everywhere and found Laura's profile here in Zillow. I dig deeper by checking Laura's online profiles like her main website, blogs and even facebook profile. I knew then that she would be the perfect fit for my real estate needs.

I really learned a lot from her as I've been asking her a lot of questions through emails or phone calls. As we keep checking on different properties, my confidence build up that I'd get the perfect house for me and my wife through Laura's help. After few months we got a very beautiful and well updated 3br Condo that we really like and I and my wife are really happy and satisfied here in our new home now.

With Laura, there are no surprises as she will let you know every details or everything you need from finding a home to closing it.
If you are a new home buyer, Laura will be the perfect fit for you. If you had bought a house before and looking to buy or move to a new house, you will definitely benefit from Laura's real estate knowledge and expertise.

My take, you'll never go wrong with Laura. Trust me!
Ron and Pia A- buyers
______________________________________________________
I started working with Laura in late 2015 after having a negative experience with another realtor. Right away I could tell Laura was the perfect realtor for me. She was knowledgeable, experienced, proactive and it was clear she cared about me and my situation. She worked extremely hard to find me a home and what's more, her efforts and support extended beyond the purchase of my home. She had helped with recommendations for contractors and service providers that have helped me greatly. Working with Laura was great. I would worksite her again in a heartbeat and would recommend her to anyone looking to buy or sell a home.
Mark N- buyer
___________________________________________________________
ldquo;Laura Rivera did an outstanding job selling our home. We considered selling our home and spoke with Laura about 5 years before we actually put it up for sale. She continued to keep in touch sending us updates and notices about market conditions, even though there was no expectation or certainty that we would put the house up for sale. When we finally decided to sell, she quickly listed the property and held open houses on two succeeding weekends during which time we got an offer that was above our asking price. She then took all necessary actions to get the sale to closing in record time. She's a true professional.rdquo;
Thanks for making the sale so quick and easy,
Gail and Rich H. - Sellers
_____________________________________________________________________________________________________
"I am writing this letter to tell you how satisfied I am with Laura Rivera selling my duplex in San Leandro. She promised me stress free selling; and it was! She was efficient, organized, very sweet and a really nice person- I really didn't think the experience would go so smooth and easy. She is truly a wonderful real estate agent: I must say SUPER GREAT! THANK YOU!"
Marcella Z - Seller
ldquo; Laura and Phil represented me on the sale of my childhood home. As I no longer live in the area, they took care of all the details in selling the home.
I found them both to be professional and efficient. I would highly recommend them to anyone selling a home in San Lorenzo.rdquo;
Debra O- seller
_____________________________________________________________________________________
ldquo;Laura was very professional in helping me sell my condo. I was relocating for work and she was very accommodating to my tight deadline. She also tempered my expectations well. I knew what to expect and nothing ever came as a surprise since she is so knowledgeable. Finally, Laura has great connections, from loan officers to contractors. This is absolutely invaluable when listing a home.rdquo;
Brian R- Seller
______________________________________________________________________________
ldquo;My husband found Laura through the web to help us with a home purchase in the Bay Area, for our son. We live 2 hours away from there, and it was very important to find someone with that get up and go drive, she, Laura has it, all. The follow-up, got right back to us even when she had a lot going on, and always had all the details in order. There was no question to small. Laura was there any time for the 3 of us. We cannot say enough good things about Laura, it made our stressful time much easier. You cannot go wrong with Laura on your side.rdquo;
Ed and Judy-Buyers
_____________________________________________________________________________________
ldquo;Laura was a great real estate agent for us. She was very knowledgeable and guided us smoothly through the process of buying our home. She has a positive attitude about everything and we can tell she enjoys her job very much. We are very picky buyers and she was always patient with us throughout the process. I would highly recommend Laura to anyone interested in buying a new home. She made buying a home a memorable experience for us.rdquo;
Leonard F- Buyer
_____________________________________________________________________________________
ldquo;We found Laura through the web and decided to go with her based on the excellent reviews written about her. She was honest and very approachable during our initial meeting. It was definitely a plus that she knew how to deal with our personalities and our needs in finding the perfect house for our family. She was helpful in every aspect of the process --- from encouraging us to look for better rates with our loan to finding home inspectors. What I'm really grateful for is that not only did she find us the perfect house, she found us the perfect tenants for our rental property. For that, thank you doesn't seem to be enough. Her super personalized service and her expertise in the industry are invaluable and highly, highly recommended.rdquo;
MJ and Frank ndash; Buyers
_____________________________________________________________________________________
ldquo;From the very beginning Laura was very helpful in the whole process. She sat down with my husband and I and explained the entire process from what to expect to when things are going to happen and how to make things go more smoothly. She was always available for any of our questions no matter how small it was. It always seems like she was always working even on a weekend night she would respond to these questions. She made it very simple and easy. Laura was a great help in our process. We do plan on using her again in the near future. Thanks Laura.rdquo;
May and Ryan (referral from Brian R)- Sellers
_____________________________________________________________________________________
ldquo;My experience was great. It was quick and efficient. Although I had a couple realtors before there was still a lot I did not know or understand so I put my complete trust in Laura which was scary for me but she in no way let me down. Her responses were quick and welcomed me to call her at anytime with any questions. (and I had a lot of questions) Thank You for making my first time home buying a great experience. Canrsquo;t wait to show you all the improvements I will be doing this year.rdquo;
Lanna W- Buyer
_____________________________________________________________________________________
ldquo;Laura Rivera found me the home I was looking for. She got it to a price that I liked, and down to a payment that I could afford! It was my first time buying a home, and I felt like she took care of me and watched out for me. There were no surprises. Everything she said up front, happened. I would definitely recommend her, and I will also be using her services again.rdquo;
Kathleen B- Buyer
_____________________________________________________________________________________
ldquo;Now that the sale of our house is complete, we are happy to share our experience working with Laura Rivera. To begin with, she graciously spent two days showing us comps in the area. The information we obtained during those two days, made it very easy to set what we considered an appropriate value on the house. Since the house did need some upgrades, she suggested offering it ldquo;as isrdquo; with a $5,000 credit to the buyer. This, we believe is why we received a full value offer the day following the open house. In addition, her aggressive marketing plan was absolutely perfect. Professionally prepared flyers, great pictures on the MLS listing and a video airing on YouTube all were done during that very important early window of opportunity. We also appreciate that she recognized the importance of what we considered a unique property in an otherwise typical market of three bedrooms, two bath homes. She showcased the uniqueness and we think that too is why it sold so quickly. Then, she provided the bank appraiser with the information necessary to effectively and accurately assess the property. We donrsquo;t think many realtors would have gone that extra mile for their clients. She did a great job of communicating frequently, keeping us advised of all activities. This was a great comfort, especially towards the end, while we all waited for the bank to process the paperwork. Aside from all her professional attributes, Laura is a pleasure to work with, and always listens carefully to her clients.rdquo;
Mike and Jean S- Sellers
_____________________________________________________________________________________
ldquo;My wife and I asked Laura Rivera to represent us in the purchase of our home. The whole process under Laura's guidance was very smooth. She took care of everything that we needed and answered our questions to our satisfaction. Laura also kept us informed by explaining each step of the process to us since this was our first home purchase. Laura was very prompt in returning our calls if we had a particular question about the process or property. It is also great that Laura has a winning personality and has great people skills to go along with her vast knowledge of Real Estate Law and procedures. It was a pleasant experience working with Laura and we highly recommend her services if you are in the market to buy or sell your home.rdquo;
Joe and Carmen W.- Buyers
_____________________________________________________________________________________
ldquo;Laura has been giving our family great service for a great many years. She has helped us sell and buy real estate locally (Castro valley, Dublin, Pleasanton), and has always given us sound advice supported with experience and data. I highly recommend Ms. Rivera to any new buyer or seller!rdquo;
Tom and Nila W- Sellers and Buyers
_____________________________________________________________________________________
ldquo;Laura is very professional, thorough, responsive, friendly and knowledgeable. I have referred her to least 7 friends and family members. She has closed at least 7 deals through plus my properties.rdquo;
Wayne and Shawn B- Buyers and Sellers
_____________________________________________________________________________________
ldquo;Laura helped us gather the facts and make a decision on the whole foreclosure and short sales processes. It was a scary time and she gave us the guidance we needed the most. Thanks Laura! When we get back on our feet we will definitely keep you in contact.rdquo;
Paola P- Seller
_____________________________________________________________________________________
ldquo;Laura is very professional and knowledgeable. She treats you with respect and goes above and beyond her duties. She not only is a great agent, she is a great person and someone you can trust and consider a friend. She was very patient and understanding of our personal situation and helped our shortsale move along smoothly and as painlessly as possible!rdquo;
Ady M- Seller

ldquo;Laura Rivera, is a very kind and great person to work with. She is smart and has full of confident with a great personality. She is been helping me out for the short sale of my condominium for 8 months now. Due to some problem with the property is has been delayed but she is still working on it. Finding the people interested to make then look and buy the unit. She finally found a buyer who is very much interested. I am looking forward to work with Laura Rivera in the near future. When I will be ready to buy a property again. Thank you.rdquo;
Fareen A- Seller
_____________________________________________________________________________________
ldquo;I Met Laura when I first moved back to California looking for a house. She was very patient with us as we went through sticker shock and figured out what we really wanted and were willing to spend. This was back during the multiple offer and auction times, and helped us avoid that chaos and get a great house at a reasonable price. Two things really stick out with me about her, she has great integrity when many agents don't and she has been available for anything I needed during these past 9 years. I would absolutely recommend her and use her again.rdquo;
Geoffrey B- Buyer
_____________________________________________________________________________________
ldquo;Only one thing can describe this person/agent. She is an Angel. She will do anything for you to help you! Laura is an exceptional agent. She helped me sell my house on Brookfield rd in 2009. I then recommended her to my sister and she helped her sell her home in Discovery Bay and shortly after helped my daughter's house in the Hayward Hills. This year she helped me to buy a home quite quickly and we are beyond satisfied with her work. It is very impressive how she treats and helps her clients. Thank you so much Laura for your amazing help and work. You are truly are one of the best realtors around.rdquo;
Martha C- Seller/Buyer
_____________________________________________________________________________________
ldquo;I would highly recommend Laura to everyone. It took us a year to find just the right home for us and she was with us every step of the way. She always put our needs in consideration when showing us potential homes. It was like having a family member looking out for us. She also helped us sell our home at a great price considering the market at the time.rdquo;
Jeannette and Paul F- Sellers/Buyers
_____________________________________________________________________________________
ldquo;We have had Laura Rivera as our agent on two different occasions. Her service is fabulous and she has surpassed our expectations. Her knowledge and expertise in this real estate market is essential. We are currently in the market for a residence and we know she will deliver once again for us. We highly recommend Laura to anyone who is buying or selling real estate.rdquo;
Melody and Curtis G- Sellers/Buyers
_____________________________________________________________________________________
ldquo;Laura Rivera has been my real estate agent for over 10 years. I have purchased real estate for over 30 years and have never came across an agent who was accessible , knowledgeable and resourceful as Laura Rivera. Just like Allstate says "you are in good hands". Laura is a keeper for life.rdquo;
Phyllis L- Buyers
_____________________________________________________________________________________
ldquo;Thank you so much for all of your help. We really appreciate all of your help. Tim was working until 9pm last night ndash; so it was pretty late by the time he finally picked up the keys from his office. I have recommended you to a couple of people in my office. Both Tim and I enjoyed working with you. You made this completely overwhelming process much easier. If we ever need anything in the future, it is nice to know we have someone we can call.rdquo;
Tim and April B- Buyers
_____________________________________________________________________________________
ldquo;Selling our Mothers house was a very hard time for us. You stepped in, took over all the arrangements for cleanup repairs, from hiring, supervising and making sure the jobs were done right. Living far away from Mom's house and having to deal with all of that would have been very hard. Our family is grateful for all of your caring and support. Thank You.rdquo;
Walt and Jean S- Sellers
_____________________________________________________________________________________
ldquo;On a notorious award night it is only fitting that I take this opportunity to tell you about the positive experience that we had with Laura Rivera as she continued to persevere in marketing our property at 28085 Thorup Lane in Hayward. She was consistently creative and very involved in taking multiple approaches to generate new interest in the property and followed through with potential buyersrsquo; agents. Laurarsquo;s personal caring and business background in property management was a real asset in selling our home from several hundred miles away. She regularly visited the property and arranged for its care with our approval and we were confident that the property was well cared for in our absence. She arranged for and coordinated inspections, staging and gardening, as we were not able to. In addition to assuring that our property was well cared so that it showed well and to consistently looking for and pursuing new approaches to marketing, Laura also kept us well informed about the changing market conditions and issues relating to selling property in the ldquo;down marketrdquo; and providing us facts and information for our consideration to make informed decisions. At no time did we feel ldquo;out of the looprdquo; and that was very important since we were no longer living in the vicinity. Laurarsquo;s high ethical practices stand out above the crowd of agents representing buyers and sellers in todayrsquo;s residential real estate market. She is also committed to assuring that any other entity involved in preparing the property for sale ndash; inspectors, repair, staging ndash; and all through the closing ndash; other real estate agents, title and mortgage services were held accountable for sticking to the commitments that they had made, no matter the personal effort that it took on her part. We heartily recommend her to both buyers and sellers seeking an agent to represent them in selling or buying property. Thanks again Laura!rdquo;
M/M Barbosa ndash; Sellers
_____________________________________________________________________________________
ldquo;Laura went out of her way to get important and necessary things done to get my home sold. If it hadnrsquo;t been for her good judgment, kindness and tenacity, I would never have been able to command and get the price that I need to buy this condo I now own. She is a very valuable asset to your company. A true jewelhellip;rdquo;
Mrs. Elva W- Seller
_____________________________________________________________________________________
ldquo;As a sales professional, she did not miss one step in the process. From qualifying me, qualifying the potential buyers, to having repairmen ready to get my house in selling condition, leveraging Coldwell Banker to market the house, keeping the sales cycle moving, and finally closing the deal. In my opinion, what separates Laura from other sales professional is her passion and desire to succeed. Please consider me an extremely happy seller. I am available as a reference.rdquo;
Maurice M- Seller
_____________________________________________________________________________________
ldquo;It has been such a pleasure working with you! My only regret in selling the building is that it means an end to our partnership. I was always impressed with your unique combination of intelligent efficiency mixed with compassion, of rare wisdom and strong yet caring boundaries. Your conscientious efforts made a difficult sale possible. I am now in a position to pay off my debts Thank you for making this possiblehellip;rdquo;
Maxine P- Seller
_____________________________________________________________________________________
ldquo;As we tell our friends, an angel must have sent you to us, everything fell into place. We enjoy our new home for years to come. Your service was flawless!rdquo;
Lucille R- Seller