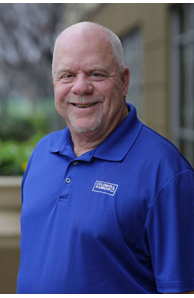 Sales Associate
CalRE#: 01876679
Email

bob.walter@cbnorcal.com

Phone
Office

Elk Grove

9280 W Stockton Blvd Ste 120, Elk Grove, CA 95758
My name is Bob Walter. I am a Coldwell Banker agent in Elk Grove. I love helping people sell and buy homes and try to treat them the way I wish I was treated as a consumer.
More about Bob Walter
Communities I Serve
I have lived in the Elk Grove area since 1985 and I am extremely familiar with the market in Sacramento as well as communities such as Folsom, Rancho Cordova, El Dorado Hills, Citrus Heights, Orangevale, Fair Oaks and much of the rest of El Dorado and Placer counties. Moreover, if you prefer an agent who is based in those communities -- or virtually anyplace else in the country and much of the world -- I can help you hand-pick a top-notch agent who undoubtedly will serve your needs.
Personal Background
Prior to joining Coldwell Banker Residential Brokerage, Bob Walter worked for decades as a columnist, reporter and editor for newspapers in Tulare, Clovis, San Luis Obispo, Modesto and Sacramento.
As a Sacramento Bee business reporter for more than 10 years, he specialized in residential and commercial real estate and development. In his role as a columnist in the paper's regional sections, he became a familiar face in neighborhoods from Elk Grove to Folsom, and throughout Sacramento and El Dorado Counties.
"The time was right for me to move from writing about real estate, to being actively involved," said Walter. "Now that my role in the industry is changing a bit, I look forward to having the opportunity to work directly in the neighborhoods, and with the clients and professionals that I have reported on for so many years."
Walter comes from a short line of Realtors – his mother was a broker-owner for many years in the Bay Area and his father held sales and brokers licenses.
Walter has lived in the Elk Grove area since 1985 and has been in the Camden Passage neighborhood – with his wife, Cyndi, daughter Jessica, son Matthew and puppy Lightning – since 1991. The family has attended Sun Grove Community Church almost since its inception and Walter has coached Matt and Jess, along with hundreds of other Elk Grove youngsters, in softball and baseball since they were six years old.
Coldwell Banker Residential Brokerage in Elk Grove is located at 9280 W Stockton Blvd #120 and Bob can be reached at (916) 691-3652 or via e-mail at Bob.Walter@cbnorcal.com. His webpage is www.BobWalter22.com.
Business Philosophy
My philosophy is to help people and treat them the way I would like to be treated.
Awards And Designations
Masters Club, Sacramento Association of Realtors, 2014
Community Involvement
I have coached hundreds of youngsters in baseball and softball leagues around Elk Grove since 1999, when my daughter turned 5, and have played in recreational softball leagues even longer.
My family has attended Sun Grove Community Church almost since its inception in 1991 and we have been immersed in Sun Grove and Elk Grove Unified School District activities approximately forever.
Testimonials
This is from one of my current clients, past clients and favorite clients, all rolled into one (or two). I helped them sell a rental last year and later played a crucial role in getting them into a wonderful home on five acres in the country. Perfect for training hunting dogs!
Bob Walter worked his magic on selling our rental house. He was professional and gave us accurate advice about what we needed to do to sell this house. He was able to get great photos that showed the highlights of this property. We were blown away by the house selling in two days! We had multiple offers to choose from and we accepted an offer that was over the asking price. Our neighbors were pleased to see that this sale helped raise the value of their properties as well.
Bob also helped us buy our dream property in the country. We had to compete with other offers, but Bob used his knowledge and skill to get us this property. His connections to the lender and being able to work tactfully with the seller's realtor were integral to closing the deal on our dream home!

Thank you for making our dreams come true!

Brendan and Meribeth
Herald, CA
Technically, this is not from a client. But I work side-by-side with Cornerstone Title's Adriana Melo on virtually all of my listings (unless the buyer insists on another company for some inexplicable reason) and she knows my work as well as anybody:
Bob, it has always been a pleasure working with you! 
You are by far one of the best Realtors that I have worked with and continue to work with.  You always have your clients' best interest at heart and work hard to make sure each deal goes smoothly.
Your honesty and integrity goes a long way!  Realtors like you are hard to find.
Thank You.
Adriana Melo | Escrow Officer
CornerStone Title Company 
9250 Laguna Springs Drive Ste. 208
Elk Grove CA 95758
This one is from the daughter of a great guy, Benny Ewing, who worked with me for more than six months and finally landed a great home in Laguna.  Benny and his irrepressible daughter, Makiah, are loving their new home and I suspect Makiah is really loving the community pool.
June 1, 2013
I want to thank you for consistently providing great service and support when assisting my father in home buying. You were so very patient and kind and took your time with him showing him homes and even when he was unsure you would just keep taking him back to see the same home again.
 
He is almost 70 and you you had so much patience. You wanted to make sure he was happy and confident before making the offer. Not only did you make sure he was happy with the homes before making an offer you also did your research, screening the homes, sellers/agents. You helped us prioritize which made his decision making much easier.
Bob I think what really made your work stand out was when you sent over your offer to the seller/agent, and not only did you send the offer you told a story, about my father who he was and how he would be a wonderful addition to the new community,this really made him stand out in this market where investors are winning all bids with cash offers. You talked to the sellers, you told them how my father as a Veteran contributed to his country and would be a great addition to the community. You even found mutual interests in him and the prospective neighbors.
Bob, it is so nice to know there are Agents, no PEOPLE, like you that really care about their customers. I was shocked to read the wonderful letters you wrote in your offers. This showed you really were listening to him and you knew exactly what he needed. 
At the final close, when we were so excited for my father and pleased with your services, I could not believe your thoughtful gifts. At the time, when we thought we should be flooding you with thanks and gifts, you took extra attention to remembering what each of us favored and personalized gifts to us for being your customers, even remembering my 6 year old sister who JUST LOVES BOB! LOL.
Awards
Masters Club, Sacramento Association of Realtors, 2014
Coldwell Banker, Top 100, Sacramento-Tahoe region, 2015