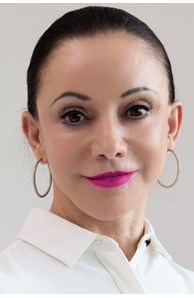 Sales Associate
CalRE#: 01486869
Email

marika.sakellariou@cbnorcal.com

Phone
Office

Greenbrae

511 Sir Francis Drake Blvd, Greenbrae, CA 94904
Meet Marika Sakellariou
More about Marika Sakellariou
Marika provides her clientele with perhaps the most comprehensive property services in Marin.
Whether her discriminating clients are buying, selling, renovating or refurbishing a Marin home, they value Marika's unsurpassed market and design knowledge, integrity, discretion and meticulous attention to detail. She is equally respected among her colleagues, who appreciate
the value she places on professional as well as personal relationships.

Her creative eye, sense of style and appreciation for fine property evolved as she observed and worked with architects Marek Slosar of SlosarDesign and Lucian Rosciszewski of Lucian Design. While Marika's background and training allow her to envision a property's potential, her design resources and skills as well as her distinguished team of contractors and craftspeople allow that potential to be realized.

Born in Athens Greece, Marika has lived and worked in the San Francisco Bay Area for over 30 years. Marika says she cannot imagine living anywhere else in the world (well maybe Athens!). Spectacular skylines, iconic bridges, mountains, ocean and bays are within sight, while hiking, biking and sailing are at her feet, and California's Wine Country and Lake Tahoe are just a short drive away. She enjoys teaching ballet and fitness classes, travelling, cooking, and entertaining, and gives back through the Buck Institute on Aging where she participates as an Advisory Council Member to raise the visibility of the Institute achievements, and set the pace for philanthropy. Marika donates a portion of her real estate commissions to support research on aging.
TESTIMONIALS
I highly recommend Marika. She provided outstanding service to assist me in selling my property in Mill Valley. I found all of her interactions to be very professional and well informed throughout the process. She offered expert opinions on presenting the property and readily assisted in helping me find the appropriate qualified contractors to make some needed upgrades prior to listing.
– David Harlan
It is my great pleasure to recommend Marika Sakellariou as a real estate agent, but even more importantly, as a highly professional business woman and truly beautiful human being. She represented my parents in a recent purchase and she brought a sense of calm, assurance, and high quality that made them feel confident she was in their corner and had their best interests at heart. Marika is a stellar agent and knows the business inside and out. What a gift to find her!
– Kimberly Falkenburg
Marika was like a ray of sunlight through the trees of a dark forest helping us find the place that was just right for my wife and I. She was relentless in her search, always available when we needed her, provided wise counsel from her area of vast expertise in protecting our interests and was a delight to work with demonstrating great patience and grace as she handled all challenges to successful outcomes. We are very thankful to have had Marika as our agent and recommend her highly. Dr. Tom Pinkson
– Dr. Tom Pinkson
Hello, I don't even know how to begin this journey with wonderful Marika. My husband and I decided to downsize, a word I dreaded, living in a home and garden I loved. Stressed, discouraged, very sad seeing other homes, until she came into our lives through our daughters. She said to us, you are family and I will not stop until you are 100% happy in your next home. She very patiently took us around, explained everything, pro and con re. homes we looked at. AND she even cancelled her most awaited European vacation........Until VOILA! We found our perfect home for our next chapter in our lives. She smiled all the way through our process, with her beautiful elegant being. Thank you, Marika🌺 y Hungarian dinner will be waiting for you once we settle in the home you found us.
– Andrea DANEK Pinkson
Marika is amazing! I had been looking for a home and she found an amazing property for me. She went all out every step of the process including her amazing patience and ability to find beautiful homes. She is so caring and wants to help her clients find the perfect place. She is professional, thoughtful and her sense of design is fantastic. I loved the process of finding the perfect home with Marika. She is a very special person, incredibly knowledgeable and superbly professional.
– Lisa Ellerby
Just a week before Christmas, I called Marika and asked her to find a home for my daughter who had just accepted a job as an architect in San Francisco. Not only were the holidays an obstacle, but I only had a few weeks and a very limited budget. Marika jumped in and gave it her all, and on Christmas day she called us with the good news that our offer had been accepted on a loft any young architect would covet, not to mention her artist and architect parents. The following week, working around the clock, we closed on the property in record time. Exhausted, we happily greeted the New Year. Marika is an artist, a designer to the core, who elevates the practice of real estate to a fine art. She dedicates herself to her clients, and works tirelessly to find a home that will complement their needs. We cannot thank her enough, and highly recommend her to whomever is selling or buying a home in the Bay area.
– Peter Ellis
I am so grateful and thrilled with the results of doing business with Marika. I resided in the Silicon Valley and did not have the bandwidth to travel back and forth to the Marin County. Moreover, I had previous offers that were rejected which was discouraging before partnering up with Marika. Literally within a month, Marika really stepped it up, took charge and found me my perfect home and within my budget. Her knowledge of Marin County real estate market, professionalism, creativity, décor and design recommendations were way beyond my expectations. I've purchased and sold several homes over the years and definitely rank Marika as #1. I was especially impressed with her attention to detail and tenacious work ethic searching to find me my perfert home. It did not stop post sale either. Marika is not only a established realtor, she is also a designer. She has amazing vision, impeccable taste and works with your budget. She offered design ideas and was willing to assist me with items that I needed to take care of while traveling internationally. I would HIGHLY recommend Marika. Thank you Marika for making my transaction all so easy and painless. Cheers, Peggy Dadamo
– Peggy Dadamo
We were moving back to the Bay area from the east coast...needless to say a stressful move. Way more than any of the other agents we had contacted, Marika worked tirelessly and enthusiastically to find us our perfect home in Marin. After we found it she seemed like she never slept until she was sure we were able to purchase it. She has great connections with lenders, inspectors, contractors, etc. Marika also has an amazing design eye and has wonderful vision when seeing a "diamond in the rough" home and she's very knowledgeable about what it takes to create that gem. Thank you, Marika!
– Naomi Reid
Marika has a great aesthetic and an innate sense of how to "match" a family to a home. She previewed homes for us and only elevated those she thought of interest which was extremely helpful- saving us time and frustration! She also pushed to get us the home we loved in a last-minute negotiation. That's when I realized Marika was not only fabulous but also tireless!
– Wam
When selecting an agent to purchase our first home I knew I wanted to work with Marika. She has impeccable taste and vision. She's knowledgeable and easy to talk to and very informative on the process. And she helped me get my dream house!!!!!!
– Lyell
As first-time buyers, we could not have asked to be partnered with a better agent than Marika Sakellariou. From the first day, Marika was incredibly professional, hardworking, and always available which resulted in a trusted partner who led us gracefully and confidently along this journey of the biggest financial decision of our lives and the ultimate fulfillment of our owning our dream home. Marika has amazing intuition, understood our needs clearly, and was able to guide us through the marketplace, and the steps of home ownership, to ensure it was not overwhelming and as joyous as possible. Peppering in inspiring design ideas, and helping us take in the excitement helped us move forward confidently in our decision-making process. We began this journey saying to ourselves that there was about a 10% chance of this working out, but Marika and the amazing team she created blew all odds and ensured our pipe-dream became a quick reality. Marika's constant words of reassurance, steady hand, quick intuition, and careful, thoughtful advice was invaluable and we are incredibly grateful to her. I highly recommend Marika Sakellariou as a buyers agent, especially for first-time buyers.
– Anonymous
We wouldn't have bought our dream home if it wasn't for Marika. She found the perfect home for us and encouraged us to make an offer. I had seen the listing before, but because the house was at the top of our limit I assumed we would be outbid, and I didn't think twice about trying for it. After Marika showed us the property we made an offer and somehow it was accepted! Being first time home buyers, we had no idea what we were getting into, but Marika was patient and informative. She explained all the jargon to us, took us through the escrow timeline, and held our hands throughout the entire process. Our loan approval was exceptionally difficult because the house is a fixer upper, but Marika helped us through the negotiations with our lenders. Without Marika, two self-employed artists would not have managed to buy their first home in the Fairfax flats for almost half the going price per square footage in the area. We got the deal of a life time
– Laurent Martin
Marika brings the perfect trifecta to the real estate experience, deep market knowledge, passion for the business, impeccable eye for design, and caring for her clients. The discipline and integrity of character it took to become a prima ballerina, choreographer, personal trainer and entrepreneur exhibit themselves in her work ethic, discipline, attention to detail and getting the job done. She's a beautiful human being inside and out - a pleasure to work with!
– Jay Einbender | Venture Capital
What a pleasure it has been for me to be able to work with Marika! It is not only that she has an enviable knowledge of the Marin County real estate market, but she also seems to have an innate ability to understand a client's needs and to search out those properties that will fill those needs. Should I again be looking for the right property for me, I would go straight to her for guidance.
– Retired Marin County Attorney
Marika was our real estate agent when we bought our waterfront residence in Tiburon. Her ability to listen carefully and understand the specific lifestyle experience we were looking for in a home made it an efficient and rewarding buying experience. There were 4 competing, full price offers on our home. Marika was masterful in helping us craft the offer and convince the Sellers that we were the best Buyers for the property. Through the years we have also used her design talents in counseling us on remodel projects. Whether you are interested in buying, selling or design services, I endorse her without reservation. She has my highest recommendation.
– Alan Zimmerman| Corporate Attorney
The house and landscaping was drastically transformed in about three weeks under the direction of Marika. She brought in her recommended landscaping and construction crews who I paid directly at pretty low hourly rates. We got three offers exceeding the sale price in the first week and sold it for $100,000 above what we expected. Having worked with her very closely for over a month, I can say she is a rather exceptional real estate agent, honest and a good person.
– Stephen McCarthy, Eichler Owner
Ms. Sakellariou brings a creative approach to challenging transactions, she remains positive when negotiations get difficult and above all she is a top-notch communicator. Ms Sakellariou is a tireless and skilled real estate professional.
– Seller
Thank you for bringing beauty into this world of ours. You bring so many levels of Art to us and I love your style and heart. Thank you for transforming my home into a work of art!
– Linda |Bodega Bay
We were new to house buying, and even though my husband and I were not in agreement with the kind of purchase we wanted to make, Marika held our hand, working tirelessly with us to find a property we were both happy with. She is a consummate professional with a developer's perspective on potential, and a multifaceted understanding of the emotional, psychological and practical aspects of purchasing a home. Working with Marika has been a pleasure.
– Catherine & Ian