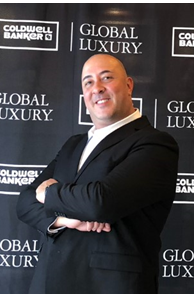 Manager
Cal BRE#: 01179251
Email

erol.bayraktar@camoves.com

Phone
Office

Irvine

6833 Quail Hill Pkwy, Irvine, CA 92603
More about Erol Bayraktar
About Erol
Erol Bayraktar brings with him a broad background as branch manager of the Coldwell Banker Quail Hill – Irvine office. Erol is an Orange County native and began his real estate career in 1994. Erol's success and extensive experience in selling homes in the luxury market proves to be a cherished resource for Coldwell Banker agents. He has earned numerous top-producer awards with the successful completion of more than 100 transactions.
Erol has an extensive track record of helping his agents achieve top producer status while utilizing his internet expertise, personal coaching, training and business development. He works constantly with agents to develop marketing materials and advertising programs that differentiate themselves in the marketplace and generate income-producing leads. He values the benefits that technology can provide to agents in order to help them become more efficient and more productive.
"I constantly strive to take our sales associates and office to the next level. It is my goal for our customers to continue to be extremely satisfied with the services we provide through our professionalism, market knowledge, personal attention and complete family of services experience. It is my goal to help others enjoy the same levels of success that I have been fortunate to enjoy!"
Coldwell Banker Quail Hill – Irvine agents benefit from a manager who is available 24/7 to assist with any situation. Erol provides backup for his agents with various situations in which they need advice or support.