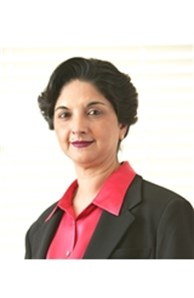 REALTOR®
CalRE#: 01144622
Email
Phone
Office

Irvine

6833 Quail Hill Pkwy, Irvine, CA 92603
More about Anita Sriram
Business Philosophy
Versatile, result oriented real estate sales professional with extensive experience in corporate real estate including multi-family and retail property sales. Demonstrates customer service excellence, business acumen, and strategic planning ability. Applies a collaborative approach in leadership with the aptitude to foster a team-oriented environment while imparting knowledge to others on how to increase productivity. Utilizes diverse property sales tactics, including qualification, persuasion, strategy, proposal and closing. Armed with solid communication and interpersonal skills to establish and maintain rapport with clients and staff.
Core Competencies
Property Sales / Marketing • Client Analysis • Prospecting • Operational Management • Contracts/Leases • Relocation Process/Documentation • Escrow/Titles • Market Research • Negotiation/Mediation • Customer Service
Career Skills and Highlights

• Recognized as a top agent in assisting clients relocating to Orange County – extremely familiar with documentation and the referral system with relocation companies.
• Highly experienced in providing clients with the best deals on properties that meet their specific needs.
• Effectively served as a mediator between buyers and sellers, preparing necessary legal documents to close the sale of properties when an agreement has been made.
• Convert prospects to closed sales for clients located within the Irvine market.
• Provide close, personal client attention and meticulous follow-up to ensure best service.
• Inducted in Remax Hall of Fame in 2007 for having earned $1 million in commission.
• Gained membership in 100% Club and Platinum Club at Remax Premier Realty • Recognized as one of the top producers for all eight years of employment with Hanu Reddy Realty.
Professional Experience

Coldwell Banker Residential Brokerage • Irvine, CA 2012 - Present
Remax Premier Realty • Irvine, CA 1999 - 2012
Hanu Reddy Realty • Irvine, CA 1992 - 1999
Education and Credentials
Bachelor of Arts in English Literature, 1973 University of Madras - Chennai, Tamil Nadu, India
Professional Affiliations

Member- California Association of Realtors
Member- National Association of Realtors
About Me

For the past twenty years I have been a real estate agent helping clients navigate the complexities of the Orange County real estate market. I have earned the trust and respect of both first-time buyers as well as seasoned property investors since embarking on my career as an agent in 1992.
Throughout my career, I have successfully provided strong and effective leadership, guidance and direction to numerous clients. My adherence to the highest standards of ethics has set me apart from my competition. I am meticulous when it comes to detail and organization; I am committed to providing the best client service in a highly professional manner and adhere to corporate standards, industry regulations, and professional ethics. My outstanding client service, whether it be a first-time buyer or a savvy investor, have earned the pleasure of assisting clients relocating in and out of Orange County including employees of FDIC, Mazda, Kodak and other major corporations of the area. I have a thorough understanding of the relocation process and I am very familiar with all the documentation requirements. During my tenure at each organization, I gained valuable insight into real estate sales and marketing strategies, organizational leadership, prospecting, networking, and client relationship management.
I thrive in an environment where decision-making, self-motivation, a commitment to integrity, and excellent communication skills are held at a premium. My successful business philosophy is to simply present and sell homes that reflect the lifestyle of my clients whom I respect and enjoy. I am fiercely committed to orchestrating experiences as enjoyable as they are rewarding. I hope you will find my background compatible for your company's continued growth and success.
Client Testimonials

"I would like to express my appeciation for the work of one of your realtors, Anita Sriram. She recently assisted my wife and I in finding a home here in Orange County following a corporate transfer from out-of-state. She worked tirelessly and professionally in our behalf in all aspects of the transaction which led to a successful purchase within the time limits we were striving to meet." - Robert Groce
"Anita was always loyal and protective of our interests. She handled our situation as if we were her own family. In spite of her very business schedule, Anita spent alot of time with us, answering our questions and consulting us regarding different options of dealing with our real estate situation." - Natasha and Alex Raykhman
"When we bought our first home with your help, we admired your patience, hard work and buyer orientation. Because of our trust in you, we approached you again when we decided to buy a new home." - Avinash Kohirkar
"Anita Sriram continues to go the extra mile for her clients. She has excellent follow-through skills and keeps all parties in line - from the escrow company to the lender to the other realtor. Her advice is priceless - my husband and I were able to purchase a home due to the advice she provided us on our prior purchases. Anita takes pride in her job and is ethical - we feel that she has always had our best interests in mind." - Paul and Jenny Oldham