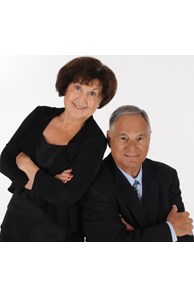 Realtor®
CalRE#: 01277224
Email

dom.norcia@cbnorcal.com

Phone
Team
Office

Los Gatos

410 N Santa Cruz Ave, Los Gatos, CA 95030
More about Dom Norcia
Business Philosophy
Acquiring real estate is a complex business. Mistakes can literally cost you thousands of dollars or the missed opportunity of owning the home of your dreams.
We are a team of dedicated professional specialists who are backed up by the power of the national franchise of Coldwell Banker. We go above and beyond the normal activities required for a transaction. Our goal is to satisfy clients' wants and needs so well that they will be happy to refer other prospects to us. We work diligently and fervently to help you buy, sell, or lease your property at the best price in the shortest amount of time so that you can fulfill your vision and continue to move forward.
Giving their clients the information necessary to make informed decisions is the cornerstone of the Norcia's work ethic. With Lydia's vibrant energy and compassion, Dom's negotiating skills, attention to detail, and experience and knowledge in technology and marketing, they are a balanced and unbeatable team. The Norcia's earned a solid reputation as a team and will work for you and your family to help you find the home of your dreams! Their Goal is to Exceed your Expectations!
Buying or selling your home is one of the biggest decisions you will make in your lifetime. Therefore it is important to work with a team like the Norcia's who bring experience, enthusiasm, and dedication to every real estate transaction.
With over 16 years of experience in Real Estate they experienced both the highs and lows of the marketplace and they are able to advise each client as to the best possible results for the purchase or sale of a home. The Norcia's have a passion for real estate - they combine an old fashioned work ethic with state of the art Silicon Valley Technology that provide sellers and buyers with the best of both worlds. Lydia and Dom offer Full Time Reliable Service with High Ethics, Up To Date Knowledge, Training & Experience with Successful Results

Education and Training
Professional Affiliations
Member of the National Associations of Realtors, California Association of Realtors, Silicon Valley Association of Realtors and REINFOLINK.
Continuing Education
California Real Estate Practice, Real Estate Principles, Real Estate Finance, Ethics and Agency, Fair Housing, Certified Relocation Specialist, Coldwell Banker Mentoring Program, Coldwell Banker Management Training in Los Gatos and Graduate of Real Estate Training Programs at Alain Pineal and Intero Real Estate Services in Saratoga

Community Involvement
Dom is very active in the community and served as President of the Rotary Club of Los Gatos,
A life-long member of The Knights of Columbus, a volunteer for Montalvo Center for The Arts in Saratoga, a donator to Los Gatos Jazz on the Plazz, Member and volunteer at Saint Mary's Church in Los Gatos and current President the Italian Catholic Federation, Branch at Saint Mary's Church in Los Gatos, CA.. Dom is a lover of baseball and actively and financially supports Union Little League Baseball where all his 3 grandchildren play this great sport.
Lydia is an active volunteer in the community. She is past president of the Inner Wheel of Los Gatos (raised $10,000 to provide myo-electric limbs to babies, children and teens born with arms or legs), past member of the Los Gatos Morning Rotary Club, volunteer at Montalvo Center for the Arts, volunteer and supporter of Los Gatos Jazz in the Plazz, Member and Volunteer at Saint Mary's Church in Los Gatos, American Association of University Women, Alliance League of Los Gatos-Saratoga, and Valley Women's League
Personal Background
Dom brings over 30 years of sales, marketing and negotiation skills to the real estate business. His comprehensive education, background, training and experience is a blend of big picture strategy and critical daily details. His unique style combines integrity, years of business experience around the world, business acumen, practical knowledge of being a hands on guy, and an inventive marketing action plan to consistently produce winning results for his clients.
_______________________________________________________________________________________________________________________________________________________________________________
Lydia brings over 30 years of experience to the real estate profession. She is an expert communicator with many years of consultation skills provided to Fortune 500 companies and to individuals and families in the bay area. Lydia began her real estate career in Massachusetts. She worked as a Broker for White House Realty before moving to the Bay Area in 1970. Her background provides a deep understanding of human nature and the need for parents to provide a home for their families. Lydia has acquired many credentials and continues her education in all phases of real estate to provide state of the art real estate services to all her satisfied clients. Lydia also has extensive education, experience, and training in psychology. She formed her own Counseling and Consulting business in 1980 and maintained this business for over 20 years. Her background provides a deep understanding of human nature and the need for families to have a safe haven for their children.
Lydia really listens to her clients. She is very successful in finding them the right home that fulfills their need to achieve the "American Dream".
Communities I Serve
We serve all of Northern California with concentration in Los Gatos, Saratoga, Monte Sereno, and the surrounding communities.
Areas of Expertise
Los Gatos, Saratoga, Cambrian, Campbell, Cupertino, San Jose, Santa Clara, Sunnyvale, Los Altos, Mountain View, Blossom Valley, Silver Creek and Almaden Valley.
We have a list of sold homes in all locations in Silicon Valley for your review - by request.