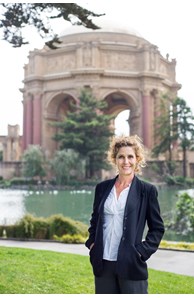 Sales Associate
Cal DRE#: 01912249
Email

TIsolani@cbnorcal.com

Phone
Office
More about Tasha Isolani
Personal Background
I love the Bay Area! I grew up here and although I have lived in places such as Mallorca, Spain, and The Virgin Islands in the Caribbean, I have always returned to the Bay. There is no place just like it, is there?
I was enchanted with architecture and interior design at a very young age, and frequented architectural masterpieces built by those who helped shape our cities. I am currently writing a film script about Julia Morgan, the architect for Hearst Castle. My mom, a premier scout for 3 of the top Internationally acclaimed Bay Area designers, raised me from a young age to appreciate sophisticated design elements, and to master the art of expert negotiation. My father, an esteemed physician and a research scientist at the University of California at Berkeley, taught me the value of attention to detail, quality care, and intelligent action. Both my parents, as well as my grandparents, met while attending UC Berkeley.
Tech savvy and with expert skills in negotiation, I bring years of experience in real estate to provide you with the best resources for the sale of your home. Whether you are interested in assessing the value of your home, preparing your home for sale, or looking to purchase or invest, give me a call. If you would like to tour with me in my black sparkly Volvo convertible and become more familiar with the local neighborhoods and micro markets, text or call me at 415.747.1283.
.
Education and Training
I received my BA from the University of California at Berkeley, my Masters in Clinical Psychology from JFK University in Orinda, and a Post Masters in Narrative Therapy from the Mental Research Institute in Palo Alto. I also have a degree in digital media from Berkeley Digital Film Institute. One of my films won best local film at the Albany film fest, 2015
I have two daughters, currently 22 and 18. They were both violinists at a young age and attended The Crowden School in Berkeley where they developed musically as well as academically. My oldest recently graduated from U.C. Berkeley in economics completing her degree in only three years while on the Dean's list for academic achievement, and as a member of the Phi Beta Kappa honor society. My youngest is a freshman at CalPoly in a double major of Anthropology and Geography. She is also a soccer coach and volunteers for the fire department.
.
Business Philosophy
With a passion for real estate and premier expertise, Tasha Isolani will provide you with the knowledge and resources for your real estate success!
CLIENT TESTIMONIALS
"Tasha was amazing! She figured out what I wanted before I did and brought me right to my dream house. Plus the whole way she was on top of everything - as proactive as I could imagine anyone could be."
"Tasha was fabulous as our realtor in helping us purchase our new home. We had been searching for the "perfect" home over several years, and Tasha remained steadfast for us, keeping us abreast of the current market conditions. When we finally found our "dream" home, she guided and represented us in a professional and reliable manner. We never felt pressured from her. She supported us in our decisions while providing sound advice regarding our offer on the home. We strongly recommend Tasha Isolani as a realtor and plan to use her as our listing agent when we sell our old home."
"Tasha is an angel! We came into a limited inventory market with little knowledge of the local area and Tasha was with us every step of the way providing friendship, experience, great connections and lots of fresh salad to help us find and secure the house that we move into very soon. Outstanding negotiation during the close (there's a steely mind under that soft exterior) and incredibly supportive when things got stressful. A real, genuine, caring person who brings those same attributes to her realtor work. Tasha - thank you again for everything."
"My husband and I worked with Tasha Isolani on the purchase of our new home. She was terrific. She helped us negotiate a fair price with a financially challenged seller. She also gave us excellent advice and assisted us with marketing our home as a rental. I highly recommend her, not only for her expertise in a difficult situation during closing, but also her kind personality and readiness to do what it takes throughout the process."
"Tasha represented us in the purchase of our home. She is extremely dependable, thoughtful, and caring. She listens and follows through throughout the entire process. I highly recommend Tasha. She works tirelessly and has great ideas and suggestions."
Call or text Tasha Isolani at 415.747.1283, or write to her at tashaisolani@gmail.com

You will be so happy you did!!
Awards And Designations
Client Service Award 2013
International Sterling Society Award 2015
Top Agent in Sales for Southern Marin, February 2016
From Mike James, President of San Francisco Bay Area Coldwell Banker Residential Brokerage,
"In a company of high-achievers like Coldwell Banker Residential Brokerage, it speaks volumes when someone rises to the top of this talented group. So it is with great pride that I inform you that you have achieved the status of #1 in Gross Commission Income for the month of Fenruary (2016) for the Southern Marin office....Your talents as an outstanding real estate professional truly make you shine. I congratulate you on your hard work and success and wish you nothing but the best in 2016!"
Also from Mike James:
"I'm excited to inform you that you have received the prestigious Coldwell Banker International Sterling Society designation for your outstanding results in 2015. Being a member of the International Sterling Society is one of the highest honors among Coldwell Banker Independent Sales Associates.
Receiving this recognition signifies to home buyers and sellers that you have demonstrated superior sales performance, professional skills and exemplary customer service. In short, you are among the very best in our industry.
I couldn't be more proud that you have chosen to affiliate with Coldwell Banker Residential Brokerage. Best wishes on even greater success in 2016!
Sincerely,
Mike James
President
Coldwell Banker Residential Brokerage
San Francisco Bay Area"
Areas of Expertise
Luxury Real Estate
Community Involvement
I am very interested in gardens and sustainability, and was Kid Zone Manager for Earth Day Marin in 2012. I am working on building a large permaculture garden in Marin County, to be used as a training facility for agriculture and permaculture in third world countries.
I volunteer for the Berkeley Architectural society as well as the Berkeley Historical Society, and have created you tube videos to help local musicians.
I produced a CD and children's book to promote children's english literacy worldwide, all profits are donated to the Cambodian Children's Fund (CCF)
CCF offers an alternative to children who scavenge through toxic trash to survive. For more information on this book and Cd, as well as The Cambodian Children's Fund please visit my website for the book at http://theflowerthatshatteredthestone.org/flowerstone/Home.html
Communities I Serve
Marin County
San Francisco
Berkeley
Kensington
Albany
Current Mill Valley Sales Trend