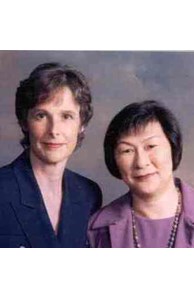 Email

keldridge@cbnorcal.com

Phone
Office
"The Home Team"
More about the Team
Business Philosophy
"Putting the client first since 1989"
As real estate partners since 1989, we bring our clients the hands-on involvement and personal availability of two full-time agents with 62 years of experience combined. We feel privileged to work with people in relation to something that is so central to their financial well-being and quality of life. We are both committed to making sure that every client's real estate experience is a positive and rewarding one, and to accomplish this, we pay attention to each and every detail, whether in preparing homes, evaluating home values, negotiating clear and favorable contracts, or marketing and promoting homes. We believe that by skillfully managing every detail, we can bring our clients the full benefit of our experience and expertise.
For us, it is far more important how we do business than how much business is done. We have been putting our clients first since 1989!
Awards And Designations
"Many fine honors, many sources of pride"
Since joining Coldwell Banker in 1998, Karyl and Jennifer have achieved prestigious company designations, including International Diamond Society, International President's Circle, and International President's Elite. They have received other forms of recognition including those that appear below:
Karyl -- Voted "Most Knowledgeable Agent" by her colleagues at Coldwell Banker in an office of over 80 agents.
Jennifer -- Voted "Best Buyer's Agent" by her colleagues at Coldwell Banker in an office of over 80 agents.
Karyl and Jennifer -- Repeatedly chosen by their managers to represent family members in the sale of their homes.
Karyl and Jennifer -- Recently invited to represent the Northern Peninsula in a distinguished referral network involving highly respected Coldwell Banker agents throughout Northern California.
Karyl and Jennifer -- Honored by the San Mateo County Board of Realtors and the California State Assembly for their work with community nonprofits. They give back to their community through their involvement with InnVision/Shelter Network, Rotary International, the Housing Endowment and Regional Trust (HEART), and Faith in Action (previously Peninsula Interfaith Action).
Karyl -- Was asked to join the Coldwell Banker management team in 2002. In her role as Assistant Manager, she counsels agents on transaction-related issues. She also gives classes to new and experienced agents in "Understanding the Contract" and has taught at the board of realtors on "Keeping Your Clients Out of Court."
Personal Background
"Wide experience, deep community ties"
Karyl was born and raised on the East Coast and studied economics at the University of Rochester and NYU. She has worked in a variety of capacities, including textbook editor, risk administrator, and teacher of classical piano. Jennifer is a Bay Area native. She is the proud mother of three grown children, and for nearly 20 years she worked as a volunteer in a range of capacities at her children's schools. Both Karyl and Jennifer are lifelong community volunteers. They are currently involved with LifeMoves (previously Shelter Network), Rotary International, and the Housing Endowment and Regional Trust (HEART) and have served on their boards.
The Communities We Serve
"Selling homes from Daly City to Redwood City"
Karyl and Jennifer have done extensive business in both the mid-Peninsula and north Peninsula. They have sold single family homes, condos, and multi-family dwellings, and are expert at handling probate and trust sales.
The cities in which they have done the majority of their business--and where they have strong market knowledge--are shown below.
DALY CITY
PACIFICA
SOUTH SAN FRANCISCO
SAN BRUNO
MILLBRAE
BURLINGAME
SAN MATEO
BELMONT
FOSTER CITY
SAN CARLOS
REDWOOD SHORES
REDWOOD CITY
Testimonials
"A chorus of kind words"
"We are thrilled with the results of our home sale. You are complete pros, and what is more extraordinary, you really care about your clients. We will be singing your praises for years to come." -- Michelle Dunlap, Mortgage Consultant
"My sister and I were amazed. We had never seen realtors be so hands-on, and we both feel that we got more than we ever expected or asked for!" -- Don Zacharie, Engineer (Retired)
"Your long hours of hard work and utmost efforts on my behalf can never be repaid. It is a wonderful experience meeting people like you who truly help in the best way possible. It can be said that you have done much more than sell my home--you have walked the second mile." -- Nick Tiapula, Pastor
"You will both be remembered as key catalysts in the building of our dreams. We love our new home, and we are hugely indebted to you for your patience, time, enthusiasm and expertise." -- Saji Poespowidjojo, Food Technologist
"Without your raw determination, knowledge of the market, and skillful oversight, we could easily have ended up in a very different place." -- Joel Sanders, Project Manager, MTV
"I had my home on the market with another realtor for two years. Then I listed it with Karyl Eldridge and Jennifer Cheung, and they got it sold in two weeks, even after increasing the price!" -- Roberta Powers, Teacher
"You orchestrated everything to perfection. Thank you! We hit the jackpot when we hired you!" -- Lois Childress, Estate Representative
"The work you did for me changed my concept of what a realtor is, or could be." -- Marylou Schoone, Principal, Notre Dame High School (Retired)
The Team Advantage
"Where 1 + 1 = 3"
Shortly after meeting one another at a training program in 1989, Karyl and Jennifer formed a partnership that has endured for 29 years. They offer their clients the hands-on involvement and personal availability of two full-time agents with 58 years of experience combined.
At the time they joined forces, Karyl and Jennifer could never have known how exceptionally lucky they were. To their surprise, they discovered that their skills are almost perfectly complementary. Karyl's strengths are in the areas of marketing, negotiation, contracts and preparing homes for sale. Jennifer is a master of the inventory and seems to know everything that is on the market, often before it appears on the MLS. She is very gifted at conducting open houses and ensuring that all of the required paperwork is in place to comply with the law.
Together Karyl and Jennifer make a powerful team. By the time escrow closes, their clients invariably remark that the Home Team partnership has been a huge benefit to them, It goes to show that 1 plus 1 sometimes can equal 3.
"Coldwell Banker is fortunate to have such a dedicated pair as Karyl Eldrige and Jennifer Cheung. From the start, it was obvious that they put considerable time and effort into researching various issues related to our home sale. They were very knowledgeable about property values and market trends. Karyl was adept in the anticipation of potential problems, and her excellent advice helped me to make some difficult decisions. She strongly held our position when the negotiations became difficult. Jennifer's paperwork was flawless ... I believe the two-person team appraoch is an excellent idea. I would recommend Karyl and Jennifer to anyone I know." -- William Schwarz, Retired Engineer