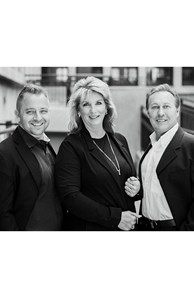 Email

ron@btdproperties.com

Phone
Office
Connect with the Team
Awards

International President's Elite Team
Designations
Luxury Property Specialist (Luxury Specialist)
More about the Team
The Buss-Todd-DeBacco is here for all of your real estate needs. We specialize in Denver's finest homes. Helping buyers and sellers achieve their goals. Let us help you with:
1. Marketing your home effectively - using the most advanced technologies available in the market.
2. Working with you as a team to help stage, present and market your home.
3. Guide you smoothly through the sale or purchase process.
4. Locate great homes for buyers that fit you needs at fair market prices .
5. Locate investment properties for the savvy investor
6. Our team works seamlessly with builders and developers from individual homes to mixed use developments.
Contact us at ron@btdproperties.com or Susan@btdproperties.com or Dan@btdproperties.com - we'll get back to you quickly and answer all your questions.
Marketing Denver's Finest Homes



Our team consists of Ron Buss, Susan Todd and Dan DeBacco, we bring our clients over 45 years of combined experience.
We are a hardworking , full time team of realtors dedicated to closing transactions for our buyers and sellers. As top producers with Coldwell Banker here in Colorado and on a Nationwide basis our reputation is built on past success, high ethical standards and an ability to get the job done for our clients.
As we all know "Past performance is the best predictor for future success" .
We have consistently be ranked #1 within Coldwell Banker's sales force of over 1200 agents in Colorado's Front Range - and we are ranked in the top 1% of the National Reserve Trust (NRT) , totaling 54,000 agents nationwide.
We provide our clients the security of knowing that we will never drop the ball, we will always be available to answer your questions - and best of all you'll reap the benefit of getting 4 agents working help find you the perfect home or market your existing home to a final sale.

Communities Served

Belcaro, Bonnie Brae, Bow Mar, Cherry Creek, Cherry Hills, Cherry Hills Village, Columbine, Congress Park, Country Club, Highlands, Hilltop, Lo Do, Lone Tree, Lowry, Observatory Park, Observatory/University Park, Park Hill, Polo Grounds, Washington Park