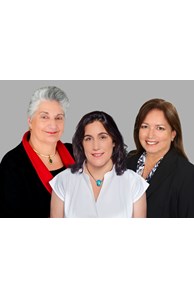 Email

meig.walz@cbmoves.com

Phone
Office
The Walz Team
Connect with the Team
Designations
Luxury Property Specialist (Luxury Specialist), Accredited Buyer Representative Manager (ABRM), Antique Homes Specialist (Antique Homes Sp.), Broker Price Opinion Resource (BPOR), Certified New Homes Specialist (Cert. New Homes Sp.), Graduate Realtor Institute (GRI)
More about the Team
Welcome Message
Hi!  Thanks for inquiring about us.  Here is a snap shot of who we are, but you will not know if we are the right agent for you, unless you meet us.  So, give us a call at 203-996-7209.
Meig
The Walz Team
Lorey Walz and Meig Walz Newcomb
Selling Real Estate in Madison, CT as a team since 2001
Lorey since 1983
203-619-4029 (Lorey)       203-996-7209 (Meig)
Sold over $375,000,000 of Real Estate since 2001
Including 32 Waterfront Homes
Including 78 homes over a million dollars
Ranking top 3% in Sales Volume Nationally  
 
Our past success allows us to provide our sellers with state of the art marketing which produces the best price for our sellers, and unparallel knowledge of the market which provides our buyers the best position for negotiating.  
Business Philosophy:
Real Estate in 2015 is a 24 hour 7 day a week passion, and our partnership was created to insure our ability to service this market.  
We always remember we are selling someone's home:  we respect your emotions about the property.  We will guide you down the path but will always honor the fact that it is your home and your decision.
We are present at all showings never using a lock box nor a "leave the door open" approach.
 We know Madison is an exceptional community, and we pride ourselves on our ability to present its many attributes to a potential buyer
Both Lorey and Meig sell homes in Madison because we love it.  While it may be grueling at times, it is hard to imagine a more fulfilling career than helping people find their new home is this exceptional community.
Credentials:
Previews Home Specialist
Luxury Homes Specialist
Council of Residential Specialists
Member for National Association of Realtors
Members of Connecticut Association of Realtors
Accredited Buyer Representative

 
Community Involvement:
Both Lorey and Meig grew up with connections to Madison.  While we may have lived elsewhere for spurts, Madison has always been our love.  This is our home, and we love it.  
 Lorey : 
Member and Past Governor of the Madison Beach Club 
Member of Madison Country Club
Past President of Deacon John Grave Foundation
Committee Member for "Remarkable Homes Tour"
Committee Member for "Downtown Center Project"
Committee Member for creation of "Historic District"
Committee Member for creation of " The Blight Ordinance"

 
Meig
Member and Governor of the Madison Beach Club
Board Member of Neighbor to Neighbor ( Madison, CT)
Past Board Member of the Deacon John Grave Foundation
 
Awards:
Chairman Circle - Platinum (multiple times)
Production Awards from Multiple Listing Services (multiple times)
Service Award for quality of service (multiple times)
 
Education
Lorey earned her BS from Wagner College - Class of 1966
Meig earned her BA from American University - Class of 1995
Multiple References available upon request