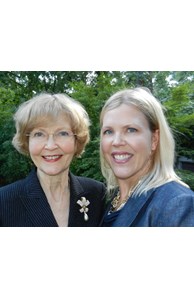 Salesperson
Marin & Sylvia deliver ethical, full service results, based on 50+ combined years in real estate and over $1 billion in career sales.
Awards

International Luxury Alliance

International President's Premier Team
More about Marin Hagen
Personal Background


Marin Hagen joined her mother's (Sylvia Bergstrom) successful real estate business in 2007, and they continue to be top producers. She has deep professional expertise in the strategic use of communications technologies for business and political results, and a successful track record in selling strategy, consulting and communications services.
Prior to joining her mother's successful real estate business, Marin owned and managed a communications consulting practice. In addition to her business, she provided strategic consulting for both the Internet Policy Institute and Library of Congress. Marin also has extensive experience in sales and advertising.
Marin has worked on Capitol Hill in both the House and Senate. She has a BA in International Studies from Macalester College and studied at the Universidad Complutense de Madrid, Spain.
Preview our listings online and we look forward to hearing from you. In addition to Marin's, please also visit Sylvia Bergstrom's website: