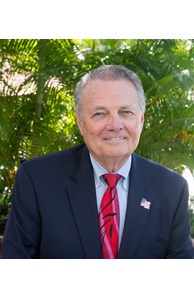 Broker Associate
Phone
Office

St Armands

423 St Armands Cir, Sarasota, FL 34236-1408
More about R. Glen Ridgeway
My Services and Areas of Expertise Include:
I am a trained real estate professional with expert skills at marketing, presentation, negotiation and sales. I will work with you to ensure that your property is sold for the highest price possible in the shortest amount of time with the least amount of inconvenience to you.
· Just Listed/Just Sold Postcards
· Local Newspaper Advertising, including prime classified positioning
· National Brand Advertising and Promotions
Coldwell Banker Global Luxury for luxury properties, with global exposure on coldwellbankerpreviews.com.
Lillian and I are primarily engaged in handling golfing communities and waterfront properties in the Sarasota, Manatee and Charlotte county markets and will work diligently to address any and all your real estate needs.
Affiliations
Member, National Association of Realtors
Member, Florida Association of Realtors
Member, NJSP Former Troopers Association
Member, Warren 13 F&AM,; Scottish Rite of NJ; Sahib Shrine Temple, Sarasota, FL.
Member and Past President, International Association of Law Enforcement Intelligence Analysts
Member and Past Chancellor, Society of Certified Criminal Analysts
Community
As a real estate professional, I understand the true value of our community. I proudly support our local charitable organizations through my participation in Coldwell Banker Residential Real Estate CARES. Since 2001, Coldwell Banker Residential Real Estate CARES has donated over $1.5 million to a wide array of non-profit educational, health, welfare, environmental and cultural arts organizations. Since 2003, we've sponsored 12 Habitat for Humanity homes statewide, with several more in progress. This initiative continues to position Coldwell Banker as a leader in support of this truly worthwhile organization.
We support the military personnel overseas through our affilitation with the Military Officers Association of Sarasota by providing and sending packages to the troops overseas.