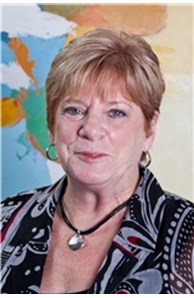 Sales Associate
Phone
Office

St Armands

423 St Armands Cir, Sarasota, FL 34236-1408
Connect with Sharon
Awards

International Sterling Society
More about Sharon Whalen
Ohio ... Illinois ... oh please NO MORE SNOW!!!
One thing you'll learn about living in Sarasota: almost no one is 'from' here … nearly everyone in this wonderful place is a transplant from somewhere else. I'm no exception.
I was born and raised in Columbus Ohio, where most of the members of my big family (7 sisters and 1 brother), still live. I studied Journalism at The Ohio State University (go Bucks!) and got my first big professional break in 1990 when I joined the staff of a weekly newspaper in Springfield IL.
The newspaper business is fun, fast paced and oh so demanding - good training ground for a career in real estate. I served for 10 years as Advertising Director and GM of Springfield's progressive weekly newspaper, Illinois Times. Along with managing the business side of the operation my job was to train and guide sales reps as they learned to write and design advertising and marketing programs for our clients (mostly small business owners eager to attract new customers and keep their business thriving.) Those ten years in Illinois lead to 12 years traveling around the country for publishing / consulting gigs in garden spots like Santa Fe, Colorado Springs and Scottsdale. Along the way I also produced jazz festivals for a couple of years. (a whole lot of fun and a lot like juggling cats) In 2002 Springfield came calling again and I invested the next 10 years to serving as publisher of the very same newspaper where my career began. In late 2012 I hung up my publisher's eyeshade and moved to the beautiful Florida Suncoast. The rest, as they say, is history!
The hardest working sales agent you'll meet!
I've spent a lifetime in the newspaper biz, where your days are filled with readers, advertisers and community leaders - and no two minutes (let along 2 days) are exactly alike. I genuinely enjoy meeting all sorts of people, which is why choosing real estate as my second career was a no brainer. Over my lifetime I've bought and sold more than a dozen properties -- and learned a lot about what makes a good (or not so good) real estate agent. I am one of the good ones - Ithe kind you'll recommend to friends and family!
I'll take the time to know you and what you're looking for, so we don't waste time looking at properties that won't meet your needs. I'll help keep you organized when it comes to the paper work needed to complete a transaction and stay in touch .... so you'll never have to wonder what's happening on your deal.
I'm creative, somewhat unconventional and pretty much fun to hang out with. And among the hardest working agents you'll meet!
I love Canadians!
My daughter Sarah and her husband D'Arcy live in Ottowa Canada and recently blessed me with a beautiful granddaughter. . I travel to Ottowa regularly and look forward to making many new friends in that part of the world. I welcome referrals from Canadian realtors - and of course would also be happy to meet anyone from that beautiful city who might want to learn more about our beautiful city of Sarasota.
No matter where you live in Canada, if you would like to receive my email newsletter (I'll share real estate news and other fun stuff that's happening on the Florida Suncoast) send your contact info via email and I'll add you to the list. If you plan to visit the Gulf Coast I hope you'll be in touch so we can find some time to visit face to face. . I'd be happy to send maps and other useful informatoin prior to your arrival -help in whatever way I can to make your trip more enjoyable. Drop me an email at sharonsellssarasota@gmail.com and I'll be in touch right away.
Doing my part for the community
I work as a volunteer at the Downtown Farmer's Market which takes place every Saturday morning, year round. It's a wonderful place to meet people and support local farmers, artisans and restauranteurs who are part of this charming weekly event.
I am also a big believer in giving back in more meaningful ways, and regularly donate food to All Faiths Food Bank. I am a memeber of the Selby Botanical Garden and the Mote Aquarium as well as the Sarasota Film Society . I am a member of the Newcomers Club and look forward to introducing you to these and other groups that make Sarasota and the Suncoast special.
And finally, a portion of every commission I earn is donated back to the Coldwell Banker Residential Real Estate CARES program, which has donated over $1.5 million to a wide array of non-profit educational, health, welfare, environmental and cultural arts organizations. Since 2003, we've sponsored 12 Habitat for Humanity homes statewide, with several more in progress.