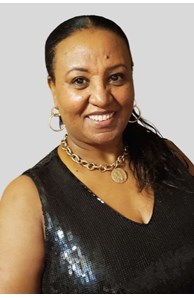 Sales Associate
Phone
Office

Perimeter

5591 Chamblee Dunwoody Rd Bldg 1300, Dunwoody, GA 30338
More about Kibe Tezera
Kibe's transition into a real estate agent was an easy decision. With her previous experience as a travel consultant, she knows how to help move people to the places they want to go. With her previous customer-service experience, she has the ability to listen and help find the home that will be the best fit for you! Kibe's skills from previous professions give her an edge up on other agents. Kibe is detail-oriented and highly organized, which is advantageous for helping with your home buying and selling needs.
As a real estate agent with Coldwell Banker® Kibe is provided with all the right tools to help you buy or sell your home. From comparative marketing analyses, to advertising on high-traffic websites, your property's online exposure is sure to reach many potential buyers. Kibe is also in the market to help you sell your home, so with listing tools exclusively offered to Coldwell Banker® agents, your listing is sure to stand out.
Kibe is a people-person, and real estate allows her to do what she likes best, interact with people. Working in the hospitality industry has given Kibe the patience needed to help you find your perfect house. Kibe listens to what her clients want out of their future home and provides the support clients need when they're ready to sell. Whether you're a first-time homebuyer, or you've owned a property for several years, Kibe can help you find the home that best fits your needs!
In her free time, Kibe enjoys being an active member of the Ethiopian Orthodox Church in Atlanta. Kibe speaks Amharic and Dutch and spent a number of years living in Toronto. When she's not busy assisting clients, Kibe enjoys spending time with her family and her cat Nala. Kibe also enjoys exploring the different restaurants and parks that her neighborhood in Decatur has to offer.
If you're interested in buying or selling in Atlanta, Decatur, Clarkston, Stone Mountain, Lilburn, or Snellville contact Kibe!