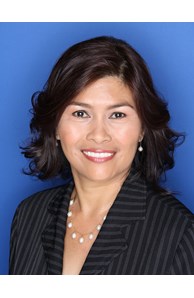 REALTOR-ASSOCIATE®
Lic#: RS-75029
Email

sdeblois@cbpacific.com

Phone
Office

Leeward

98-211 Pali Momi Unit 411, Aiea, HI 96701
About Susan
Connect with Susan T.
Languages other than English
Filipino, Tagalog
More about Susan T. Deblois
"Providing Real Estate Service Above & Beyond Expectation"

Whether serving a buyer or seller, Susan's market knowledge helps educate her clients where the market is heading to.  Her creativity to sell a home fast at a higher return for her clients is her utmost goal.  She is dedicated and professional in her business dealings.  She communicates every step of the way of the transaction so her clients are well informed.  She will negotiate a great deal for her client, handle the paperwork to have the home sold or purchased, providing service above and beyond expectation.
Born and raised in the Philippines, Susan graduated with a degree in Accounting.  She worked as an Accountant in various fields of businesses from trading to shipping companies in Saipan. Her knowledge and expertise in business grew a seed in her heart to form a business of her own.
Susan is also an RN - passionate in helping people improve their health and well-being.  While it's true that nursing can be challenging in taking care of patients' needs, seeing the progress of her patient's health gives her a sense of accomplishment and purpose.  
With her desire to be in business, she diversified by going into a career in real estate.  She believes that in order to provide the best service she can offer to her clients, she must give one-hundred percent of her effort.  She works with her clients before, during and after the sale putting their interest as priority.
Her background in nursing gives her a broader understanding of other people's feelings, and helps her educate and assess her clients' needs with an open mind.  While her accounting and business background gives her the ability to be able to understand and analyze the market, negotiate for her clients, prepare a volume of paperwork and have a keen sense for finance.  Allowing Susan to Providing Real Estate Service Above & Beyond Expectation!
You will never go wrong with Susan. Contact her today!
Susan T. Deblois (RA)
RS-75021
Coldwell Banker Pacific Properties
98-211 Pali Momi Street, Suite 411
Aiea, HI 96701
808.339.5300 Cellular
sdeblois@cbpacific.com
Client Testimonials

"I met Susan thru a mutual friend. As a first time home buyer, she guided us along the way from the time we were searching to finding our home and owning the house we called our home. She was guiding us along the way by keeping us updated in every step of the transaction from having a great lender, home inspection until we closed. She made it look an easy ride for us. We were so happy that she was our realtor. We will definitely refer her service to others" – Marilou A.
"Susan was our realtor when we sold our home where we lived for almost 15 years. There was so much memories in that house. Susan understood how important the house to us she made sure we found the right buyer who will take good care of our house the same way we did. Most important, she negotiated the highest price we can get for our home. We were happy to have her on our side knowing that she understood how we loved our home." – Kellee W
"I bought my second home with the goal of having my first home rented. Susan represented me in my transaction. Just right after closing, my new tenant needs to move into my first house as their lease is expiring shortly. It was so stressful moving my stuff in a very limited time but had it not for Susan's help, I wouldn't be able to move on time. She made it look so easy that our moving time was fun. She's my realtor who turned to be my friend" – Judith J
"I couldn't be happier with the service and support I received from Susan.  She helped me with the sale of my parent's property, which turned out to be much more complex than I initially expected.  The property was under my parent's trust and guidance from our trust attorney was limited to poor.  As a result, we encountered different challenges along the way.  Susan kept on top of the situation and ensured we met all the established deadlines.  In the end, we closed successfully and on time.  She maintained professionalism throughout and was always kind and optimistic" – Susan F
"Susan helped me buy a home but not just a home, I call her any time I need help even it's not about real estate. She is always there to help me find the answer, my "go to" person. She has good list of plumbers, electrician you name it, she'll find a way. Her service does not end during our sale but more so after we close. This is very rare at this time." – Diane G
"Very professional and knowledgeable. On a personal level, she's very friendly" – Grace M