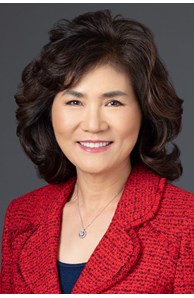 REALTOR-ASSOCIATE®
Lic#: RS-75648
Email

christy.seaquist@cbpacific.com

Phone
Office

Honolulu

1314 S King St Fl 2nd, Honolulu, HI 96814
Connect with Christy Y.
Languages other than English
Korean
More about Christy Y. Seaquist
Aloha,
I immigrated to the Univ. of Hawaii as an Exchange student from Kyungpook National Univ while I was in Ph.D program(Management information system) in 2000. After the program I worked for an immigration law firm as a manager for 5 years followed by my own business and from 2013, Real estate business till today. Gorgeous single-family homes and condos that well harmonized with such beautiful mountains and the Pacific Ocean of Hawaii just facilitates me and finding the owner for the homes is my enthusiasm and special privilege I cherish. I love playing golf, table tennis as well as oil painting and traveling as my hobbies and I live with my husband and a daughter. I'd love to learn from people and to build caring relationships with one another. Hope and pray that I can work for you for your real estates. Thank you.
안녕하세요.
저는 대한민국 대구 경북대 경영정보학 박사과정중에 하와이대학교로 교환학생으로 2000년도에 왔습니다. 교환프로그램을 마치고 이민전문 로펌에서 사무장으로 5년 근무 뒤에 제 사무실을 오픈하여 이민수속업무를 계속하고 있고, 2013년부터는 부동산에이전트로 일하고 있습니다. 하와이의 산과 바다, 자연경관과 어울리는 단독주택 콘도 등을 볼때마다 저는 가슴이 벅차고 그 집들을 주인과 연결시켜드리는 것은 저의 소중한 열정이며, 특권으로 여기고 열심히 일하고 있습니다. 저는 골프와 탁구, 오일페인팅, 여행을 좋아하며 현재 남편과 외동딸과 함께 살고 있습니다. 저는 사람들을 통해 배우는 것을 좋아하고 또 서로를 케어하는 좋은 관계들을 형성해가기 원합니다. 제가 부동산에 관한 일로 귀하를 도와드릴수 있는 기회가 오기를 바랍니다. 감사합니다