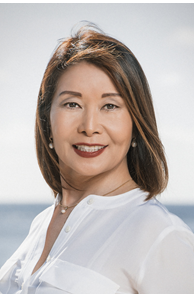 REALTOR-ASSOCIATE®
Lic#: RS-60726
Email

yukikos@cbpacific.com

Phone
Office
Yukiko Will Put The Wind In Your SALE!
Connect with Yukiko
Awards

International President's Circle
Designations
Accredited Buyer Representative (ABR), Graduate Realtor Institute (GRI), Luxury Property Specialist (Luxury Specialist), Senior Real Estate Specialist® (SRES)
Languages other than English
Japanese
More about Yukiko Sato
Bio
下記の日本語版をご覧下さい
Yukiko Sato is a Global Luxury Specialist and has been with Coldwell Banker Pacific Properties for the past 15 years. She was born and raised in Tokyo and moved to Oahu in 1982. Her primary goal is to help her clients with all of their real estate needs. She has obtained the ABR, GRI, and CHMS designations to better serve her clients. As a result Yukiko has garnered much recognition for her sales performance. In November 2016 she was the Top Salesperson in the highly competitive KahalaBranch. Among her many honors was the coveted 2011 People's Choice Award for the "Aloha `Aina Realtor Award Program". Yukiko has also earned the Coldwell Banker International Sterling and Diamond Society Awards through the years. Yukiko is also an enthusiastic sports competitor and was an amateur women windsurfing champion on Oahu. As an avid snowboarder, she travels each year to seek out new snowboarding adventures. Yukiko is able to conduct business in both English and Japanese, and she looks forward to helping you soon.

ユキコ・サトウは、コールドウェルバンカー・パシフィックプロパティーズのフルタイム不動産アソシエイトであり、お客様のあらゆるニーズにお答えするサービスを第一の目標としています。東京出身ですが米国在住は40年になり、米国市民権を取得しており、20年以上にわたってハワイの不動産動向を観察して来ました。

サトウの不動産セールスの業績は大いに認められています。2012年10月には、コールドウェルバンカー・パシフィック・プロパティーズのなかでも激戦区のカハラ支部でトップ・セールスパーソンに輝きました。また、それら過去1年間の売却実績が認められ、優秀なエージェントのみがメンバー資格を与えられるインターナショナル・ダイアモンド・ソサイエティーの一員となりました。
多忙を極めたサトウのここ数年間のうちでも、2011年度アロハ・アイナ・リアルター賞の候補に選出されたことは最も輝かしいできごとに数えられるでしょう。サトウはほかの候補者とともに、素晴らしい業績と、お客様それぞれへの徹底したサービスを賞賛されました。
プライベートではスポーツに熱心で、過去、オアフ島のウィンドサーフィン界でアマチュア女子チャンピオンの座を占めました。熟練したスノーボーダーでもあり、毎年新しい場所でスノーボードを楽しんでいます。スポーツ以外では、孫たちと過ごす時間を楽しんでいます。
サトウはホノルル・リアルター連盟、ハワイ・リアルター協会、全米リアルター協会のメンバーです。お客様によりよいサービスを提供するため、公認ホームマーケティング・スペシャリスト(CHMS)のタイトルも獲得しています。日英両言語で業務を遂行することができ、最新のテクノロジーを使いこなして購入側と売却側との仲介をスムーズに成功させています。ユキコ・サトウは、不動産に関してお客様の役に立てるのをいつも心待ちにしています。
アロハ!
佐藤雪子
(808)225-1253
Yukikos@cbpacific.com