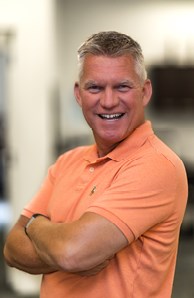 Broker
More about Curtis Hunt
Offering the Best Service Possible
CLICK HERE TO LEARN MORE ABOUT CURTIS
A real estate professional for 20 years. Curtis is passionate about his job. He looks at each client as an individual and works to meet their specific needs. His main goal is to make the process as stress-free as possible. He feels that buying a new home is a time of excitement and he wants every one of his clients to enjoy the process just as much as he does! His goal is to inspire people to make memorable and positive life changes. 
Curtis discovered his love of real estate when he purchased his first condo. He found the buying process not only interesting, but thrilling and decided to pursue real estate full-time. It wasn't long before Curtis found success in his new career. His first year in the business, he earned Coldwell Banker's Lincoln Park Plaza Rookie of the Year Award and has been an award winning producer ever since.
Coldwell Banker has added Curtis to the Chicago leadership team. Not only working sales, but as of 2019 Curtis has been the Sales specialist to the City Central Region. He is effective in recruiting, retaining, and supporting the brokers in the 3 city offices, Lincoln Park, West Loop, and the Gold Coast. Just continuing his goal of inspiring people. 
Working with Buyers and Sellers
With 25 years of working in the service industry, Curtis knows what it takes to provide a flawless real estate experience. He believes in putting people first and always provides clear and honest communication. Curtis wants his clients to have a positive experience with every transaction. From short sales to single-family homes to condos and everything in between, he works with all kinds of buyers and sellers.
One thing Curtis loves about the business is that it's constantly changing. He loves learning about new technology and marketing strategies. He stays up to date on changes by attending ongoing professional development and making use of the many resources offered by Coldwell Banker. Through a combination of professional photography, social media and direct mail marketing, Curtis knows how to reach the right potential buyers. He also provides each of his listings with the best online exposure through enhanced listings on Trulia, Zillow, Yahoo and Realtor.com.
Providing Community Expertise
Although Curtis received his college education from Louisiana State, he has spent most of his life in the Midwest. A resident of the Chicago area for many years, Curtis loves getting to know the city's neighborhoods. Looking for a great restaurant? Want to know where to find a park close to the lake? He is a great community resource. Curtis focuses most of his business on Chicago's North side in Lakeview, Rogers Park, Lincoln Park, Edgewater and Evanston, but he has done business all over the city.
Working with Curtis makes for a fun journey to your next home. You'll get more than a real estate agent; you'll gain a new friend. Choose Curtis Hunt and you can sit back, relax and enjoy the ride. He'll do the rest!
Affiliations
Current President of the Chicago Chapter of the LGBTQ Alliance 
• Member of Chicago Association of Realtors (CAR)• Member of Illinois Association of Realtors (IAR)
• Member of National Association of Realtors (NAR)
• Member of Multiple Listing Service (MLS)