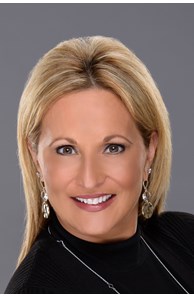 Sales Associate
Email

Gina@soldbygina.com

Phone
Office
Meet Gina Guarino - Coldwell Banker's #1 agent in Northwest Indiana!
Connect with Gina
Awards

International President's Premier

President's Club 2015

President's Club 2016
Designations
Luxury Property Specialist (Luxury Specialist)
More about Gina Guarino
Meet Gina Guarino (aka) Gina G.
As a full time, 27-year experienced, residential real estate broker, Gina is a true leader in the real estate industry. No home is too LARGE or too small, as far as, she is concerned. Currently closing over 270 transactions from 2016 to present, she always puts the client's needs first, which contributes to a maximum level of client satisfaction and of course, a great deal of referral-based business.
Together with her full-service team, she offers clients an unmatched level of market knowledge, service and integrity. As a consistent multi-million dollar producer, she employs her marketing expertise by using innovative marketing techniques; and she uses her in-depth insight into sales, marketing, negotiating and closing strategies to maximize her client's success. Guarino's natural communication skills and common sense approach provides clients the comfort and confidence they need to seamlessly move through the buying or selling process.
Gina makes a significant investment in the properties she sells. Before putting any home on the market, she works with sellers to optimize the presentation of their home, identify their target market, develop a strategic marketing plan, analytically assess market value, and prepare customized marketing materials including brochures, floor plans, drone and professional photography. Once listed, she offers a comprehensive mix of high-quality print and web-based advertising venues, as well as, continuous communication with the clients.
For all your real estate needs. Call Gina G. Today!!!
BUSINESS PHILOSOPHY
Gina's professional services are provided with a personal touch that goes way beyond that first listing appointment. By using the innovative marketing, and writing stellar listing descriptions, Guarino prides herself on finding that special buyer for all of her sellers. This takes true market knowledge, marketing expertise, and the utmost integrity. Because of her outstanding client satisfaction, it is no wonder that Gina Guarino has become a household name. She truly is your realtor for life!
Gina Guarino has been a top producing real estate agent in Northwest Indiana and the South Suburbs of Illinois for the past 26 years. A career volume of more than $130 million, she is a consistent multi-million dollar producer. Skilled in every aspect of the real estate profession, and experienced in a broad spectrum of real estate options, including: New Construction, Luxury Homes, Relocations, Existing Homes, First Time Home Buyer and Short Sales.
CALL GINA GUARINO TODAY AND MAKE HER YOUR REALTOR FOR LIFE! - ASK FOR GINA G.
PERSONAL BACKGROUND
Guarino's first foray into the industry was at age 16 when she was hired as a part-time secretary at her mother's brokerage. At the age of 21 she earned her real estate license, and as a sign of the success that would eventually follow, sold her first home within that same week. Although she took a few years off to start a family about 22 years ago, Guarino never lost her desire or drive to work in real estate. When the 2008 recession distressed the real estate industry, Guarino turned to Coldwell Banker. Though it was Guarino's first experience in a corporate environment, she easily surpassed her own expectations, becoming the #1 CB Agent in the entire State of Indiana in 2015 and 2016. Gina's long track record in the Real Estate Industry includes:
Top CB NWI Agent
30 years in the industry with 26 years of sales experience
Multi-Million Dollars in sales production
Transaction Management
Mortgage Consultant
Guarino can find you your dream home or get you top dollar for the home you wish to sell!
"NO HOME IS TOO LARGE OR TOO SMALL, AS FAR AS, GINA IS CONCERNED!!!
SHE VALUES EACH CLIENT THE SAME, AT HER VERY BEST."
COMMUNITY INVOLVEMENT

Gina was raised with the understanding that she owes much of her success to the people in the communities she serves, and investing in them is another one of her passions. Over the past 21 years, Guarino has served on the St. John Evangelist Home and School Board as Treasurer, Vice President and President, while coaching various soccer teams, tee-ball teams and cheerleading squads throughout the tri-town area. She's currently the President of the Rosewood Estates Property Owners Association and a proud member of the St. John Chamber of Commerce. She also contributes a portion of every commission she earns to the Coldwell Banker Charitable Foundation including the Ronald McDonald House.
AWARDS
Coldwell Banker North America Awarded Gina Guarino, Top Associate by State/Province (Indiana) in 2015 and 2016. She currently ranks #1 agent in Coldwell Banker Northwest Indiana Region. This ranking distinction places her among the Top 1% of Coldwell Banker independent sales associates nationwide.
She has been a member of Coldwell Banker's President's Club since 2012, and holds a designation in its International President's Premier. She is a consistent Top Monthly and Quarterly award winner and Multi-Million Dollar Producer. Guarino earned the Realtor.com Marketing Award of Excellence for her marketing skills and the professional appearance of her listings on their site. Chicago Agent Magazine's July 2015 AND 2016 issue featured Guarino as one of their Who's Who in Chicagoland Real Estate
In 2014, Gina achieved the Certified Previews Property Specialist Designation by Coldwell Banker Global Luxury®, the luxury division of Coldwell Banker.
"Working within the luxury marketplace and with exceptional homes requires a special talent and expertise that Guarino possesses." said Jim Oster, branch manager of CBRB Schererville office, "The program provides the education, tools, and opportunities necessary for the agent's success, which will in turn create a 5-star luxury experience for their customers."
CALL GINA GUARINO TODAY and MAKE HER YOUR REALTOR FOR LIFE!
~ ASK FOR GINA G.
AREAS OF EXPERTISE


Community Expertise
New Construction
Existing Homes
Corporate Relocations
Land
Buyer and Seller Specialist
Luxury Home Specialist
Strong Negotiator
Innovative Marketing Techniques
Effective Communication Skills
Power, Pricing, and Positioning
CALL GINA GUARINO TODAY - ASK FOR GINA G.
TESTIMONIALS


*We're very pleased with how our first home sale went, thanks to Gina and her team. We interviewed a number of Realtors before ultimately selecting Gina. We felt that her professionalism, energy, passion and tools that she employs made her the best fit for us. Our house was on the market for 17 days before we got the offer we approved. We wouldn't hesitate to recommend Gina and use her in the future!
* We have lived in Indiana for 12 years and have always heard that if you want to sell your home in a timely manner, and get the price you want, that Gina is the realtor for you. We had the pleasure of using Gina's services this year and all I can say is if we didn't have Gina selling our home, we never would have closed. She works 24/7 and is always available to speak with you. She never makes you feel as though you are taking up too much of her time as other realtors do. I have no problem recommending her to family and friends. And in fact, you would be foolish not to use her.
* Gina sold my house and assisted me in the purchase of my new location. Her knowledge and expertise of the market made both experiences remarkable. From the very beginning to the closing, every facet of the process went smoothly. Whenever I had a question or concern, she would respond very quickly. I HIGHLY recommend Gina as your agent.
* Gina guided us through both the buying and selling process. Our house in Crown Point was under contract within a week of listing. Her internet marketing and photography was exceptional. On the buyer side, she navigated us through the difficult process of buying a bank owned property. Her relentless effort, negotiation skills, and knowledge of the Saint John area resulted in us securing the home of our dreams at an unbelievable price. I recommend Gina without reservation. There is not a better agent in Northwest Indiana.
* Gina is a seasoned professional who truly looks out for the best interest of her client during a sale. Gina is knowledgeable in her market and knows the "ins and outs" of the business, she's also a very caring and genuine person who goes the extra mile to do things right. She understands the needs of her customers and helps them achieve their goals.
*GINA=Amazing. Professional, Accommodating, Sincere, Trustworthy, Accountable, Dedicated. Always goes above and beyond. She's The Best!!
*Gina Guarino helped me buy my dream home and I feel this would not have been possible without her. She is extremely knowledgeable in her profession. She was always available when I needed her and very prompt. I feel that I can now say that Gina Guarino is not only my realtor for life but also my friend.
*Gina was extremely professional and confidential. She investigated our taxes and even got them reduced. Her pricing was right on and suggestions proved fruitful. Gina knows her business!
CALL GINA GUARINO TODAY - ASK FOR GINA G.