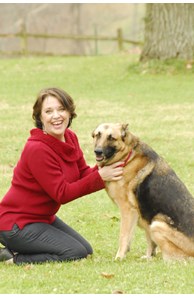 Salesperson
Connect with Jeannine
Awards

International President's Circle Team
More about Jeannine Wayson
ENERGY,TENACITY, SUCCESS adds up to being a Top Producer!
To call this Professional Motivated is an understatement....
It's early and Jeannine is up with a hot cup of tea and taking a quiet moment to reflect. After that, her day is anything but quiet as she's off to races. She begins it with Bikram Yoga, or a good strong walk after which you can find her letting the goats out to pasture, walking the dogs, feeding the cats, grabbing another cup of tea and finally settling down to her desk.
Answering emails, making calls, scheduling appointments, inspections and closings, somehow she fits in time to be with her family and partner. Her clients wonder how she can accomplish in one day what it would take others forever to do.
Jeannine attributes her energy and zest for life from her strong family upbringing in southern Maryland. Raised with 5 siblings, a strong creative mother and hard-working father, she learned responsibility to others and lessons in what it takes to be successful.
She'll tell you her mother had her in every activity from piano lessons, to majorettes, girl scouts, theatre, tap dancing, horse clubs and local sports. Jeannine started baby-sitting at 11, worked behind the counter of her mother's cosmetic store at 13 and delivered newspapers on her pony, Dandy.
She was taught how to stay positive even in the face of adversity and brings that positive spirit to all she does.
"There are times in life when you have to keep moving forward to make it all happen
even when its tough to do that.
and that's what I do best---
I keep moving forward and I make things happen".
And you can see that philosophy in action everyday in her commitment to her clients and their real estate objectives.
No matter what your needs, Jeannine takes the time to understand them and works tirelessly to help you reach your goals.
There are few who will care more.
Call Jeannine today and together make it happen!
SERVICE-EASE-LISTENING
The Secret to Her Success....
You've heard it time and time again, Service is everything. Everyone says it, everyone knows it but few practice it. Well, when you work with Jeannine, that's her #1 priority, SERVICE. Simple and straight to the point, she takes everything to heart and works to make sure you know she's working for you.
Something else that's critical in Jeannine's business plan is EASE. "The process can be complicated, can take time, but my job is to help my clients and provide the smoothest settlement they've ever experienced" and she means it.
Working with all types in all types of situations Jeannine knows she has to bring something special to each. She has worked with new home buyers, down-sizing seniors, the beneficiaries of lost loved ones, distressed property owners and more and manages each with a grace and compassion matched by few.
"This is more than just selling or buying homes, it's about the people inside that count".
Which brings us to her most valuable asset, her ability to LISTEN to others. "Nothing's more important than understanding the needs of others and that requires the ability to listen".