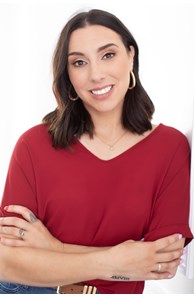 Salesperson
More about Lauren Matera
A veteran of sales and marketing, Lauren is no stranger to strategy and customer service. As a small business owner and marketing director, Lauren is dedicated to making your real estate goals as easy as possible. Many people approach their real estate journey with equal parts of excitement and anxiety. Knowing this from her own experience, Lauren excels at communication and action. With her husband, Rich, as the other half of a powerful duo, their goal is to get their clients to the closing table with a smile.

Lauren is knowledgeable, dynamic, creative and ambitious. She states;
"My mission is to un-complicate the process and help you find, 'home'. Be it a farmhouse, fixer upper or waterfront oasis, I want you to feel supported in creating the lifestyle of your dreams. My hope is that people leave happier than when they first came to me. Real estate can be fun but daunting for some. You aren't walking through it alone. My clients should hang up the phone, feeling confident in their decisions and excited for what comes next.
Since growing up in Annapolis and attending St. Mary's School, Lauren has learned to love both the hustle of Anne Arundel County and the simplicity of the Eastern Shore. In 2016, Lauren and Rich moved their family of 5 to Chestertown, to pursue the charm of a small historic waterfront and rural landscapes. Annapolis holds many memories and the Eastern Shore is full of possibility but it's the Chesapeake Bay area that Lauren calls home. When she's not #buyingthe_bay with Rich, she enjoys; traveling, DIY projects, cooking and spending time with family and friends. Their house is home to 3 children, 2 dogs, a cat named Gingerbread and 5 backyard chickens.
You won't find more passion or contagious energy than with Lauren. She jokes that in our real estate market, 'You should never quit your 'bay dreams'.