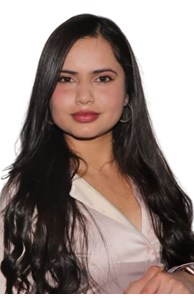 Salesperson
Phone
Team

Market ColumbiaOffice

6031 University Blvd Ste 100, Ellicott City, MD 21043-3533
Hola Friends :)
More about Evelin Sarmiento Idiarte
Welcome to the Garner Team at Coldwell Banker Realty! I am Evelin Sarmiento Idiarte, a proud Howard County resident and Long Reach High School Graduate. As an immigrant to this amazing country, I know firsthand the struggles of achieving the American Dream, including the challenges of becoming a new homeowner. That's why I am dedicated to helping first-time homebuyers navigate the complexities of the real estate market with ease.
With my unique experience, knowledge, technical savvy, and grasp of multiple languages, I am well-equipped to help you find your dream home. As a homeowner myself, I understand the importance of finding the perfect home that meets your unique needs and preferences. With my connections to the local market that most agents may not have, I can help you find the best deals and negotiate on your behalf to ensure a successful transaction.
At the Garner Team, we take pride in providing exceptional customer service and ensuring that our clients are satisfied with the outcome. With over 20 years of experience, we make sure that our clients are working with the best of the best from start to finish.
When I am not helping clients achieve their real estate dreams, I love to cook, play tennis, and stay fit. I am dedicated to making the homebuying process as smooth and stress-free as possible for my clients, and I will be there every step of the way to answer any questions or concerns you may have.
If you are a first-time homebuyer and are ready to take the next step towards homeownership, call me today! With my expertise and the backing of the Garner Team, you can be confident that you are in good hands. Let me help you achieve your real estate goals and make your dream home a reality.