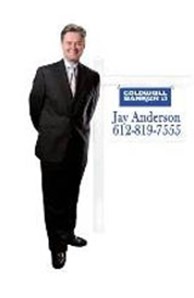 Sales Associate
More about Jay Anderson
Contact Jay
Call or text 612-819-7555. If you are directed to voice mail, please leave a detailed message so I may respond to your request as quick as possible. jay@cbburnet.com
Summary

Selling Residential & Commercial Real Estate in the Twin Cities Metro Area Since 1993

Voted "Super Agent" Several years running by Twin Cities Business Magazine & MPLS/St.Paul Magazine
Seller Representative Specialist (SRS) designation. Brokers License - 22 Awards from Burnet Realty for Superior Performance.
Personal recommendations from Ralph Burnet (Original Broker) & Kevin Knudsen (President of Minneapolis Area Association of Realtors - MAAR) A myriad of repeat clients and testimonials.
Clients have included: Builders, Developers, Other Real Estate Brokers & CEO's of Twin Cities Companies. Many Minnetonka, Edina and Mpls Police, Fire & School Teachers.
Corporate clients of local companies that include: Allianz, Best Buy, The Geek Squad, Lifetouch, 3M, Medtronic, Ellerbe Becket, Old Dutch, Target, Dayton's, Startribune, City Pages, HCMC, Fairview & Abbott Hospitals, The Guthrie, Northwest Airlines, Sun Country Airlines, Thies & Talle, Hennepin County, U.S.Post Office. Just to name a few.
Featured In Star Tribune & City Pages as Best of the Best & Who's Who in Real Estate
Featured on WCCO 4, KSTP 5, KARE 11 and Radio 770
Hired real estate speaker and quoted in numerous Star Tribune articles.
Specialties
Product/Market Knowledge - Skilled Negotiator - Communication & Customer Service.
Testamonials
"Over the last 10 years of working as a mortgage broker I have met hundreds of Realtors. When it came time to sell my own house, Jay was my first choice." July 25, 2008
Top qualities: Great Results, Expert, High Integrity
Todd Fierst
hired JAY as a Real Estate Agent in 2007
"My family bought both our first and current home with Jay Anderson. Jay has a never-ending supply of patience and made the home buying process super easy and at times even entertaining and fun! Jay was never tired or annoyed by our many concerns and questions or by us asking him to look at "just ONE MORE house!" I have referred many friends and co-workers to Jay and all of them have said the same thing, "Jay is THE BEST!"" September 13, 2007
Top qualities: Personable, Expert, High Integrity
Amy Koliner
hired JAY as a Real Estate Agent in 2000, and hired JAY more than once
Domains pointed to this site
www.jaysold.com
www.rawconfections.com - domain for sale
www.aimeeharmel.com
www.cash4fixers.com