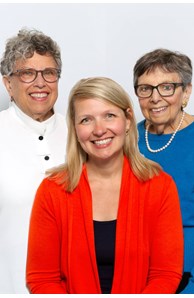 More about the Team
Fran Davis is a REALTOR with more than 30 years of experience in marketing, luxury properties, management and advocacy. Before Real Estate, Fran worked with Dayton Hudson in Detroit and Minneapolis in design, merchandising, and advertising since graduating from the University of Michigan. Fran is very active in the Twin Cities having served on the boards of the Guthrie Theater, Children's Theatre, MinnPost, womenwinning and Lowry Hill Neighborhood Association, to name a few. She was named a Finance and Commerce "Top Ten Women in Finance" and a "Volunteer of the Year" by Mpls St. Paul Magazine. In addition, she furthers the REALTOR profession through her volunteer roles with the REALTORS' Associations on local, state and national levels, the Minnesota Association of REALTORS RPAC and the Regional Multiple Listing Service.
Barb Davis moved to Minneapolis to sell residential real estate after spending 30 years in department store retailing with focus on Home related products. Barb's retail career with Macy's/May Company included positions in Buying, Management and Product Development focusing on advertising and marketing, merchandise buying and management. Her strong interest in local communities and the arts have brought Barb a number of volunteer experiences on the boards of ARC Minnesota, the Playwrights' Center, St. Paul's Park Square Theater, and the Minneapolis Area REALTORS Foundation Committee, as well as active involvement in Juxtaposition Arts and womenwinning.
Jonna Kosalko is an enthusiastic fan of the arts and Minneapolis, her adopted home. Partnering with Fran and Barb, she focuses on client services, marketing and promotion, and events. As a part of their business, they use the arts community as a way to connect people and promote Minneapolis as a great place to live. Jonna has lived in St. Louis Park, St. Paul and the Seward neighborhood of Minneapolis. She is the proud recipient of a fourth-place ribbon in Crop Art at the Minnesota State Fair. Prior to entering real estate, she worked on the capital and annual fundraising campaigns at the Guthrie Theater from 1998-2005, organizing events and coordinating the community campaign that raised $2M. Her education includes degrees in marketing and interior design.