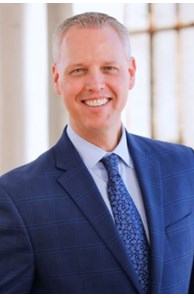 Branch Vice President
Email

ajmaurer@cbburnet.com

Phone
Office

Wayzata

201 Lake St Unit 100, Wayzata, MN 55391-1608
More about Tony Maurer
About Tony Maurer


Tony Maurer has been proudly affiliated with Coldwell Banker Burnet since 2013 and currently serves as the Branch Vice President of the highly-regarded Apple Valley Office. Tony is also a Minnesota Licensed Real Estate Broker and has operated in a broker capacity for nearly ten years. Tony also leads the Coldwell Banker Burnet Distinctive Homes South of the River Committee as its Director.
Tony literally grew up in the real estate business having been raised within a long-standing family-operated custom home design, building and development firm, George C. Maurer Homes.
Tony is the thankful husband to Kara and proud father of two kids and calls Apple Valley home. Tony is dedicated to his family and friends and is an ardent community supporter serving as a Board of Director for Eastview Association Sports.
Professional Development and Volunteerism


Licensed Real Estate Broker and Branch Vice President of Coldwell Banker Burnet Realty Apple Valley having been licensed since since 1993
Nominated the Southern Twin Cities Association of REALTOR®, 2009 REALTOR® of the Year. This award acknowledges a Realtor's commitment to the industry and their community through leadership and volunteerism. It is the highest honor a REALTOR® can receive from their colleagues in the industry.
Distinctive Homes Coordinator for Coldwell Banker Burnet Distinctive Homes Division, a select collection of real estate professionals devoted to the marketing and networking of the finest properties in our region.
Elected in to the National Association of REALTORS® Board of Directors on behalf of the Minnesota Association of REALTORS® and Federal Housing Policy Committee Member.
The 2015 Chairperson of the Professional Development Committee for the Minnesota Association of Realtors. A committee established to develop and foster professional and compliant practices of REALTOR® members.
A long-standing Committee Member of the Minnesota Association of Realtors' Professional Standards Committee and Forms Committee.
Served as both the Chairperson and Vice-chair of the Professional Development Committee of the St. Paul Area Association of Realtors, the commission established to enhance and increase the professionalism and ethical practices of REALTORS®
In 2010, elected as the 100th President of the St. Paul Area Association of REALTORS®.
Elected in 2009 as the President of the Southern Twin Cities Association of REALTORS®, the 2008 President Elect, the 2007 Treasurer and the 2006 Board of Director, all positions nominated by the REALTOR® membership.
Consecutively nominated a Super Real Estate Agent by Mpls/St. Paul Magazine and Twin Cities Business Monthly. An award bestowed to fewer than 3% of all licensed local real estate agents, with less than one-half of one percent awarded for all years respectively.
Previously Licensed Minnesota Residential Building Contractor, Minnesota license BC-20384795
Certified facilitator and instructor, Integrity Selling®, a win-win client focused process, driven by honesty and integrity creating mutual value for buyers and sellers. Selected for the training program by the President of Coldwell Banker Burnet Realty.
A 1993 graduate of the University of St. Thomas with a bachelor degree in Business
Administration, Entrepreneurship. A frequent resource to the University for real estate related affairs and speaking engagements.
Coldwell Banker Burnet Apple Valley Expertise


The Coldwell Banker Burnet office is strategically sited in the heart of the Twin Cities' South Metro area. Advantaged by its central location, the Coldwell Banker Burnet Apple Valley sales associates are uniquely able to service the Twin Cities area, while focusing primarily on the South Metro Area of Minneapolis and St. Paul.
Areas of Expertise:
Residential
Distinctive Properties
New Construction and Development
Investment and Income-Producing Property
Commerical Properties
First Time Home Buyers
Townhomes / Condos / Twinhomes / Coop
Lots, Land and Specialty Properties
Equestrian and Hobby Farm Properties
The Power of Coldwell Banker


Serving more than 50 of the 100 largest metro areas in the United States, independent sales associates affiliated with NRT distinguish themselves every day by creating exceptional real estate experiences for their customers and their communities. But don't just take our word for it. In 2015, REAL Trends ranked NRT as the #1 Residential Real Estate Brokerage Company for an unprecedented 18th consecutive year. It's an honor we've achieved by focusing on exceptional customer service and consistently putting our clients' evolving real estate needs first.
Whether you measure our performance in terms of size, sales volume or number of transactions, the leadership of the companies and sales associates represented by ColdwellBankerHomes.com is driving innovation and delivering value to homebuyers and sellers. As a result, NRT's growing presence includes more than 44,000 affiliated sales associates and 4,900 employees in 727 offices, all ready to serve you.
When searching for your next home or a local market expert who'll help you achieve your real estate goals, ColdwellBankerHomes.com is an indispensable resource designed with you in mind.
At Coldwell Banker Burnet, full service is our time-honored


The professional Apple Valley independent sales associates affiliated with Coldwell Banker Burnet are highly experienced, have extensive knowledge of the housing market in this region, and are committed to providing you with a full-service real estate experience. They will work with you through every stage of the home buying and selling process and assist in finalizing the details through our convenient in-house mortgage, title, relocation, Concierge, and closing services. For you, that means peace of mind.
Customers tell us that they rely on their independent sales associates and appreciate a full-service, results-oriented approach. Coldwell Banker Burnet is proud that for more than 40 years, we have been exceeding customers' expectations and successfully helping them find the home of their dreams.
Technology


Coldwell Banker Burnet has always led the way in emerging real estate technologies. As a home buying or selling customer, you can be confident that we will employ the most current technological tools to successfully market your home or make your home search an efficient process. This includes our HomeBase Transaction Management system which includes inbox, insite, and intouch, our Home InfoLine interactive voice response system that allows consumers 24-hour access to information on all Coldwell Banker Burnet single-family residential properties, and our robust Internet marketing presence. We have also created an online presence with social media on FaceBook, LinkedIn, Twitter, and Pinterest, and showcase listings with video with our On Location internet marketing through Star Marketing.