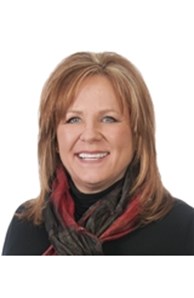 Sales Associate
Email

meprescott@cbburnet.com

Phone
Office
More about Michelle Prescott-Guderian
Business Philosophy

Our business philosophy is simple: We strive to deliver a positive experience for every customer. This is accomplished through the collaborative efforts of the many members of our team who are dedicated to the success of your housing transaction. We've been getting high marks from our home buying and selling customers in Minnesota and western Wisconsin since we opened for business in the 1970s. It is our plan to continue this tradition. We look forward to serving you. Services Available

Licensed in Minnesota. For me, Second Best Is Not An Option. When setting my sights on a goal, I envision the best result. It may take a lot of hard work and dedication, but that's what being a champion is all about.
With 30 years experience showing World Champion Quarter Horses and in other aspects of the livestock industry, I am very experienced in the buying or selling of any size horse facilities, acreages, large or small, and farms and ranches. About Michelle Prescott

Michelle gave the command and watched her Border Collie direct the sheep around the post. With a quick move, Michelle stepped to the gate of the pen and drove the sheep with the help of her dog into the pen. The run was over.
Moving onward & upward..
Throughout her life, Michelle's enthusiasm for animals, especially dogs & horses, has continued to be a powerful force. Michelle has started a successful, well respected business that didn't make her stray too far from her favorite hangout, the stables, where she raised Quarter Horses that were known to be some of the best in the industry.
Ensuring a Championship Performance..
Michelle knows that hard work and perserverance have their rewards. Fittingly when it comes to her career in Real Estate, second best is not an option. Throughout her life, Michelle sets her sights on achieving a goal that doesn't rest until she's done everything in her power to accomplish it. Her clients can expect this same approach.Mission Statement

Since 1973, our firm has been guided by a set of principles. Over the years, they have been modified to reflect a changing environment, but the basic mission has remained the same. Our Mission is: To create and promote positive experiences for our customers and communities. To create and promote opportunities for personal growth. To create and promote change and innovation. To create and promote a fun, fulfilling and respectful environment.