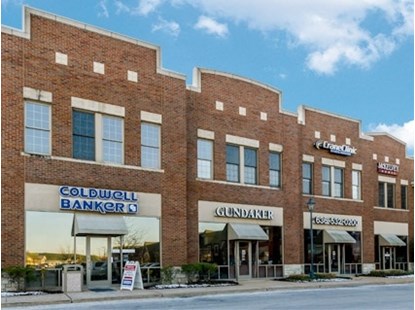 111 Chesterfield Towne Centre

,

Chesterfield

,

MO

63005
More about Chesterfield West
Coldwell Banker Gundaker ~ The #1 Real Estate Company in St. Louis
Coldwell Banker Gundaker is not only the #1 Company in St. Louis, but in the state of Missouri. We use cutting edge marketing tools and a highly educated sales force to bring the best marketing exposure representation available to buyers and sellers in the marketplace. The Chesterfield West Office is one of the top offices in the organization, which sells more St. Louis homes than our next 5 closest competitors – COMBINED! We are not the Best because we are the Biggest, we are the Biggest because we are the Best!.
Experienced Management You Can Trust - Jason Pashia, Chesterfield West Manager
Imagine partnering with a sales manager who from the age of 21 has risen through the ranks of the industry, been a top agent selling hundreds of homes, developed and managed some of the most successful agents in the industry and currently manages one of the TOP SALES TEAMS in the state of Missouri! I have given up sales to become a non-competing manager who uses my proven systems & marketing techniques to develop highly effective sales associates who know how to sell real estate and provide buyers and sellers with TOP NOTCH service. My consistent education programs help keep agents on point and focused to develop a successful business. You truly can become more effective and more productive with your business.
As a point of reference- Upon taking over the management of my first office (Sunset Hills), within the first year, the agent's take home earnings increased by 26%!
Upon being promoted to manager of the Jefferson County Office- I moved the office from the #3 office in the county to the #1 Office in the County within 1 year!
I have since been growing the office in Chesterfield West! You and I should set up a time to discuss how my team can help you improve your business and earning potential. Please feel free to call me anytime at (314) 780-1774 for a confidential meeting or email me at Jason.Pashia@cbgundaker.com.
Opportunities in Real Estate - Are you an experienced agent or considering an opportunity in real estate?
Let the Chesterfield West Office show you how to develop a high performing business in real estate. By design, our programs can get new agents up and running while helping you provide buyers and sellers with first class customer service. Unsurpassed education and support are the keys to smooth transactions for our clients and rewarding opportunities for sales associates. Above and beyond the extensive education programs offered at the Company level, the Chesterfield West Office has developed a systematic approach to educating the newest agents. Our 'Ready, Set, Go!' education program partners activity modules with personal development to ensure the agents are the most knowledgeable associates in the business- Under the guidance of experienced, active, top performing agents- Sarah Bravo, Kathy Roush, Marian Rousan & Kate Thompson.
Classes offered include: Sales Contracts, Winning Listing Presentations, Overcoming objections, "Words That Work" Dialogue program, Professional Skill Development, Business Planning & Development, Prospecting, Personal Marketing, Listing & Sale Strategies, Finance, Contract Negotiation, Understanding Title, Technology Education and MUCH MORE!
Experienced Associates- We offer a lucrative bonus program, personalized development PLUS a significant suite of systems & tools to elevate your business to the production level you look to achieve!
Contact the Office
My Goal is to help you achieve YOURS! I would love to share more information about this office, why it's so successful and how we can do the same for YOU! Contact me anytime at (314) 780-1774 or email Jason Pashia at Jason.Pashia@cbgundaker.com.
Awards

International President's Circle Office