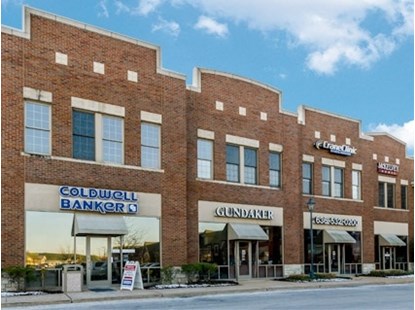 111 Chesterfield Towne Centre

,

Chesterfield

,

MO

63005
More about Chesterfield West
Coldwell Banker Realty - Gundaker ~ The #1 Real Estate Company in St. Louis
Coldwell Banker Realty - Gundaker is not only the #1 Company in St. Louis, but in the state of Missouri. We use cutting edge marketing tools and a highly educated sales force to bring the best marketing exposure representation available to buyers and sellers in the marketplace. The Chesterfield West Office is one of the top offices in the organization, which sells more St. Louis homes than our next 5 closest competitors – COMBINED! We are not the Best because we are the Biggest, we are the Biggest because we are the Best!.
Experienced Management You Can Trust -
Andrew Horstmann
Andy Horstmann is the Interim Branch Leader for the office at Chesterfield - West. He started his career in the restaurant business 1998. Working his way through the ranks, in 2000 he became Executive Sous Chef to Canyon Cafe in Plaza Frontenac. In 2005 Andy made his way to the (FOH) or Hospitality side of the restaurant business when he joined PF Chang's in Chesterfield. In 2011 Andy joined the Real Estate Market. Now with 10 years' experience hundreds of properties sold, multi-millions in sales every year Andy is up for the next challenge. Which brings him here, 2020 to present as your Assistant Manager of a top 3 office in the company. His goals are to grow the office with productive agents, who are looking to grow their business. Training new agents to become productive and respected Realtors. While continuing to service his friends, family, past clients, and referrals.
One simple principal, "to live & help his agents live an exceptional life". Delivering 4 core values to his agents, "the power of production, coaching to confidence, building wealth, and creating a culture of awesomeness".
Outside of the business, Andy is a family man first. Enjoying hiking, camping, boating, sports, travel, and just good old quality time with his wife, son, and grown daughter.
Opportunities in Real Estate - Are you an experienced agent or considering an opportunity in real estate?
Let the Chesterfield West Office show you how to develop a high performing business in real estate. By design, our programs can get new agents up and running while helping you provide buyers and sellers with first class customer service. Unsurpassed education and support are the keys to smooth transactions for our clients and rewarding opportunities for sales associates. Above and beyond the extensive education programs offered at the Company level, the Chesterfield West Office has developed a systematic approach to educating the newest agents. Our 'Ready, Set, Go!' education program partners activity modules with personal development to ensure the agents are the most knowledgeable associates in the business- Under the guidance of experienced, active, top performing agents- Sarah Bravo, Marian Rousan & Kate Thompson.
Classes offered include: Sales Contracts, Winning Listing Presentations, Overcoming objections, "Words That Work" Dialogue program, Professional Skill Development, Business Planning & Development, Prospecting, Personal Marketing, Listing & Sale Strategies, Finance, Contract Negotiation, Understanding Title, Technology Education and MUCH MORE!
Experienced Associates- We offer a lucrative bonus program, personalized development PLUS a significant suite of systems & tools to elevate your business to the production level you look to achieve!
Contact the Office
Our Goal is to help you achieve YOUR Goals! We would love to share more information about this office, why it's so successful and how we can do the same for YOU! Contact us anytime at (314) 780-1774 or email Andrew Horstmann at andrew.horstmann@cbrealty.com.
Awards

International President's Circle Office