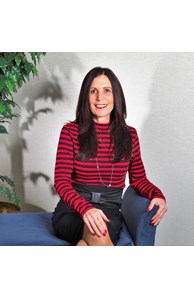 Associate Real Estate Broker
Email

Gail.Carillo@coldwellbankermoves.com

Phone
Office
Connect with Gail
Awards

International President's Circle Team
More about Gail Carillo
Team Carillo, Inc.

Gail Carillo is Associate Broker & founder of Team Carillo, Inc. Her vision was to provide 1 stop shopping for all real estate needs. Members are selected for strengths that are integral to a prime experience. The Carillo Team offers expertise to 1st time buyers, trade ups, transferees, investors, or seniors seeking resales, new construction, condos, coops or commercial real estate. All members adhere to a strict code of ethics & never forget to be sensitive human beings first. "How wonderful it is to make a living doing what we love, & loving what we do", says Carillo.
Education and Training
Education includes obtaining a real estate license from The American Real Estate School, Relocation Certification, Continuing Education and Ongoing On-site Training.
Areas of Expertise
Expertise of "The Carillo Team" lies in the area of Customer Service. Counseling the first time home buyer or the experienced transferee is our duty. Our team of experts is intricately involved throughout the entire process. We are with you from START TO SOLD!
Awards and Designations

1999 Rookie Of The Year Award (competed Nationally), 2000 Masters Circle Award, 2001-2002 Pinnacle Award, 2002 Customer Service Award, Most units for company and numerous other Top Producer Awards from 1999 to the present.
Gail Carillo also received the 1st, very prestigious company-wide Spirit Award which recognizes an agents contributions to the industry on the highest and most commendable level.
Community Involvement
Mothers Center of the South Shore, Inc. - Former President and Board Member
RESPONSE - Suicide Prevention and Crisis Intervention (former Hotline Operator and community Educator)
PTA Member
Personal Background
Gail Carillo left Corporate America as an Executive Administrator in 1990 to start a family. After 2 children and 9 years of volunteer work she entered the field of real estate. During her first year she received The Rookie of the Year Award and earned a place in the Masters Circle. By 2002 she had reached the Pinnacle level and has remained a top producer ever since. Her strict philosophy regarding "premium customer service" is what motivated her to add 4 licensed sales agents to her team. All members of "The Carillo Team" adhere to the same stringent business philosophy as Gail Carillo. Numerous references proudly provided upon request.
Communities I Serve

Primarily servicing, but not limited to, Suffolk County, Long Island. We also service Nassau County & can relocate you to any place in the world. Team Carillo is a one stop resource for ALL your real estate needs Nationwide.
Gail Carillo

Gail Carillo, Broker Associate & Founder of Team Carillo at Coldwell Banker Residential, highlights her big heart as her most valuable asset. She loves to write, is fascinated by psychology & has always had a burning desire to help people. The recipe for a successful outcome must include compassion, determination, service & commitment, says Gail. The process of buying or selling a home is an individualized & emotional journey where no two experiences are alike. A unique bond is forged between realtor and client as the experience unfolds. When Gail Carillo is entrusted with your sale or purchase she understands she is orchestrating one of the biggest investments of your life. Gail left Corporate America in 1990 to start a family. After 2 children and 9 years of volunteer work she entered the field of real estate. She combined her education, life skills, & passion to serve the public & was soon on her way. During her first year she received The Rookie of the Year Award & by 2002 she reached the Pinnacle level. Gail has remained a top producer ever since. Most precious to her, however, are the awards for character. The first prestigious company-wide Spirit Award which recognizes an agents contributions to the industry on the highest and most commendable level was awarded to Gail Carillo. It was her strict philosophy regarding "premium customer service" that inspired her to build a team. Her vision for Team Carillo, Inc. was to provide one stop shopping for all her clients real estate needs. Team members are hand selected for their premium service abilities, life skills & strengths in all areas integral to a successful real estate experience. The Carillo Team offers expertise to 1st time buyers, trade ups, relocation transferees, investors, new construction, condos, seniors and even Commercial Real Estate. All members of "The Carillo Team" adhere to the same stringent business philosophies as Gail Carillo. They are a business oriented group of realtors but they never forget to be sensitive, compassionate human beings first. "How wonderful it is to make a living doing what we love, & loving what we do", says Carillo
Team Carillo

Gail Carillo, Broker Associate & Founder of Team Carillo at Coldwell Banker Residential, highlights her big heart as her most valuable asset. She loves to write, is fascinated by psychology & has always had a burning desire to help people. The recipe for a successful outcome must include compassion, determination, service & commitment, says Gail. The process of buying or selling a home is an individualized & emotional journey where no two experiences are alike. A unique bond is forged between realtor and client as the experience unfolds. When Gail Carillo is entrusted with your sale or purchase she understands she is orchestrating one of the biggest investments of your life. Gail left Corporate America in 1990 to start a family. After 2 children and 9 years of volunteer work she entered the field of real estate. She combined her education, life skills, & passion to serve the public & was soon on her way. During her first year she received The Rookie of the Year Award & by 2002 she reached the Pinnacle level. Gail has remained a top producer ever since. Most precious to her, however, are the awards for character. The first prestigious company-wide Spirit Award which recognizes an agents contributions to the industry on the highest and most commendable level was awarded to Gail Carillo. It was her strict philosophy regarding "premium customer service" that inspired her to build a team. Her vision for Team Carillo, Inc. was to provide one stop shopping for all her clients real estate needs. Team members are hand selected for their premium service abilities, life skills & strengths in all areas integral to a successful real estate experience. The Carillo Team offers expertise to 1st time buyers, trade ups, relocation transferees, investors, new construction, condos, seniors and even Commercial Real Estate. All members of "The Carillo Team" adhere to the same stringent business philosophies as Gail Carillo. They are a business oriented group of realtors but they never forget to be sensitive, compassionate human beings first. "How wonderful it is to make a living doing what we love, & loving what we do", says Carillo