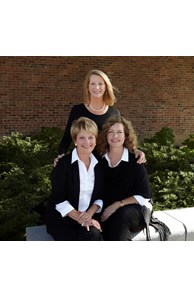 Sales Associate
Email

expert@chudikregroup.com

Phone
Team
Office
Connect with Maggie
Awards

International Sterling Society Team What's this?

25 Million Dollar Club
Designations
Smart Home Certified
More about Maggie Chudik
Meet the Team
Hi, I'm Maggie Chudik. I have lived in Columbus Ohio for over 30 years and began my career in Real Estate nearly 17 years ago after a successful career in sales and advertising. I've always enjoyed Real Estate – I've purchased and renovated several properties through the years in a variety of Columbus neighborhoods, from historic, to urban, to suburban.   I began my team with 2 dynamic people, Carol Bell and Kelly Halverson. Carol and Kelly have been a constant support to my business and to my clients.  I chose both of these women because of their professionalism, knowledge and the care in which they provide to the clients we work with.  Combined, we have over 33 years of Real Estate experience, and I am proud to have them on my team. 

Our mission is to help those buying and selling real estate achieve their goals. We are dedicated to serving our ongoing and new clients by delivering exceptional customer service, creating great client relationships, while submerging ourselves the exciting business of the Columbus Real Estate market. We would enjoy the opportunity to talk with you about your Columbus Real Estate needs.
Please contact us directly at: 614-523-3588, or email us at expert@chudikREgroup.com.

We look forward to hearing from you soon! 
~Maggie
Testimonials
"I wanted to add to my previous review of Maggie and her team after I had the chance to work with them a second time. Even with the added stress of buying and selling, Maggie again made the process a pleasant one. She was responsive to all my evening and weekend calls. She feels like family at this point and I can't imagine going through this process with anyone else. Highly recommend again!!

I worked with Maggie 6 months ago to purchase my first home and she made the process an extremely positive one. From the moment I walked in the door she treated me like family. As a first time buyer, Maggie took the time to help me with even the most basic steps in the offer/counter offer exchange. Even after I purchased my home Maggie was available to answer everyday questions about hot water heaters, furnace filters and sump pumps. Maggie has been involved well after her job as a Realtor was complete. My mortgage lender recommended her to me when I was looking for an agent and I would gladly do the same to any prospective home buyers!"
-Josh Martin
"I can't say enough great things about dealing with Maggie! She and her team accepted the task of selling my condo, which presented some very unique challenges. In three months, and after getting tons of exposure, my condo was in contract, and the end result was a successful closing. Maggie's professionalism, encouragement, and helpfulness made this major event an award winning experience!"
-Paul Keels
"I have now had the pleasure to work with Maggie and Team on two occasions. A few years ago they handled the sale of my home and I was very satisfied with the results. When it came time to begin a search for a new home I only made the one call to get the process going. Maggie knows that I am particular and was very patient with me throughout the process. Tireless in her efforts to find me just the sort of home that would meet my expectations, she did not disappoint. Whether you are buying or selling you should definitely call the Maggie Chudik Team."
-Steve Margaritis
"My husband and I highly recommend the Maggie Chudik Team! Maggie is very professional, is easy to work with, gives excellent advice, and knows the market well. The staging company Maggie brought in did a great job helping us stage our home, and the photographer Maggie brought in took beautiful photos. We were in contract within two days of listing of listing our house! Maggie and her team always returned emails and calls promptly, sent status updates frequently, and got us in to see houses before they were even on the market. I would not hesitate to work with Maggie and her team again in the future. Highly recommend!!!"
- Liesel Parsons
"Maggie is wonderful! She helped us sell our home and purchase a new one. She is honest, hardworking, and always available to answer questions. She helped us remain calm when things didn't go according to our plans and rejoiced with us on closing day. When we found the home we ultimately bought, she worked rapidly to get us in contract in what was a very competitive market. Kelly and Carol were also awesome at responding to our emails and questions. This is a great team to work with!"
-Kelly Wesolowski
 "Maggie Chudik's intelligence, accessibility, and attention to detail are only a few of the copious attributes that contribute to defining her as the "upper echelon" of the real estate industry."
-Darren A. McNair, Esq.
"A number of unique situations were encountered in the process of selling my home. Maggie had the resources and contacts to get the appropriate action in a jiffy! Maggie's relentless energy and stamina always make sure the client is first! Her expertise in any situation is always researched and accurate. Because of Maggie's knowledge and "get it sold" attitude, I have had the pleasure of completing four housing transactions with her."
-Patti Viralli
"Maggie's background is in sales and marketing; she uses those skills to create impact when selling your home. It doesn't matter what size or value your home; Maggie makes you feel as though you are her only customer. She won't give up until she sells your home.
My home was on the market for a year until I hired Maggie. She helped me stage the house, so it looked perfect. We were at the closing table 6 weeks later! 
-Pat Wise
"In this day to have sold our home in less than 3 weeks was a miracle and had everything to do with the advice Maggie gave us on where to spend on fixing it up and what to delete from our interior to create a more wide appeal…
I was a little nervous dealing with the new build process and Maggie held our hands the entire length of this sometimes crazy experience. Maggie has a keen way of knowing exactly the direction we want to go and holding us back when it makes financial sense. Her knowledge of this field is remarkable and had everything to do with this being as pleasant an experience as it could be."
-John Wilson

"Maggie is truly an exceptional realtor. Not only does she understand the market, but she takes the time to understand what the client really wants. I have partnered with Maggie to buy and sell homes multiple times and wouldn't think of using another realtor."
-Lynn Greenstein