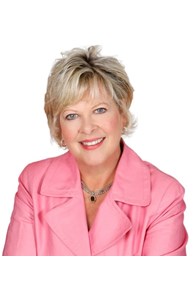 Email

Jane.Coughlin@KingThompson.com

Phone
Office
More about the Team
Meet Jane Coughlin
As the first born of eight siblings, Jane Coughlin is dedicated to family. With her husband, Mark, they have raised two wonderful daughters and now enjoy time with four energetic grandchildren. Jane treats every client like part of her family…SPECIAL. Jane Coughlin enjoys a challenge, and problem solving is what she does best. She uses her years of experience and education to take the stress out of the largest financial transaction most people make in their lifetimes. Jane offers a seemingly endless amount of energy and enthusiasm for helping people attain their goals. This combination has lead to an office full of awards that represent her outstanding ability to negotiate for her clients and lead them to the house they call home.
In an effort to give back to her community, Jane lends her leadership skills. She has served as the president of St. Agatha's Parrish Council, as well as serving as president of the St. Agatha's Women's Club. She has also participated and supported March of Dimes, the Upper Arlington Civic Association, the Watterson Mother's Club, and The Watterson Athletic Club. She served as Chairperson for the Ohio Wesleyan University Parent's Council and helps to sponsor and support local school and community events.
Jane began her real estate career over 30 years ago. Since joining King Thompson, now Coldwell Banker King Thompson, Jane has built her award winning business through her commitment to provide the finest real estate experience available. Because every real estate transaction is unique, Jane Coughlin takes the time to listen to the individual needs of each client's situation. Jane believes in educating her clients throughout the buying or selling process. Her determination to provide the highest level of professional service, is the reason she has consistently earned the "Quality Choice Award" which represents 100% customer satisfaction. The client comes first!
Meet Christine Rooney
Christine Rooney joined The Jane Coughlin Team in 2007. Christine graduated from Upper Arlington High School and Bowling Green State University with a BS degree in Elementary Education. Christine loved teaching and guiding students with learning differences for 15 years. When her second child entered first grade, Christine pursued her dream in real estate. Throughout the past 28 years, Christine relocated 4 times and renovated 8 homes, both personal residences or investment properties. Through this process Christine learned to envision changes, guide remodeling, as well as untangle a move to a new city. If you are relocating in the same city or a new city, change is both exciting and overwhelming. Christine has the knowledge and ability to guide you through this experience.
Christine has a love for children and spends spare time raising funds for various philanthropic organizations. As a member of The Central Ohio Diabetes Women's Board, and their past president, she helps to raise funds to send children with diabetes to summer camp. She has been a member of both PEO Chapter CG and Chapter GC . Each year she participates with her father choosing a scholarship recipient for OSU Ag Econ Dept. She was a longtime member of The Junior League of Jacksonville and The Junior League of Dallas and enjoyed volunteering at The Ronald McDonald House. She is an active member of Upper Arlington Lutheran Church and former children ministries teacher.
Coldwell Banker King Thompson offers each of our individual customers an extensive array of personalized, professional services. Our innovative advertising and promotions are designed to spotlight each property to portray its many advantages while reaching a global audience.If you are ready to buy or sell a home, call Christine. Your real estate transaction will be handled with the courtesy, respect and professionalism you deserve. The Jane Coughlin Team at Coldwell Banker King Thompson: As always. . . The Quality Choice.
Awards And Designations
The Jane Coughlin Team has sold over $300,000,000 in real estate. Because of their dedication to service, Jane has received awards from Coldwell Banker such as; Top Listing, Selling and Closing Agent in the Upper Arlington/Grandview/Clintonville Office,. The team is ranked in the Top 4% Internationally for Coldwell Banker. Jane has achieved Coldwell Banker's President's Council every year since 1989, as well as the Quality Choice Award for 100% Customer Satisfaction every year since 1989. Ohio Association of Realtors: OAR President's Sales Club and OAR Awards of Distinction, Award of Excellence, and Pinnacle of Performance. Columbus Board of Realtors: CBR One, Five, Ten and $25 Million Dollar Club Awards. Jane has earned the prestigious designations of ABR (Accredited Buyers Representative), GRI (Graduate of the Real Estate Institute) and is a Previews Property Specialist.