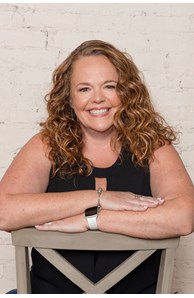 Sales Associate
Email
Phone
Office

South Hills

1630 Washington Rd, Pittsburgh, PA 15241-1217
More about Krista Lorenzo
Going The Extra Mile For You!


Real estate has been a part of my life since I was a little girl growing up in Pittsburgh and my dad got involved with investment properties. It was something we did as a family. I went on to study Business and Architecture at the University of Pittsburgh and earn my MBA at Robert Morris University. I love Pittsburgh and raising my family in this beautiful city!
Throughout my life, college, and career, real estate has always been a special part of me. I have more than 25 years experience in the Real Estate Industry and have been with Coldwell Banker since 1999.
I live a very passionate life! I love to get out of my comfort zone, to grow, to challenge and stretch myself. Health and fitness are a vital part of helping us reach our goals. I love to run, workout, dance, and do yoga.
I want to use my life to inspire, motivate, encourage, and help others. We were made to be in community with others and are on this journey together.
Our homes are where we start our days, spend time with loved ones, create memories, refuel and rest after a long day. It is one of the biggest financial, and emotional, investments we make in our lifetime. And I get to be a part of that! It is a privilege for me when my clients trust me with something so valuable to them.
Client Testimonials
Krista was great to work with and she handled the multiple people involved in decision-making extremely well (3 brothers and a sister). She was very patient and responsive while we worked through a complicated internal decision-making process. Perhaps most important is that she succesfully guided us throuh the offer and counteroffer process when there were multiple potential buyers. I would recommend her very highly. -Robert
Krista is a wonderful agent! She is full of energy and puts forth the effort to help you find exactly what you are looking for in a home, community, school district, etc. She is extremely knowledgeable about the area since she was born and raised in the South Hills of Pittsburgh. She doesn't rest until she gets the job done! -Kelly
Had a great experience with Krista as our realtor. She knows her stuff, she is reliable, and she is patient. Highly recommend to anyone who is looking for an agent. -Steve
Krista is an awesome realtor! In fact, she saved me a lot of time and trouble by weeding out houses that she knew weren't going to suit my family. I really relied on her opinion and thoughts during the search for a home, which can be very stressful. Due to circumstances beyond our control we were on an extremely short time frame but Krista helped us find the perfect house and we are very happy here! -Marissa
Krista was so helpful and knowledgeable with our home buying and selling process. Krista sold our home within 48 hrs and it was for over our asking price. The way she marketed our home and her expertice with the process made this seamless for my husband and I. When buying our new home, Krista was on top of everything. We did not have to look for very long to find our dream house. Krista was so easy to talk to and answered every question we had. Highly recommend her for both you buy and selling needs. -Marlena
Krista is fun, knowledgeable, and loves what she does!!! It was our pleasure working with her and getting to know her throughout this process!!! I highly recommend Krista and her amazing team if you are looking for an agent! -Kelly
Krista is very personable and responsive to my needs and requests. She never hurried our search which took nearly two years. She promoted the idea of buying the perfect house as opposed to the quickest opportunity. We were so pleased with the end results and her continued negotiations with a tough and inconsiderate seller. Thank you so much for everything Krista! -Chad
We have worked with Krista over the last 10 years buying and selling a home and rental properties. She is extremely knowledgeable and detail oriented. Krista makes the process flawless. I would never consider using any other real estate agent. She works tirelessly for you and always remains truly positive. I would recommend her to anyone!! -Ben
We have worked with Krista over the last 10 years buying and selling a home and rental properties. She is extremely knowledgeable and detail oriented. Krista makes the process flawless. I would never consider using any other real estate agent. She works tirelessly for you and always remains truly positive. I would recommend her to anyone!!
Krista is amazing! She made my stressful home buying experience so smooth! She organized the bids, closing and paperwork with such professional. I highly recommend her services. She helped me to decide what to offer and what to accept. Krista rocks! -Amber
Krista is a top notch realtor! She will work tirelessly (I mean that - she never runs out of energy!) to find the home that fits your wants and needs and as a selling agent she will work with you and the buyers to make sure you get a fair deal. Her knowledge and expertise in the field can truly be trusted and relied on. Krista can take the anxiety out of house hunting and selling! No matter how many times you call, text, or e-mail her, she will always respond quickly (every time). With Krista, what you see is what you get, she is genuine and honest and those are qualities that can be hard to find with other real estate professionals. She is also lots of fun and will make your home buying or selling process an enjoyable one! We have recommended her a million times and will recommend her a million more! -Chelsea
Our family has extensive listing experience with Krista on both the buying and selling sides of the process and also with rental property. Krista is simply impressive! She is the consummate professional. She is honest,extremely knowledgeable about homes and also about the sale and purchase processes, high energy, hard working, affable, positive, persistent ... I could continue! But I just want to say that I would trust Krista with ANYTHING having to do with real estate and I will never use any other agent! -Kim
Krista was there every step of the way when I was buying my first house. She spent a warm spring day taking my fiancé and me to 10 different condos! She met with me to fill out all of the papers and explained what each document meant. Krista kept me on track by telling me when I needed to get my home inspection and do other things. She worked with the mortgage company to make sure all the paperwork was in. Krista even got us champagne and a card the day of our closing! She is super sweet and made the stress of buying a house non existent. Krista takes care of everything for you! I would recommend her to everyone and anyone! Best realtor ever! -Nicole
Krista went above and beyond all of my expectations. She did an outstanding job and explained everything to me in terms I could understand. She worked hard over a holiday weekend to make sure all my paperwork got completed and told me not give up when it seemed impossible. -Rebecca


Effective Advertising Strategies


All properties are advertised on several national real estate websites including www.ColdwellBanker.com and www.REALTOR.com
Open Houses are advertised in your area newspaper and on www.OpenHouse.com
Property feature sheets and brochures - Custom designed by our full-service Marketing Department.

Effective Technology Strategies


West Penn Multi List - Networks sales associates and homes for sale
Internet Advertising - Our listings stand out from the others with extra photos, more detailed descriptions and Guided Tours
User friendly websites - The Pittsburgh Post-Gazette named PittsburghMoves.com the 'most user friendly' site of any local area company
Virtual Tours - Step inside the picture and get a 360 degree view of each room
HomeBase InTouch - State-of-the-art technology connecting agents with home buyers instantly. All Coldwell Banker agents are equipped to respond within seconds to a customer inquiry, providing a fast, knowledgeable response.
Services for Buyers and Sellers


Coldwell Banker Home Loans - Exclusive guarantees and Phone in, Move in Pre-approval Programs. Pre-approved buyers mean less 'fall throughs' at the closing.

The Coldwell Banker Concierge - Can recommend hundreds of service providers before, during, and after you move

American Home Shield Home Warranty - Covered items will be repaired for one low-price deductible.

Relocation Division - Uniquely positioned as the principal broker for Cartus in Pittsburgh to bring more buyers and sellers together.

Specialty Markets - We have separate programs and divisions for luxury homes, commercial property, new construction, auction services, and property management.