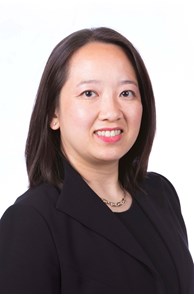 Realtor®
Email

sophie.nguyen@cbcarolinas.com

Phone
Office
Connect with Sophie
Languages other than English
French, Vietnamese
More about Sophie Nguyen
Do you need Real Estate services in English, Vietnamese or French? Sophie speaks English. Sophie nói tiếng việt. Sophie parle français.
Born and raised in France, Sophie grew up speaking French and Vietnamese. She had the privilege of working with the most remarkable woman who taught her a great deal about real estate and relocation, and who inspired her to become a real estate agent today. Sophie understands that buying and selling real estate can be stressful. As your REALTOR®, she will be an advocate for you. Whether you are buying or selling, she will be dedicated to providing you with exceptional service. It is her passion to help people find their dream home.
When to sell? Where to buy? Where to start? How to get ready? These are the questions she can help you answer. Give her a call today at 203-606-1031 and let's get started!
Kính chào quý vị, Sophie là nhân viên kinh doanh mua bán địa ốc với Coldwell Banker Residential Brokerage. Sophie chuyên giúp người Việt Nam ở Columbia, Lexington và những thành phố lân cận ở South Carolina mua bán nhà. Sophie hiểu rằng mua bán nhà có thể là một điều rất khó, nhất là khi mình không rành ngôn ngữ và luật pháp Mỹ. Vậy nên khi nào quý vị muốn mua hay bán và cần giải thích thủ tục bằng tiếng Việt, Pháp hoặc Anh thì xin hãy gọi cho Sophie. Sophie luôn sẵn sàng giúp quý vị. Xin quý vị gọi số 203-606-1031 để được tư vấn.
Sophie veut vous aider dans vos ventes et achats en immobiliers. Elle comprend que de telles démarches peuvent être stressantes. En tant que votre agent immobilier, elle travaillera sans relâche pour diminuer votre niveau de stress et pour rendre votre expérience dans le monde immobilier plus agréable. Sophie peut vous expliquer en français ce qui pourrait paraître déroutant dans les lois de la Caroline du Sud. Appelez Sophie dès aujourd'hui, et ensemble, nous vous trouverons l'offre qui fera de vos rêves une réalité. Vous pouvez joindre Sophie au 203-606-1031 ou par courriel à Sophie.Nguyen@CBcarolinas.com.