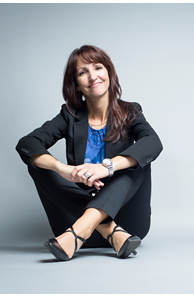 Managing Broker
Email

hannah.cutler@utahhomes.com

Phone
Office
I truly love my role as Manager for such an incredibly dynamic and talented group of sales associates.
Awards

President's Council Manager
Designations
Associate Broker, Certified Negotiation Specialist (CNS), Graduate Realtor Institute (GRI), Realtor
More about Hannah Cutler
At Coldwell Banker Salt Lake Sugar House, we combine the power of the world's most recognized real estate brand with talented, knowledgeable practitioners who have a passion for assisting people with their real estate needs. Management and staff are equally committed to helping our agents achieve their business goals. If you are an experienced REALTOR looking for a new home for your career or a brand new licensee just starting out, you'll discover that Coldwell Banker is the most comprehensive full service brokerage around that gives you all the tools you will need to build a successful business. Coldwell Banker is founded on our Core 4 Values; Production Power, Coaching to Confidence, Wealth Builder and of course, our Culture of Awesomeness. Here are just a few of the ways we use those Core 4 Values to help you live an exceptional life.
Education - Our associates have access to a variety of educational opportunities, including our comprehensive new agent training program, ongoing skills training for agents of all levels of experience focusing on everything from prospecting, presentation skills, buyer/seller presentation, negotiation skills, time management, systems, work/life balance and so much more. Most of our training is at no cost to our agents. We are blessed with a world class education director, Stacey Staley, who has an ongoing calendar of available courses. No boring, l love watching paint dry real estate classes here! Stacey is an engaging instructor with a wealth of knowledge and an easy-going, entertaining style of presenting information.
Administrative Support - The Union Heights office has 5 full time staff members to support REALTORS with their administrative needs. They serve in a variety of transaction related duties working closely with our agents on listings, contracts, closings and much more to help streamline the process of each transaction and allow our agents to focus their time on what matters most. We are also fortunate to have a full time marketing coordinator to assist in any and all marketing design and productions and keep all of our agents looking fabulous!
Marketing and Tech Tools galore - Coldwell Banker is a company that is always on the cutting edge of emerging trends and technologies in the industry. Our associates have access to a wealth of tools, including a CRM system, e-Marketing suite, digital listing presentations and much, much more.
In-Office Coaching - As one of the Managing Brokers, Hannah offers in-office coaching on an individual or small group basis. We regularly get together to review the use of our tools, making sure that we are utilizing everything that's available to our agents to help them achieve their goals and grow their business.
Management - As a non-competing manager, Hannah devotes her time to ensuring the success of every REALTOR. She is committed to helping each agent develop a business plan and enjoys meeting with them to review and reassess their goals. Her top priority is helping our agents to achieve their dreams and improve their quality of life. The support of Hannah, Brian and the office staff helps them free up their time to either seek new business or devote more time to their personal endeavors.
Office Culture - At Coldwell Banker Union Heights, we have a great time! We are a hard working group of professionals that enjoys learning and celebrating our successes. Whether we are doing something out in the community, having a Lunch and Learn in the office, or hosting an event, we support each other. From experienced colleagues to rookies, we recognize and reward exceptional talent. We support multiple local causes including Habitat for Humanity, American Cancer Society, The Autism Foundation, Festival of Trees, Human Society, Tools for Schools and many more. To get an idea of what it's like to work with us, please follow us on Facebook and Instagram.
We are always looking for talented people to join us! Please contact Hannah for a confidential discussion about the future of your business and how we can help you. 801.694.0974