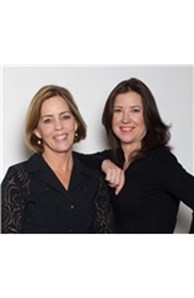 Email

Susie@susiepop.com

Phone
Office
Awards

International Sterling Society

NAR's GREEN Designation
Designations
Luxury Property Specialist (Luxury Specialist), Certified Home Marketing Specialist (CHMS), e-PRO, Accredited Buyer Representative (ABR)What's this?
More about the Team
Serving All Your Real Estate Needs
Susie Popalisky and Cathy Rapp make up the PopRapp team. With more than 20 years of successful real estate experience, Susie and Cathy bring a passion for personal service.
Whether you're looking for your first home, second home, relocating, or downsizing, the PopRapp team will expertly guide you through the process. They listen and respond to your needs to ensure you have the real estate experience you desire. They have built their team's exceptional reputation on accessibility, reliability, integrity — fostering client relationships that last long after the transaction closes.
The PopRapp team offers clients the most effective online exposure available for listings and the best online search tools for buyers. This added marketing presence differentiates the PopRapp team. You can trust their years of helping families call the North Shore home.
Your North Shore Experts
Susie and Cathy serve clients in the neighborhoods they know and live in. This includes Whitefish Bay, Shorewood, Fox Point, Bayside, Glendale, River Hills, Mequon and Milwaukee's East Side.
Susie is a lifetime resident of the North Shore and Cathy relocated here from Atlanta. Together they offer a unique perspective of the area. Deeply involved in their communities, Susie and Cathy have a genuine familiarity with the North Shore's schools, shops and restaurants, and they love to share what they know with their clients.
Susie and Cathy's Personal Interests
Susie grew up in Whitefish Bay, attended local schools and knows the area like only a native can. After a career in business she started her new career in real estate in 1999. She is very involved with local schools, loves to travel and eat out. Make sure you ask Susie for restaurant recommendations.
Cathy relocated to Milwaukee from Atlanta in 2002. She was drawn to the area by its great quality of life, excellent schools and friendly neighborhoods, and she quickly fell in love with the North Shore. She knows what it's like to move into a new area and discover all that it has to offer. Involved in the community, she enjoys home renovations, gardening, cooking and traveling. Make sure you ask Cathy for a recipe.
PopRapp Team's Competitive Edge
North Shore Top Team
Buyers' Counseling
Market Analyses, Pricing Expertise
Negotiation and Contract-Processing Skills
Creative and Innovative Marketing
Strategic Thinking
Proactive Approach to Issue Resolution
Strong Community Network
Teamwork, Persistence and Perseverance
Coordination of Same Party and Multiple Party Transactions
Coordination of Home Purchase Process with Home Sale Transaction
PopRapp Team Specialties
First-time Home Buyers
Lifestyle Moves
Architecturally Significant Homes
Lake Michigan and Bluff Properties
Private Offerings
Buyer and Seller Relocation
Out-of-state Sellers
What PopRapp Customers Have to Say...
"Susie and Cathy make a wonderful team. I felt confident during all aspects of the transactions that things would be handled efficiently and correctly." – Shorewood seller
"Cathy Rapp and Susie Popalisky were exceptional to work with. We were 100 percent satisfied. Their knowledge and guidance led us to our new home." – Glendale buyer
"We happened to buy a house at the same time as selling our house in another community. The Two processes were like 'night and day,' with our house purchase experience being quite pleasant. We felt we had Susie and Cathy's full attention and they accommodated the situation of my wife and I living in two different communities quite well. I'm glad we were referred to their services." – Shorewood buyer
"I worked with Cathy and Susie when buying my first (and only so far!) home! They were extremely knowledgeable about the area and helped me feel 100 percent comfortable with what can be an overwhelming process. They never made me feel rushed to make a decision and as a result, I found a home that has fit my needs perfectly for the past five years. I will definitely use Cathy and Susie again when I am ready to face the process of moving again!" – C. Rogers
"From start to finish, we were so thrilled by the kindness, wisdom, knowledge that Cathy and Susie shared with us as we embarked on the emotional roller coaster of selling our home in Shorewood. Having an older home sometimes has challenges when one want to sell. Each challenge was met with professional guidance and then a solution was found." – M. Domer