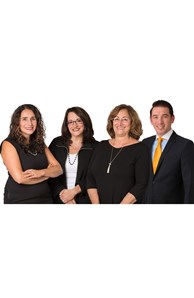 Email

Info@RealEstateFamily.com

Phone
Office

Mequon

11303 N Port Washington Rd, Mequon, WI 53092-3411
Your Move, Our Passion
More about the Team
To us, it's about family... it signifies trust, authenticity, care and commitment. Our family of Realtors, Carol Zolot, Jaime Druck, Judy Hearst & Ben Elias, strive to treat you like family by confidently providing an unparalleled level of service and expertise, so your move will exceed your expectations.
With over 80 years of combined industry experience, market intelligence and marketing know-how, we excel at the art and science of connecting buyers and sellers... creating successful client experiences. We serve a range of real estate needs in Metro Milwaukee and also assist clients moving out of the area by introducing them to top agents in other communities. Our Real Estate Family Group client base is as diverse as the properties we represent.
Real Estate is our calling. From our first contract to the closing table, we listen to understand your unique buying or selling needs and use our vast knowledge to deliver results. We go above and beyond - with tenacity, energy and like-minded, dynamic drive that puts your needs first. It's what keeps clients coming back again and again!
The Real Estate Family is comprised of 2nd & 3rd generation Realtors. Carol Zolot & Judy Hearst are sisters, Jaime Druck daughter to Judy and niece of Carol and Ben Elias, nephew of Carol and Judy and cousin to Jaime. Confused yet. :)
Carol Zolot, is a graduate of the University of Wisconsin-Milwaukee with a degree in Business. Prior to her career in real estate sales, Carol was a real estate appraiser. She decided to follow in the footsteps of her father who was a broker, builder and developer. Carol uses her business expertise and analytical approach with each transaction. She truly enjoys providing outstanding, responsive service to her clients.
Jaime Druck learned about real estate at an early age growing up with her mom in real estate. Graduating from the University of Iowa with a degree in Journalism and Communication, Jaime decided to pursue her love of marketing and promotions by choosing a career in real estate. Jaime enjoys connecting with people through her community involvement.
Carol and Jaime partnered together in 2002 and became one of the top real estate teams in the Metro Milwaukee region of Coldwell Banker Residential Brokerage. Through their years of experience, personal referrals, serving as a "go to" team assisting with corporate relocations and being Global Luxury Property Specialists, they have enjoyed getting to work and explore the great communities in the Metro Milwaukee area.
The majority of their business comes from past clients and personal referrals. They are grateful to have worked with so many families and earned their trust and confidence.
Judy Hearst has been a real estate broker since 1986. During her career, she has held numerous positions including agent, manager, franchise owner, and Senior Vice President Regional Manager for Coldwell Banker Residential Brokerage's Wisconsin Region. Judy has chosen to refocus her energy in real estate sales and return to working as a part of the Real Estate Family.
Ben Elias is a graduate of University of Minnesota with a degree in Sports Marketing, after graduating he worked for the United States Golf Association. His strong business acumen and experience come from marketing and managing world class sporting events, additionally he has managed the City of Milwaukee's Deferred Compensation plan. Ben worked at CBRE as a commercial researcher and assisting agents with listings, stats and marketing. After gaining valuable experience at CBRE; he worked at Colliers in leasing and sales. Ben specializes in both residential and commercial real estate. He enjoys being active in the community, loves all things Milwaukee and golf.