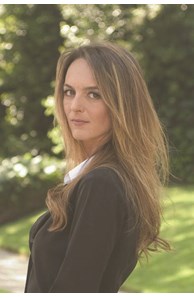 Sales Associate
CalRE#: 01431595
Awards

International Sterling Society
Designations
Luxury Property Specialist (Luxury Specialist)
Languages other than English
German
More about Ricarda Ankenbrand
REAL ESTATE - simplified
RICARDA ANKENBRAND IS driven BY AN INDEPENDENT SPIRIT
At any given moment, you could find Ricarda Ankenbrand jumping on her Ducati for an energizing cruise up Mulholland or down the coast to Malibu. While the power of the bike rumbles under her, she also feels an intoxicating sense of peace. She revels in the freedom of going wherever the road takes her. Every ride is a new adventure. Spontaneous and fearless, this freethinking woman is truly an independent spirit.
A MAVERICK'S LIFE
Born and raised in Germany, Ricarda knew early on that her country was too small to hold her big dreams. As a girl, she attended school in London and Paris before starting a successful marketing company, carving a niche in special event promotions. But she soon outgrew that challenge and craved more. At 22, after traveling the world, Ricarda's intrepid nature prompted her decision to move to the United States to earn her MBA. This bold move whetted her appetite for adventure.

Ricarda's love for independent film and her relationship with a city known for it's eclecticism and personality were key to her eminent work as a feature film producer. But with her European flair and worldly persona, she easily taps into the undeniable energy that defines the environs of Los Angeles, no matter what she's doing. Whether taking her daughter, Evangeline, for a run on the beach, feeling inspired listening to her husband, Dire Straits guitarist Hal Lindes' music, or socializing with her diverse circle of friends, you can bet Ricarda is setting the pace. Her driven, maverick spirit is at the heart of the rich, fascinating life she thrives on sharing with the people around her.
EUROPEAN STYLE
Where Ricarda's true passion flourishes is in her career in real estate. Her appreciation for the arts and adventure and her drive for success mirror the nature of the clients she serves. It's because of her clear understanding of their goals that allows her to work proactively to meet them.
As a Realtor specializing in the entertainment industry as well as European clientele, Ricarda has an insider's perspective and insight into what's most important to the discerning tastes and hectic schedules many of her clients possess. To her, communication, knowledge, and above all, confidentiality, are the cornerstones to providing service to her clients that exceeds expectation.

As a marketing and negotiations expert, Ricarda handles the details of your investment thoroughly and presents all available options to enable you to make sound decisions. With a no-nonsense approach, she helps you focus on your ultimate objectives and provides proven strategies to reach them quickly. Ricarda's goal is to make the process simple and as stress free as possible. Ricarda Ankenbrand is a real estate professional who sees no obstacles on the road to her clients' investment success. She prefers to view every challenge as an opportunity for discovery. Ricarda started her real estate career in 2003 with Coldwell Banker and is part of the #1 team at the Sunset Strip with partners Tom Scrocco and Randy Isaacs.
FACILITATING OPPORTUNITIES IN REAL ESTATE
No matter the phase of the current market, whether you are selling or buying property, Ricarda always recognizes opportunities. If you want a positive experience beyond expectation, turn to Ricarda Ankenbrand. She understands your needs, lifestyle and circumstances and offers a higher standard of service. She's driven by an independent spirit and she's focused on achieving results. Contact her today for a confidential consultation.