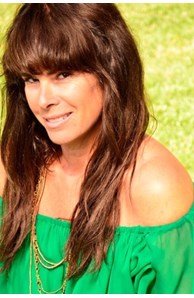 Sales Associate
CalRE#: 02072483
Email
Phone

Market MalibuOffice

29178 Heathercliff Rd, Malibu, CA 90265
More about Lisa Robyn Deutsch
Lisa Robyn Deutsch is a Realtor and Designer Extraordinaire who has a background in Real Estate. She has bought her first home at the age of 28 on the beach in Marina Del Rey. She created a vision of the home from simplicity and a culture of love. After three years she decided to sell this home, and purchase a home in Topanga Canyon. A year later, she flipped her home in Topanga Canyon and moved to Aspen Colorado. In Aspen, she purchased another home on the beautiful ski slopes where she lived for 3 years. After leaving Aspen, she decided to move to Maui where she purchased another home. Three years later, with her surfboard in hand, she made the move to Southern California.
She has decorated film, TV and commercials throughout her lavish career. Lisa's clients include NBC, ABC, MTV, HBO, Warner Brothers, Universal and Disney. She has given great vision to films, including the Wedding Singer with Adam Sandler and Drew Barrymore and Barb Wire with Pam Anderson; music videos for Cee Lo Green, Miley Cyrus, Gwen Stefani, Stevie Wonder and Michael Bolton; and commercials for Honda, Mazda, Budweiser and Gap among others. Lisa connects with directors, producers and writers to create extraordinary visions and sets.
As a stylist, Lisa helped create the W hotel vision. Her eye for detail and expression is exceptional. She has staged and designed many home interiors and has lived in California, Aspen and Maui. Lisa currently resides in Malibu with her two children.
Lisa is a spiritual photographer and has been shooting for over 25 years. Her work has appeared in film, TV and commercials, W hotels and galleries in Malibu, Maui and Aspen. The essence of her photography is seeing the beauty in simplicity, feeling the energy of love, faith and peace and the beauty in the world around her. Her company "Soulful Design" creates beautiful prints, wallpaper, bedding, rugs, and jewelry with sacred affirmations! Love life, passion, bliss, hope, gratitude, believe, goddess, and trust!
Lisa has worked with the Aspen Youth Experience, an organization empowering at risk youth to make positive choices designing events and raising capital in incredible ways. She is about helping others thrive and continue to be positive in their lives. Lisa is now collaborating with Jed Foundation, which focuses on suicide awareness in colleges throughout the country.
One things Lisa has learned though life experience is how important yoga and meditation is for a healthy lifestyle. She has now been a yoga and meditation teacher for many years. Her teachings are about breathe, inspiration and patience.
Client Testimonial: Lisa's design, vision and heart are to be honored and appreciated. Her eye reveals beauty and messages that others don't see. She not only provides these miraculous revelations with images and meaning, she distills complexities with perceptions that calm and shape the understanding of fundamental things. That strengthens my love and admiration for Lisa and her work.