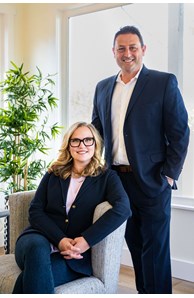 More about the Team
With extensive experience, in-depth community knowledge and a "service first" approach, Coldwell Banker Realty broker John Heckenberg is a true standout in Bay Area residential real estate. An enthusiastic and dedicated professional, he puts honesty, integrity, patience and adaptability at the forefront of every transaction.
As John will tell you, real estate runs in his blood. His mother was also a Bay Area agent who taught her son the ins and out of the industry as well as the importance of hard work and establishing long-term relationships. In 2004, John earned his license in both California and Arizona and relocated to Phoenix where he joined Coldwell Banker Realty. Right out of the gate, he was named Rookie of the Year for his stellar performance. When the market crashed in 2008, John and his wife moved back to San Mateo, where John focused on reestablishing his business. He now expertly serves buyers and sellers throughout the Bay Area Peninsula.
In the last 18+ years, John has worked in virtually every aspect of the real estate industry and received various awards. A certified Luxury Property Specialist, he has assisted buyers, sellers and investors with financial planning, marketing, property management and the escrow process. He also coached a team of agents who, under his leadership, reached the top 2% nationwide in units sold. Following the 2008 downturn, John tackled fierce competition to negotiate complex contracts involving bank-owned properties and short sales. A skilled and energetic problem-solver, he collaborated with a group of loan officers to dynamically change their business model in a frozen market, solidifying their standing as one of the only firms to continue originating loans during the economic decline.
With all John's accomplishments and his commitment to meticulous service, buyers, sellers and investors could not be in more capable hands. John understands that no two transactions are the same, so he listens closely and tailors his strategy to his clients' unique short- and long-term goals. Every detail is covered as he utilizes his vast network of movers, painters, contractors, repairpersons, stagers and more to deliver a seamless experience. To ease his clients' stress, John patiently explains each step of the process and accommodates even the most challenging schedules.
Whether you're buying, selling or investing, John Heckenberg offers you the expertise of a seasoned real estate professional and the genuine care of a reliable friend. Contact him today!