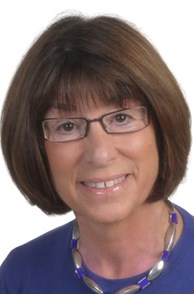 Sales Associate
Take a Spin with me!
Designations
Cartus Network Affinity Specialist (CNAS), Cartus Network Marketing Specialist (CNMS), Cartus Network Referral Specialist (CNRS), Certified Rental Agent (CRA)
More about Mary Adzima
Business Philosophy

"People ask me how I have become so successful in this very competitive industry. From a very young age my mother taught me that hard work, a positive mind and a great attitude would help me accomplish all my goals. I view the home buying and selling experience from the client's perspective. I feel that when you do things for the right reasons, it shows and you cannot help but shine. Coldwell Banker allows me to be proud of my accomplishments and demonstrates my dedication to my clients and my career."
My relationships with my clients are based on trust, expertise amp; the reliability of my service. My priority is putting my customers first and getting results. Referrals from my customers have been my best "Thank you". Contact me @ 203-887-7795 or mary.adzima@cbmoves.com
Awards And Designations


A practicing Realtor for the past 10+ years, I have enjoyed tremendous success and recognition as a top producing agent in my marketplace:


2015 International President's Circle
2014 International President's Circle
2013 International President's Circle
2012 International President's Circle
2011 International President's Circle
2010 International President's Circle
2009 International Diamond Society
2008 International Diamond Society
2007 International President's Circle
2006 International President's Circle
2005 International Diamond Society
Multiple recipient "Association of the Month"
Cartus Marketing and Referral Specialist, CMMS/CMRS.
Areas of Expertise
Unique or Difficult to Sell Properties
Estates
Working with Military Families
First-Time Homebuyers
Skillful Negotiator
Proficient in organization and time management
Imaginative and creative
Anyone can LIST your property.....I will list your property and get it SOLD!
Personal Background

It has been said that you should find a hobby that you enjoy and choose that for your profession. After college I managed Valley Obstetrics amp; Gynecology in Derby/Ansonia for 27 years. Drs. Melvin B. Laubstein, Steward J. Petrie, Richard Manjoney, Dorothy Gutwein, Kathleen Reese and Roy Kalman gave me the opportunity to enjoy everyday of my 27 years working with patients from the surrounding towns. After working with couples for nine months, teaching lamaze classes and getting a chance to share one of the most cherished moments of a couple's life, the birth of their children, a special bond developed which has followed me to my present career.
I worked with my husband Andrew at the Edward F. Adzima Funeral Home in Derby from 1982 to 1999. Working with the community for over 35 years allowed me to develop wonderful relationships which I value today.
I have always been a hard and dedicated worker. I love what I do and it shows. Communities I Serve


Serving all of Connecticut.
Specializing in New Haven, Litchfield, and Fairfield Counties
Contact me if you are relocating and need a dedicated and hard working agent in another state. I have contacts in most states and can help you to find the agent that will assist you in making your move successful and stress free.