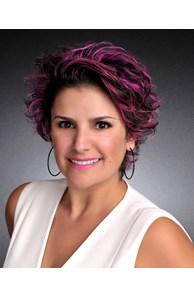 Realtor®
For all your Real Estate needs, call the best, call Daniela Now!
Connect with Daniela
Designations
Smart Home Certified
Languages other than English
Greek, Italian, Afrikaans
More about Daniela Melaniti
Affiliations
Member, National Association of Realtors®
Member, Florida Realtors®
Member, Miami Association of Realtors®
Cartus Network Affinity Specialist
Cartus Network Buyer Specialist
Cartus Network Inventory Specialist
Cartus Network Marketing Specialist
Services Available
About Daniela:
Daniela is originally Greek-Italian and educated in South Africa with extensive International travel and work experience. She has travelled to 25 countries for work and pleasure and lived on 4 Continents including amazing cities like Athens (Greece), Johannesburg (South Africa), Dubai (UAE) and now considers Fort Lauderdale (FL, USA) home.
Daniela is a talented and passionate Realtor and loves interacting with her customers. Her ability to communicate in English, Greek, Italian and Afrikaans gives Daniela a Multi-National appeal.
Daniela has an extensive background in Sales and Marketing in International Pharmaceutical and FMCG Companies with an admirable award winning career. She has negotiated Millions of Dollars in Sales Contracts. She prides herself in exceeding customer needs and expectations and is highly respected by her colleagues.
Message from Daniela:
I enjoy working with property buyers and sellers. I will co-ordinate staging, photography, marketing and negotiations regarding all aspects of your real estate requirements. I offer superb service and attention to detail. With my energy and enthusiasm, I will take you from contract to close with a smile.
It is my passion to make Realty dreams come true.
Coldwell Banker Advantage:
Through our affiliated companies and joint ventures, we offer a full range of Real Estate services:
• Residential and commercial property assistance
• Mortgage
• Title
• Home warranty
• Vacation and annual rentals
• Property management
• Relocation
• Global referrals
The Coldwell Banker system offers unmatched property marketing and technology:
• Properties are displayed on 575+ websites to 16 million buyers daily.
• Global network connects with 82,000 sales associates at 3,100 offices in 50 countries.
• National brand advertising, including online, television, magazines and special events.
• Coldwell Banker Global Luxury® showcases luxury properties to affluent buyers.
International Real Estate Specialist
Sun, Sea and Real Estate. 
Product of Greece and Italy, Educated in South Africa,  Exposed to a colourful life by the U.A.E.
Traveller, Foodie and True Enthusiast.
One of a kind, stand out from the crowd, and never fit in! Love my pink hair and big smile.
Life's too short to go with the flow...
So, create waves, make noise and raise hell!
Isn't that what you want from your Realtor?!!
I am a talented and passionate Real Estate Specialist who loves interacting with customers. My ability to communicate in English, Greek, Italian and Afrikaans gives me Multi-National appeal.
I have lived on 4 Continents including amazing cities like Athens (Greece), Johannesburg (South Africa), Dubai (UAE) and now consider Fort Lauderdale (Florida, USA) home.
I have worked in South Africa, U.A.E and U.S.A in the Sales industry for 18 years which has allowed me to experience diverse transactions. I work on large volumes of business-to-business sales and sales related projects. I enjoy presenting to large groups of people discussing inventory and market information.
I have extensive experience in creating and implementing Marketing Campaigns to Create Awareness and Increase Sales. My excellent interpersonal skills give me access to Clients which are normally inaccessible. My exceptional negotiating skills allow me to increase sales and maintain my mantra of "Always Be Closing"
With my proven ability to embrace challenges and exceed expectations I have been a Top Performer throughout my career with documented performance history.
I am a Global Luxury Property Specialist in the beautiful Sunshine State - Florida, USA. If you're thinking of buying or selling a home, please contact me now!