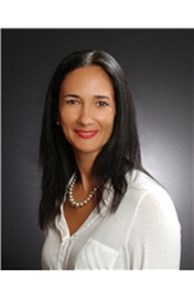 Sales Associate
22 Years of Real estate experience with Coldwell Banker. I make homefinding or selling fun an exceptional experience!!!
Connect with Brigitte
Designations
e-PRO Internet Professional (e-PRO)
Languages other than English
Spanish, German
More about Brigitte Elzarki
General


Brigitte Elzarki wants to be your Professional Sales Agents for Life!
She specializes in custom homes, re-sales, new construction, lakefront estates, and vacant lots throughout Greater Orlando. With 16 years experience she doesn't settle for less than the most professional service and best results for her customers real estate needs.
1995 - Present Residential Real Estate - Realtor (GOAR, NAR Member)
Completed my license in May 1995 and joined Coldwell Banker Residential Real Estate, Inc. in June. As requirement to be an active licensee with Coldwell Banker, I had to go through one month of training which is known to be of the best in the Industry. Execute exclusive agency contracts with sellers and buyers, list properties, market listed properties through Open Houses, Newspaper, Mailing, printed Flyers, and other promotional material. Negotiate offers for sale or purchase of home, complete contracts, plan inspections, surveys and closing deal with title company.
1994 International Sales Manager EI Conquistador Puerto Rico
This is a 918 room/suites hotel with 70,000 square feet of catering and convention space facilities, combined 16 restaurants and bars, 6 swimming pools, private island, marina for 55 boats, I8-hole Arthur Hills championship golf course , 7 tennis courts, 22 luxury retail shops, a 13,000 square feet casino including baccarat, blackjack, roulette, craps and over 300 slot machines.
I was in charge of international sales, mainly dealing with wholesalers from Europe and South America, ensuring constant contact by keeping them updated with special packages, room rates and bookings for Groups and Individual Travelers.
I also coordinated all tentative and definite group site inspections for all Sales Managers on property and Managers of regional offices in Miami and New York.
1989-1993 Asst. Food and Beverage Director Mexico City
Acting Food and Beverage Director H.I. Crowne Plaza
This is a 615 rooms/suites' hotel with three executive floors, extensive meeting facilities including two ballrooms for lOOO persons each, three restaurants, 24 hours Room Service, four Bars with life entertainment and additionally we averaged one international Show every two months. I was in charge of the overall operation in the three Restaurants, Room Service and food and beverage service on the Executive Floors, ensuring profit margins were achieved for each food and beverage area, menu statistics, promotions and analysis according current trends and customer needs, food and beverage cost controls, department training in order to maintain the highest professional service standards.
1988 Banquet Department Hotel Noga Hilton, Geneva Switzerland
This Grand Casino complex includes 300 guest rooms and suites, a Theatre, Discotheque, Bars, Restaurants with panoramic view and projects a dynamic image as a center for business and social events including international conferences.
During this training period I worked as waitress, headwaiter and spend weeks as sales executive in the Banquet Office.
Associations

NAHREP
Greater Orlando Association of Realtors
Florida Association of Realtors
National Association of Realtors (NAR)
Accredited Buyer Specialist
Relocation Specialist
Previews International
Specialties

Listing REO and Short Sale Properties

Relocation Specialist in Central Florida.

All aspects of your Real Estate needs.

Golf, lakefront and gated Communities.

Dr. Phillips, Windermere, Winter Garden, Ocoee, Metrowest and Hunters Creek .

Resale of Homes, Condominiums, Townhomes and vacant land.

Finding new homes and walk my cutomers through from start to finish.

Help first time home buyers with their financing and make the entire Home buying process as smooth and exciting as possible
Member of USRES, Reotran, NAR, GOAR, MFRMLS. Extremely organized and efficient from Pre-marketing. vacating, cash for keys, bi weekly reporting, CMAs, marketing, negotiating and selling. I provide professional service. Have done more than 500 BPO's and turn out time is very good. Values are very accurate. Sold REO Assets Efficiently and Cost effectively in order to achieve the highest possible recovery in shortest amount of time for my clients Specializes in representing clients in the purchase and sale of single-family residences and income generating property in Orlando with emphasis in the following residential neighborhoods of: Windermere, Butler Chain of Lakes, Isleworth, Dr. Philips, Metrowest, Heathrow, Lake Mary, Winter Park and College Park, and Lake Nona. International Diamond Society, Previews Property Specialist e-Pro Fluent in Spanish, German, English and basic French With Coldwell Banker since 1994 Very professional service with international experience and pleasant atmosphere. I make your selling and buying needs real fun! Help first time home buyers with their financing and make the entire Home buying process as smooth and exciting as possible. Will help you with all your relocation needs including finding a home in the desired area, obtaining school information, setting up financing with Mortgage company, inspections and much more. 2008 Number #1 Sales office in Florida. Earned my Previews Specialist designation in 1997 by providing exceptional service to the upper market segment
Preview Property Specialist

I received my Previews Property Designation in 1996.
For over 80 years, the Coldwell Banker Global Luxury℠ program has redefined the world of luxury real estate marketing. The prestige of the Coldwell Banker® name, combined with state-of-the-art technology, bespoke marketing strategies and real estate's most robust global network encompassing 88,000 independent sales associates in approximately 3,000 offices in 49 countries and territories, culminates in unrivaled representation that crosses oceans, continents and language barriers. Our Luxury Property Specialists — many of whom rank among the top luxury real estate agents in the world — have a track record of representing some of the most significant properties of all time. Your luxury is our legacy

The Coldwell Banker Global Luxury program is recognized as a world leader in the marketing of exceptional properties. It is considered to be the world's consummate marketing program for successfully marketing distinctive properties to a local, national and international marketplace.
Exceptional properties require exceptional marketing. Mastery in this area is a requirement of skilled and experienced Coldwell Banker Global Luxury Property Specialists. I will design a discreet and skillfull orchestrated strategy that may include a creative combination of: Strategic Print Advertising, Publicity and Special Events.
Qualifications

Certificate in Hotel Management from LeBouveret, Switzerland

City and Guilds, London UK .

Graduated and worked for 5 years as Assisstant Food and Beverage Director and acting Food and Beverage Director for Holiday Inn Crown Plaza .

Real Estate runs in family. Mi mother is a Broker since 20 years with extensive International experience.

Lived in Latin America, Europe and North America and love travelling and meeting people from all over the world.

Fluent in three languages which makes the buying process simpler when negotiating with international customers.

Very good communication skills, very dedicated and professional. Ethics are my strenght.
Important Links

www.ocpafl.org
www.coopersimms.com
www.flhosp.org
www.orlandoregional.org
www.orlandosentinel.com
www.orlando.org
www.winterpark.org
www.mca.com
www.universalstudios.com
www.seaworld.com
www.disneyworld.com
www.experiencedorlandorealtor.com (Brigitte's personal website)