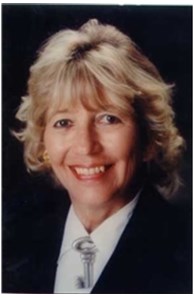 Sales Associate
Phone
Office

St Armands

423 St Armands Cir, Sarasota, FL 34236-1408
Connect with Nancy von
Designations
e-PRO Internet Professional (e-PRO), Senior Real Estate Specialist (SRES)
Languages other than English
Spanish
More about Nancy von Lazar
GREW UP IN SARASOTA
You owe it to yourself to deal with a Realtor who grew up in Sarasota.
I grew up on Longboat Key, attended Sarasota schools on the mainland, and traversed the Sarasota waterfront participating in all water sports.
I have a strong sense of the integrity of this small city, and have served as a board member of the Historical Society of Sarasota County.
I achieved my University education at the University of Michigan and have done graduate work at Columbia and Tufts Universities.
I have lived in a number of states here in the U.S. ( New York, New Jersey, North Carolina, Tennessee, Massachusetts) and have also lived in Chile and South America.
An experienced agent with over 24 years in the business, I have also been a broker in Masachusetts where I was a member of the Greater Boston Real Estate Board and listed and sold properties out of my office in Winchester, Mass and also in Cambridge, Mass.
All you need is one Realtor. I am that one. I am Your Key Person.
Coldwell Banker Residential Real Estate delivers a true one-stop-shopping opportunity for homebuyers and sellers. These services include the professional coordination of the home search, property marketing, negotiation of purchase or sale, and details of closing. For exceptional properties, we offer the unique resources of our Coldwell Banker Global Luxury division. With a commitment to providing each customer with a full service real estate experience, I will work with you throughout the entire home search and negotiation process, and assist in finalizing the details. Through our affiliated companies and joint ventures, we offer mortgage, title, home warranty, rental and property management, relocation and insurance services.
YOUR NEEDS ARE MY OBJECTIVES
With a company philosophy of providing you, the customer, with "exceptional experiences" that means it is incumbent upon me, as your Realtor, to give you the best service.
I have been named a Five Star Professional awardee for 2011, a designation awarded to less that 5% of the Realtors in the area for exceptional service as rated by clients, peers, and industry experts.
Our Company Vision: The Preferred Gateway for Exceptional Real Estate Experiences.
PROFESSIONAL ACTIVITY
Member of the National Association of Realtors and the Florida Association of Realtors.
I am Transnational Certified and attended international congresses.
YOU BENEFIT FROM MY EXPERIENCE
Having grown up in Sarasota, I have market knowledge with an historical perspective. I have a knowledge of the neighborhoods,and market knowledge is particularly primary in working with out of town/out of state/out of country buyers.
Because I grew up in Sarasota, I am familiar with all its areas and actively engage in real estate transactions in all these areas.
As one of the few Realtors to have completed the Master Conservationist training program at the Florida House Learning Center here, I am schooled in the principles of the most beneficial type of construction for Florida pertaining to site location, energy and water conservatiojn, recycled products, healthy environs, and local availability of products.
Prior to entering the business of real estate, my professional experience encompassed public relations, advertising, and marketing. I was a writer with The Uninversity of North Carolina News Bureau and marketing director of a wholesale real estate and construction lending bank with branches in Boston and Boston's western suburbs.
I am a trained real estate professional with expert skills at marketing, presentation, negotiation and sales. I will work with you to ensure that your property is sold for the highest price possible in the shortest amount of time with the least amount of inconvenience to you.
COMMUNITY ACTIVITIES
As a member of a variety of organizations in Sarasota I am involved in their outreach programs.
An active member of Art Center Sarasota, I support its varying exhibitions.l This organization offers programs for youth which stimulate creativity and which I highly support.
Additionally, I am an amateur photographer, and in exhibiting, have won awards, and I exhibit in juried shows at Art Center Sarasota when I am fortunate enough to have photos I have sumbitted for consideration chosen to be represented in that particular show.
I am a former board member of The Historical Society of Sarasota County where I was instrumental in supporting action/visibility programs and projects.
While living in the Boston area, I was active on the councils of the Institute of Contemporary Art and the Boston Museum of Fine Arts.
As a real estate professional, I understand the true value of our community. I proudly support our local charitable organizations through my participation in Coldwell Banker Residential Real Estate CARES. Since 2001, Coldwell Banker Residential Real Estate CARES has donated over $1.5 million to a wide array of non-profit educational, health, welfare, environmental and cultural arts organizations. Since 2003, we've sponsored 12 Habitat for Humanity homes statewide, with several more in progress. This initiative continues to position Coldwell Banker as a leader in support of this truly worthwhile organization