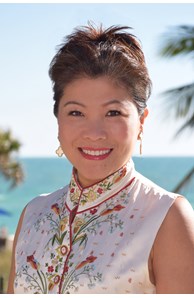 Sales Associate
3E's: Enthusiasm, Effectiveness and Exceptional customer services. 积极热情、卓越及有效客户服务!
Connect with Tina Shao
Languages other than English
Chinese, Mandarin Chinese
More about Tina Shao Napoli
About Me


Tina Shao Napoli(邵婷), who speaks fluent Chinese and English moved from NY to Sarasota, after many years vacationing in Sarasota with her family. She and her family fell in love with this beautiful area and truly feel this is a year-round vacation paradise and an excellent investment opportunity in real estate. Tina believes in the 3E's: Enthusiasm, Effectiveness and Exceptional customer service. With her honesty and integrity, she creates results and loyalty from her customers. Since moving to Sarasota, she has helped her friends and family find beautiful homes in Sarasota.
邵婷女士,是美国科威不动产国际物业中的资深职业经纪人,也是美国著名瑞玲博物馆的董事会成员。自90年代移民到美国纽约,二十多年生活和工作经验,练就了一口流利的英文,精通和熟悉中美两国文化,及贸易的差异,尤其是搬到弗罗里达萨拉索塔拉之后从事地产经济使她更加了解当地的风土人情,全面掌握国际国内的房地产信息。特别是在近几年中国来美国投资的热潮中,为客户提供了最专业的美国各种房屋买卖的咨询服务,成功的为当地的豪华住宅和商业房屋的租赁买卖提供了全方位优质的服务!从迈阿密、奥兰多到萨拉索塔;从那不勒斯海岛到利兹卡尔顿的高档海滨,海景住宅,豪华乡村俱乐部...,以及当地的社区文化,小学到高中,大学学区房价格都有非常深入的了解,无不包容。如果您想融入美国的时尚高端生活,邵婷女士会带领您进入一种全新式的生活方式!给您提供一个优质、高效、诚信、满意的服务!
Tina loves the Arts and Music and she is a current Board of Director for Ringling Museum. Both she and her husband are very active members of the museum.
Tina has a cheerful and warm personality, and loves to help people!! Tina was a professional vocalist in the Tri-State NY area, preforming in many notable establishments such as Lincoln Center and Carnegie Hall. Expanding upon her cultural diversity, Tina also lent her voice-overs to the Metropolitan Museum of Art, United Nations, and MoMa (Modern Museum of Art). Tina has also practiced Yoga for over 10 years and is becoming a certificate teacher.